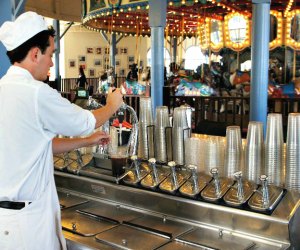 12 Ice Cream Parlors & Old-Fashioned Fountains Make Us Scream for Ice Cream
I grew up eating ice cream. It was my mom's all-occasion special treat, and we had quite a few favorite places to indulge. Native Angelenos may remember Will Wrights Ice Cream parlor with its candy-striped motif and almond macaroons; C.C. Brown's on Hollywood Blvd. was the place to go for a sundae, and birthday parties were for Farrell's and the infamous pig trough. My friend Amy and I used to walk from her house to Thrifty, where the cones were 25 cents for two scoops. (Rite Aid still sells Thrifty Ice Cream.) These days my family enjoys quite a bit of self-serve Froyo; but nothing, and I mean NOTHING beats good old-fashioned ice cream. What lazy summer day is not enhanced by a cone? Happily, this full-fat, creamy confection is making a comeback, and there are quite a few artisanal—and old-school—options.
1. Soda Jerks
The Santa Monica Pier, Santa Monica
Whoever thought of putting an old-fashioned soda fountain at the Carousel at the Santa Monica Pier was a genius. Root Beer float, anyone?
2. Local Ice
12747 Ventura Blvd.Studio City, CA 91604
(818) 505-8111
Its motto is "Without ice cream, there would be darkness and chaos." Enough said.
3. Bennett's
Farmer's Market, Los Angeles
An old-fashioned dessert served in the old time setting of the Farmer's Market. Cabernet Sauvignon is kind of a new-fangled flavor though.
4. McConnell's
Grand Central Market, Downtown Los Angeles
Now in DTLA, this California stand-by has flavors like Churros con Leche and Turkish Coffee.
5. Fosselman's
1824 West Main Street Alhambra, CA 91801
(626) 282-6533
In October I'll be driving to Alhambra, where the seasonal selection is Black Licorice. This ice cream store has been open for 91 years and is still operated by members of the Fosselman family.
6. Sweet Rose Creamery
7565 Beverly Blvd. Los Angeles, CA 90036
(310) 844-0944
There are multiple locations, but the one on Beverly is kosher. Ice cream for everybody! You won't find flavors like Olive Oil and Loquat Compote at the local deli.
7. Milk
1639 Silver Lake Blvd. Los Angeles, CA 90026
(323) 913-9911
This Silver Lake Creamery has it all, including home-made drumsticks and ice cream sandwiches served on pastel colored macaroons.
8. Fair Oaks Pharmacy
1526 Mission Street South Pasadena, CA 91030
(626) 799-1414
A Pasadena landmark since 1915, this is a classic soda fountain. The grilled cheese is yummy, too.
9. Gelato Bar and Espresso Café
4342 Tujunga Avenue Studio City, CA 91604
(818) 487-1717
The creation of Nancy Silverton's sister Gail, this gelateria has vegan options and also serves great coffee.
10. Atticus Creamery and Pies
10893 West Pico Blvd. Los Angeles, CA 90064
(310) 474-7464
A no-brainer, since the only way to eat pie is à la mode. Ume is a Japanese flavor made from purple yams.
11. Farrell's Ice Cream Parlour
21516 Golden Triangle Road Santa Clarita, CA 91350
(661) 253-4386
Although the original that LA natives remember closed several years ago, Farrell's has recently been making a comeback, opening a few nostalgic locations complete with pin-stripe vests and old-fashioned menus.
Originally published May 3, 2015
Top photo courtesy of Soda Jerks.
Looking for more ice cream options? Check out our favorites on the Westside.