LA's Best Ice Cream and Frozen Treats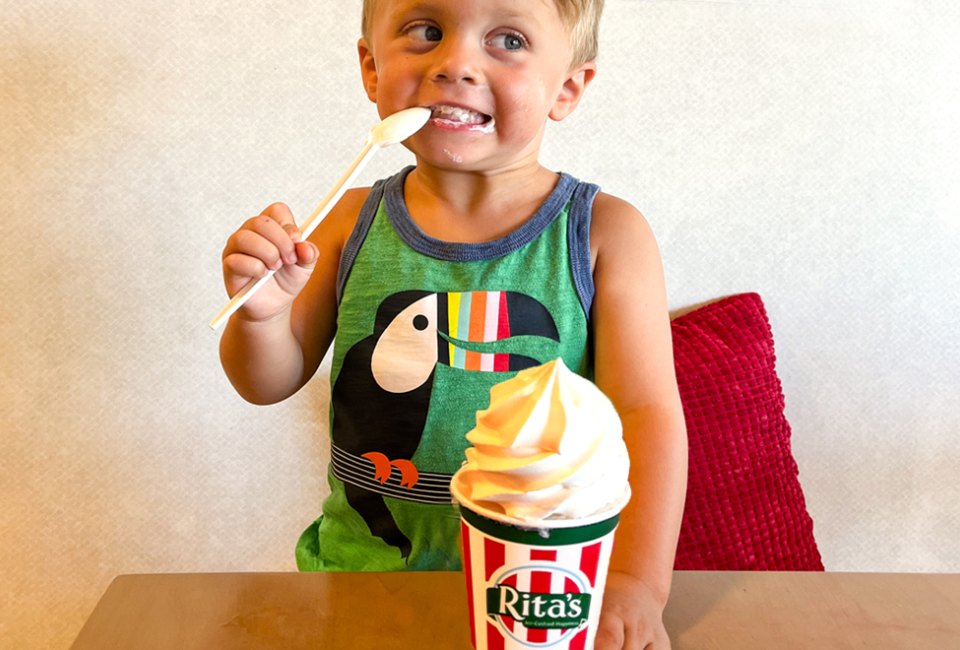 7/2/23
- By
Kylie Williams
Treat yourself (and your kids) to LA's best ice cream. There are tons of places to choose a scoop! Like Hollywood stars, some ice cream shops are more famous than others, and Angelenos have strong opinions on which boulevards and freeways to cross for that perfect ice cream cone.
Connoisseurs of the creamery have been slinging LA's best ice cream and frozen treats all over the county (and into Orange County, too), from classic scoops to creative flavors to the swirliest, smoothest soft serve and refreshing paletas. With a world-class restaurant scene, and beautiful weather year-round, you don't have to save ice cream for those special occasions like birthdays, road trips, after sports games, or even summer, for that matter. But what's a better ending to a summer evening than an ice cream cone?
If sweet treats are on the mind, don't miss out on the most insane, over-the-top LA desserts, the coolest spots for fro-yo, and even more for sweet tooth cravings in our Restaurants Guide for Los Angeles and Orange County Families.
LA's Best Ice Cream Scoop Shops

Ice cream from Bennett's is always a good choice at the Original Farmers Market.
An old-fashioned dessert served in the old-time setting of the Original Farmers Market. Mr. Scott Bennett and his staff mix up incredible batches of ice cream daily, and you can watch the action through Bennett's store window.
2. McConnell's — Santa Monica, Santa Barbara, DTLA, Studio City, Pacific Palisades
This delectable scoop shop originated in Santa Barbara, but luckily shops have popped up around LA. McConnell's is known for creamy and creative flavors (Toasted Coconut Almond Chip is my favorite).
Nestled in the darling Brentwood Country Mart, this neighborhood shop focuses on flavors with local ingredients from the Santa Monica Farmers Market. Sundaes are also a big hit here.
Small-batch ice cream made with love is what you'll find at this quaint little spot in Costa Mesa. The ice cream artisans at Stella Jean's use real ingredients to create locally-made ice cream.
5. Bruster's — Seal Beach, Cypress, Cerritos, Hollywood, & Torrance
There are 150 flavors in rotation at this ice cream Mecca, and every single one is made in-house.
RELATED: Los Angeles Restaurants Where Kids Can Play While Parents Eat

Step into flavor heaven at Wanderlust—one of LA's best ice cream shops.
6. Wanderlust — Multiple locations throughout LA including Venice, Pasadena, Sawtelle, & Atwater Village
Wanderlust is a quintessential LA spot and hasn't expanded out of SoCal. Many of our Facebook friends list Wanderlust as LA's best ice cream, and with flavors like Ube Malted Crunch, and Sticky Rice + Mango, Wanderlust is the perfect place to explore your taste buds.
With the word divine in the title, how could you possibly go wrong with a scoop of Ginger's? Even the vanilla ice cream isn't, well,—it's vanilla made with scraped vanilla bean pods. Ginger's also has plenty of vegan options available. The Beverly Grove location has easy parking at the Beverly Connection across the street.
8. Van Leeuwen — Culver City, El Segundo, Franklin Village, Silver Lake, The Arts District, & Studio City
If you are looking for a unique scoop of quality ice cream and have a few extra dollars to spare, Van Leeuwen lives up to the hype. They often create bizarre flavors (I'm thinking back to the Hidden Valley Ranch flavor from early 2023) but have some tamer, still delicious, standbys too.
9. Handel's Homemade Ice Cream & Yogurt — Northridge, Woodland Hills, & La Canada with Culver City, Santa Monica, & Valencia locations coming soon
Oh, friends. If you are looking for LA's best ice ice cream, this is your place. I first tried Handel's in Carlsbad, but as locations have moved further north, it has become a must-stop whenever one is nearby. The ice cream is homemade, and Handel's is known for their signature "small" cone... with three whopping scoops of ice cream stacked atop each other.
10. Salt & Straw — Various locations throughout LA
Follow your nose to Salt & Straw because you will smell the waffle cones before you even see the storefront. Salt & Straw is always a quality treat, and with more than 10 locations throughout the city, and rotating monthly flavors, it shouldn't be hard to find a spot near you.
11. Afters Ice Cream — Sherman Oaks, Pasadena, Woodland Hills, Hollywood, & Highland Park
Your kids will love the bright colors, and you'll love the quality taste of each scoop. Afters Ice Cream offers creative spoonfuls such as Jasmine Milk Tea and Salty Oreo and kid-pleasers like Cookie Monster.

You just can't say no to Jeni's Splendid Ice Creams. Photo by Kylie Williams
12. Jeni's Splendid Ice Creams — Los Feliz, Venice, Calabasas, Larchmont, & Playa Vista
When I see that bright orange, swirly cursive of Jeni's logo, I turn to my husband and say, "Babe! There's a Jeni's! Let's go!" I can't help it. A scoop of Jeni's Gooey Butter Cake is too hard to resist. I first tried this ice cream icon in Nashville, TN, and I am so glad locations are popping up all over LA.
Carmela has made many "best ice cream" lists by notable magazines and websites, and the cups are so darn pretty, too. You'll want to implement the "phone eats first" rule with these dreamy servings.
After having a baby, a friend sent me a pint of Chocolate Chip Cookie Dough ice cream from C + A, and every bite blew my mind. Since then, it has become one of my favorite items to send new moms, and we pop in often for a treat. They're known for packing their ice cream with chunks of goodness- we're talking about gobs of cookie dough.
This local Persian ice cream shop is a staple in LA, and with favorites like the "Mashti Special" and Persian spice-infused ice cream, it's easy to see why. A third location will soon open in Silver Lake.
Is ice cream shaped like a rose? In a "puffle"? Sign us up for this unique spin on ice cream. Cauldron used. to have a storefront in Glendale, but you'll have to trek to Santa Ana for this treat now.
LA's Best Ice Cream Parlors
Whoever thought of putting an old-fashioned soda fountain at the carousel on the Santa Monica Pier was a genius. Root Beer float, anyone?
See a movie at the El Capitan Theatre and walk next door to this classic soda fountain with mouthwatering ice cream sundaes topped with heaps of Ghirardelli hot fudge. There is also a Ghirardelli Soda Fountain inside Disney's California Adventure at the Disneyland Resort, though admission is required to access it.
This classic ice cream and soda shop has been home to the "world's best milkshake" for over 100 years. Time proves that Fosselman's is the real deal.
RELATED: The Most Insane, Over the Top LA Desserts to Treat (and Wow) Kids

Pull up a seat in the Original Farmers Market for a classic treat at Local Ice.
This ice cream spot in the Original Farmers Market specializes in small-batch ice cream and has all the classics, like a banana split or an ice cream sundae.
Get your kicks (and your ice cream fix) on Route 66 at this classic location that has been serving soda floats and ice cream treats since 1915.
LA's beloved automobile museum also has an ice cream parlor that will transport you back to the 1950s. Check out the classic cars, explore the kids' area, then end your visit with a classic sundae or float.
Unique Frozen Treats for Los Angeles Families
Celebrity baker Christina Tosi is the genius behind the flavor-packed desserts at Milk Bar, including a "cereal milk" soft serve ice cream, crack pie, and the most delectable birthday cake you can imagine, complete with colorful sprinkles.
On a hot LA day, a satisfying frozen thirteen-ingredient Halo Halo will quench your thirst and cool you down on the westside. B Sweet does a stand-out version of this Filipino favorite.
RELATED: Fun Popsicle Recipes to Make with Kids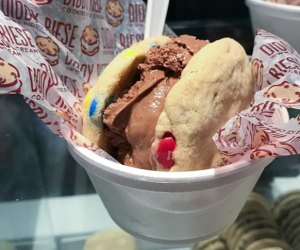 You might turn into a cookie monster at Diddy Riese.
Anyone within a stone's throw from Westwood will recommend Diddy Riese if you are in the area. It's a UCLA hangout with refreshingly affordable treats. The shop sells scoops of Dreyer's ice cream, but they are known for their unbeatable cookie ice cream sandwiches.
26. Rita's Italian Ice — West LA, Newbury Park, Santa Clarita, & Brea
Did you know that Rita's originated in Philadelphia? The city of cheesesteaks is also the city of water ice, and luckily this soft-serve cherished custard is across the country right here in LA. Order it solo, on top of flavorful Italian ice (Gelati), blended into the Italian ice (Blendini), or made into a milkshake (Concrete).
This ingredient-forward gelateria on the eastside creates small-batch from-scratch gelato. The full flavor list is like a novella and the local farmers market inspires flavors.
28. The Dolly Llama — DTLA, Koreatown, & Sherman Oaks
Would you like a waffle with your scoop of ice cream? That's what you'll find at this funky little dessert spot. The jury's still out on whether or not you are allowed to classify this as breakfast, though.
RELATED: Easy Summer Desserts & Snack Recipes Kids Will Love

A paleta from Mateo's makes a refreshing frozen treat.
Are paletas more your thing? Mateo's serves refreshing world-class fruit pops, fruit cream pops, and chocolate-covered pops satisfying all types of palettes.
Travel to Hawaii without leaving the mainland—this is the only Ululani's outside of Hawaii, making it a destination in itself. Enjoy Hawaiian shave ice on the most famous boulevard in LA.
Dreaming of gelato on cobblestone-covered streets in Italy? This gelateria straight out of Rome will transport you to the boot and will tempt your return due to the endless flavors to try.
LA Soft Serve and Frozen Yogurt Spots
32. Magpie's Softserve — Silver Lake, Highland Park, & Tarzana
Rose and Warren Schwartz use scratch recipes to create unique flavors combining their backgrounds and taste preferences at these Los Angeles shops. While the soft serve is also a solid choice, Magpie's also makes soft serve pies, and one look may have you buying a slice.
Koreatown is chock full of LA's best ice cream, desserts, and food, for that matter. This Instagram-worthy organic soft-serve ice cream is directly from a leading organic dairy producer in Korea. Kiddos will devour cereal cone options like Fruity Pebbles and Rice Krispies that can adorn the cones.
RELATED: Restaurants Guide for Los Angeles and Orange County Families

Snap those photos for the gram before your Little Damage ice cream melts!
If you have a teen who likes going on foodie adventures for the 'gram, hitting up Little Damage is a must. The signature black charcoal cone, combined with the uniquely flavored soft serve, is as much made for photos as it is for eating.
35. CVT Trucks — Roaming LA daily
Facebook friends unequivocally voted the CVT trucks as the best soft serve in LA. Eat it fast because you don't want to lose one drip of this incredible treat to the pavement.
All photos are courtesy of the venues unless otherwise indicated.
Sign up for the Mommy Poppins Newsletter today!