30 Things To Do in Oahu With Kids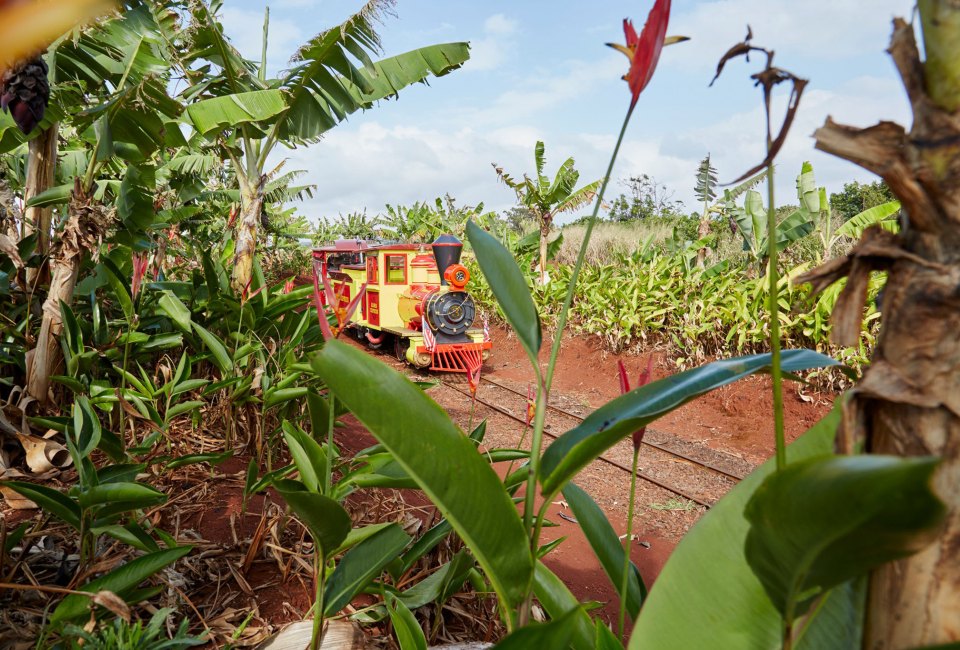 11/20/21
- By
Jean Kuo Lee
Thinking of taking a vacation to Hawaii? The island of Oahu will give your family the perfect blend of fun activities and blissful relaxation on the beach. And with so many fun things to do in Oahu, your kids will never get bored! Oahu may be known as one of the more touristy of the Hawaiian Islands with its highly developed roads, luxury resorts, and metropolitan sophistication, but it also has the charms of more laid-back islands like Maui. All on one island, you can enjoy the turquoise waters of Oahu's soft, white sand beaches and the streets of Waikiki that are bustling with energy.
Below, we've listed 30 things to do in Oahu with kids, including great Oahu hotels and resorts and delicious Oahu restaurants. For more warm and sunny family vacation ideas, check out our Family Travel Guide, where we share the best things to do with kids in destinations throughout the US and the world.
Note: At the time of publication, everyone traveling to Hawaii from within the United States must provide proof of Covid vaccination or a negative Covid test to avoid quarantine. Visit Hawaii's Covid-19 Portal for updated travel requirements and restrictions. Some activities may be unavailable at the Oahu hotels and resorts, Oahu restaurants, and other venues listed below, so call or check their websites ahead of time when making your plans.
While public transportation is well developed in Oahu, renting a car to get around the island is highly recommended, especially if you'll be exploring multiple areas with the family.

Visit Pearl Harbor National Memorial to learn about pivotal moments in U.S. history. Photo courtesy of the memorial
Things To Do in Waikiki with Kids
Depending on the age of your kids, this could be a very meaningful experience for the whole family. Learn about U.S. and world history by checking out the Pearl Harbor Visitor Center, then visit the USS Arizona Memorial for a solemn remembrance of the sobering events that happened during World War II. Pearl Harbor is a must-visit for families with older children, but if you feel your younger kids can handle it, be sure to plan a visit. Complimentary tickets for the USS Arizona are released eight weeks in advance and must be reserved online.
In the buzzing heart of Waikiki you'll find the Royal Hawaiian Center, one of Hawaii's largest indoor-outdoor shopping malls. The best part of this place, besides the wide variety of shops and restaurants, is the complimentary cultural programming. Offerings include hula performances and lessons, live music, weaving and lei-making classes, and other fun activities.
This open-air shopping center is an exciting place to learn about local history while shopping at more than 80 stores and dining at a variety of restaurants to suit any palate. It is chock full of activities for the family, from live concerts and performances to local craft markets. Plan ahead by looking at the Market Place's events page.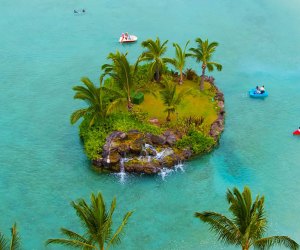 Enjoy an array of fun-filled family activities at Duke Kahanamoku Lagoon, a spectacular five-acre saltwater lagoon. Photo courtesy of the Hilton Hawaiian Village Waikiki Beach Resort
4. Waikiki Beach
From the Hilton Hawaiian Village's Duke Kahanamoku Lagoon at the upper end, through the less-crowded strip of beach near Fort DeRussy Beach Park, to Sans Souci Beach away from the hotel strip, you will find a plethora of activities to do with the kids along this two-mile stretch of sand. There's swimming, kayaking, surfing, snorkeling, boogie boarding, canoe paddling, suntanning, sandcastle-building, and lots more.
This iconic hike up to the top of a volcano is a must-do for active families. The trail to the summit climbs 560 feet and includes steep stairways, so be prepared. It will be two hours of good exercise and even includes hiking through a long, narrow tunnel before getting to the top of the crater, where your family will be rewarded with breathtaking views of Waikiki and the south shore of Oahu.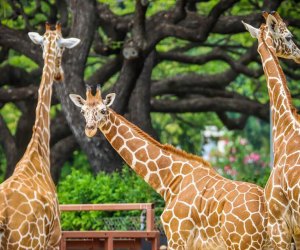 Visit giraffes and many other animals at the Honolulu Zoo. Photo courtesy of the zoo
Located between Diamond Head and Waikiki, the Honolulu Zoo is a great place to visit with kids who love animals. The exhibits of birds, mammals and reptiles are organized into three ecological zones: the African Savanna, Asian and American Tropical Forests, and Pacific Islands.
Another shopping mall, you say? That's what Waikiki is for, though! Ala Moana is the largest shopping center in Hawaii with over 350 shops and 160 dining options. There are also cultural performances, live music, and festivals. And if you wanted to pick up some groceries where the locals shop, try Foodland Farms, which has an amazing selection of poke.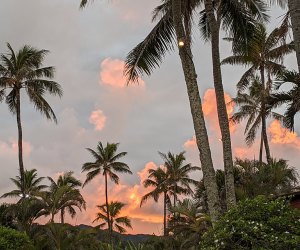 Visit recreations of Polynesian island villages at the Polynesian Cultural Center. Photo by the author
Things To Do in Oahu on the North Shore with Kids
One of my favorite destinations in Oahu, the Polynesian Cultural Center is worth the steep price of admission ($69.95 and up for adults and $55.96 for kids ages 5-11). Families can visit six island villages that are recreations of unique Polynesian island cultures. You can walk through traditional huts, see fire knife performances, learn how to weave, eat at a traditional luau, watch an amazing show at night, and more. We spent the entire day here and wanted to return for a second day to see what we missed. There's just so much to do and learn!
9. Laniakea Beach/Turtle Beach
If you want to see tons of sea turtles, head to Laniakea Beach, commonly known as Turtle Beach. You can see the once-endangered turtles up close as they bask in the sun or swim in the waves, making this beach a fun spot for the family.
10. Horseback Riding
It doesn't get any better than a beachfront trail ride along the most beautiful coasts in Hawaii. There are several stables suitable for kids, including North Shore Stables in Waialua.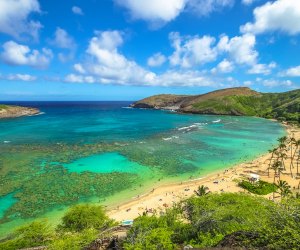 Hanauma Bay Nature Preserve is the perfect snorkeling spot. Photo courtesy of the preserve
Things To Do in Oahu on the East Shore with Kids
Hanauma Bay is the most spectacular place for snorkeling in an environment where a lot of effort has been made to keep the marine ecosystem pristine. Visitor access is limited, and workers even try to regulate the sunscreen visitors use in an effort to preserve the bay. Snorkeling equipment is available for rent, and reservations are required.
This 4,000 acre ranch and private nature reserve has been the site of over 70 Hollywood movies, including Jurassic World and Jumanji. The scenery is beautiful at Kualoa and you can experience the raw beauty for yourself with tours and activities such as ziplining and horseback riding.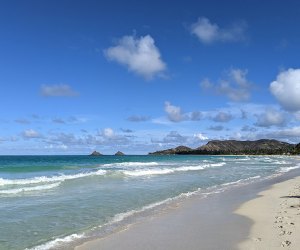 Kailua Beach is a great beach to spend a day with little ones. Photo by the author
13. Kailua Beach
Have you ever dreamed of powdery soft, white sand? Turquoise, clear waters? Gentle surfs for kids wading in warm ocean water? Here it is—paradise. You and your family may never want to leave.
14. Lanikai Beach
Adjacent to Kailua is Lanikai Beach, which was ranked as one of the best beaches in the world. Like Kailua Beach it has white sand, gentle surf, and clear, turquoise water.
15. Waimea Bay
The big boys surf here in the legendary waves of Waimea Bay. If your kids are good swimmers and you're not afraid of the giant waves, this place is a wonderland. Even if you're not a surfing expert, it can be a great place to watch the experts do it.
Take the kids on a 20-minute train ride through the Dole Plantation to see the pineapple farm. You can also try your hand at the giant Pineapple Garden Maze, which typically takes about 40 minutes to solve. Or, you can take a roughly hour-long walk through the gardens. But what your kids will likely remember most is the famous Dole Whip ice cream!

Climb the rocks at Nanakuli Beach. Photo courtesy of the park
Things To Do in Oahu on the West Shore with Kids
In the four protected lagoon beaches at Ko Olina, the waters are calm and gentle, perfect for building sandcastles and swimming with the little ones. The lagoons are connected by more than 1.5 miles of beautiful seaside paths.
At this family-friendly beach, the waters are typically calm, clear, and blue. Be sure to check alerts for any high-surf warnings before you go.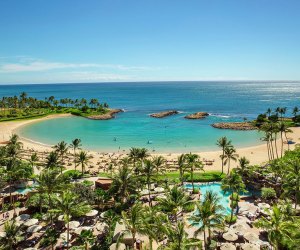 Aulani Disney will keep the whole family entertained. Photo courtesy of the resort
Oahu Hotels and Resorts for Families
This beachfront island resort is perfectly situated on the west shore of Oahu at Ko Olina. It is a great option away from the Waikiki crowds if your family is looking to get maximum time relaxing at the lagoons, taking a ride in an outrigger canoe, or playing a round of golf.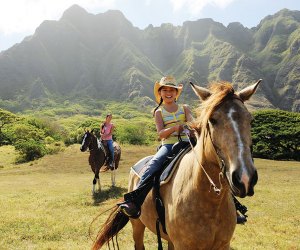 Take a horseback riding excursion at Kualoa Ranch when you stay at Aulani, A Disney Resort & Spa. Photo courtesy of the resort
For a truly Hawaiian experience with a touch of Disney magic, we love the Aulani Resort. There's a reason it's made our list of best beach vacations for families! There are several pools, water slides, splash zones, and a lazy river; a private lagoon for snorkeling; an amazing free kids' club called Aunty's Beach House, a spectacular luau, character experiences, complimentary boogie boards and sand toys on the beach, and lots more.
For the ultimate hideaway vacation, take your family to the Turtle Bay Resort on the North Shore. For families who appreciate quiet, more seclusion, and luxury, this place comes highly recommended.

Kids will love the water slides at Hilton Hawaiian Village Waikiki Beach Resort. Photo courtesy of the resort
If you want to be in the heart of it all, the Hilton Hawaiian Village is where it's at. Minutes from the boardwalk, this resort has its own lagoon, themed village, and water park, so you can be sure your kids will never say, "I'm bored!"
Oahu Restaurants Kids Love
For a fun and delicious place to chomp down on famous, locally farmed shrimp, stop by Fumi's and get a plate of the freshest shrimp in Oahu.
Easy 'Que serves up the best, uniquely made BBQ in Hawaii! The BBQ ribs are to-die-for, and so are the smoked brussels sprouts (even my kids say so). Unique BBQ sauces like "Kailua Green," a blend of Thai curry, cilantro and shrimp paste, offer an originally Hawaiian taste that cannot be found anywhere else on the planet.
If you're on the North Shore, stop by Kahuku farms for the best organic, homegrown sandwiches and drinks you'll find on the island.
This popular lunch and dinner restaurant in the Ko Oline resort area offers a variety of menu options, from burgers and wood oven pizzas to fresh fish and salads. There are 36 craft brews on tap and live music twice a day. And children (or "keiki") under 3 can eat noodles and cheese for free!
This restaurant has two locations, and the one you want is oddly not in Haleiwa, but in Kaneohe. The whole family will fall in love with the open-air restaurant overlooking a koi pond and tropical gardens, right in view of the Ko'olau mountain range. The food is delicious, and the gardens are open to explore before dinner while you wait for your table.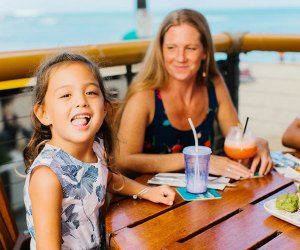 Dine on the beach at Duke's Waikiki. Photo courtesy of the restaurant
This iconic restaurant right on the beach is usually booked weeks in advance for dinner reservations, and for good reason. Eating at Duke's is a magical experience under the stars, with the sound of the waves crashing and live music. Duke's also offers a delicious breakfast buffet.
If you love fresh seafood, which is especially delicious when you're in Hawaii, treat yourself and the family to the fresh-caught fish at Paia Fish Market. The dining is casual, and the kids will love the fish and chips.
This popular breakfast spot has four locations on Oahu, all of which close at 2pm. Among the traditional menu items like pancakes and omelets, you'll find uniquely Hawaiian (and delicious) meals like mochi or macadamia nut waffles, loco moco, and SPAM and eggs.
Click Here to Sign Up!
i