Little Damage in DTLA: Want Some Charcoal in Your Ice Cream?
When I became a parent, a mom friend told me that what I could look forward to was the return of the simple, perfect joy of an ice cream cone. The image of gleefully chasing an ice cream truck warmed my heart. But now that my kid is a teenager, that ice cream glee looks a little different. It looks like Little Damage, the social media phenomenon that has people standing in line for an hour on a DTLA street corner to eat a black ice cream cone, only AFTER they have photographed it and shared it with a few hundred friends. This summer, the ice cream that brings joy is charcoal flavored.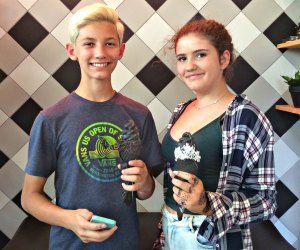 No licking until we've taken photos!
Little Damage has a short menu of soft serve ice cream. The day we went, the flavors (all equally delicious) were salted covfefe, unicorn tears, avocado dreams, and, the one everyone came for, dark cinns—the dark alternative to the unicorn frappuccino that has been dubbed goth ice cream, the black ice cream in a black cone that Angelenos must have in their Instagram feeds.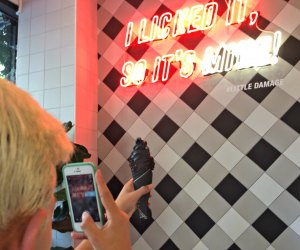 Dark Cinns gets its close-up.
The small shop has risen to the moment, offering a wall for selfies and a photo booth; every cone is ready for its close-up. There is little doubt what brings people to Little Damage. The hour spent in the line that wraps around the corner and down 7th Street is time for posting on Snapchat, and not a cone gets scooped that isn't photographed before a single lick. Samples are brought through the line, which keeps things moving quickly at the counter and lets everyone try all four intriguing varieties.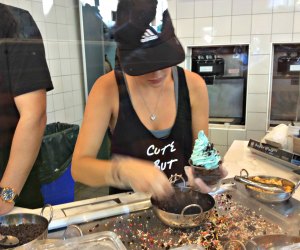 Every scoop gets a free topping.
The flavor of the hour was delicious, and yes, it really does have charcoal in it, as does the unusually tasty matching black cone. The charcoal content is a plus for some people, charcoal being a popular supplement taken for stomach upset in some countries. One mom told me that her usual lactose intolerance didn't apply to the charcoal-laced treat. So, there's that. For me, bringing two adolescents on a lazy day summer outing, it was definitely worth the trip. Standing on a street corner downtown for a prolonged period admittedly has its drawbacks, and I had to place myself between kids and creepy looking characters more than once, but overall the outing was a big success. We parked at a $5 lot around the corner on Main (half the price of many other lots in the area), which gave us freedom to check out Clifton's Cafeteria before heading out.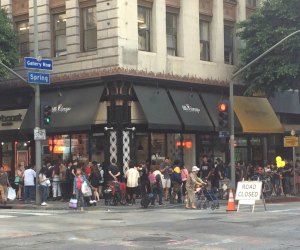 So, there's the line...
Clifton's has undergone a much talked about refurbishment, and I had been dying to have a peek. The doorman was happy to let us in for a wander with cones in hand ("I see you've been to Little Damage," said he...), so we enjoyed our goth cones in the cool Art Deco interior, surrounded by wild beasts and serenaded by a 1940s USO style band. But we'll return another day to write that post!
RELATED: Is LA's Weirdest Restaurant Worth a Trip Downtown?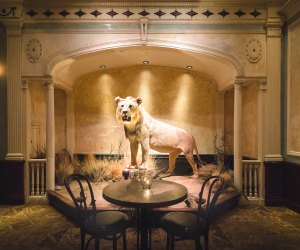 We stopped at Clifton's to mingle with the Downtown wildlife. Photo courtesy of Clifton's Republic
Little Damage hours:
Sunday-Thursday 12pm-11:30pm
Friday-Saturday 12pm-1am
All photos by author unless otherwise noted