Is LA's Weirdest Restaurant Worth a Trip Downtown with Kids?
Whether you're old enough to remember Clifton's Cafeteria before the major remodel, or just a touch leery of dragging little kids through the bustle of Downtown, there's no quirkier spot to indulge in comfort food than Clifton's. An outing to DTLA with kids takes some planning, and it wouldn't be complete without a stop at Clifton's, which is something of a little kid playground—but one rich in history and enough taxidermied animals to compete with the Natural History Museum. Visiting Clifton's and its Cabinet of Curiosities can be a family adventure kids will remember—and beg to repeat.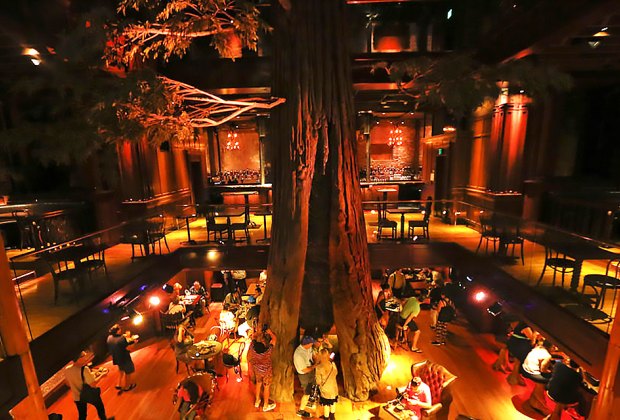 The giant Redwood tree stretches all the way up through a three-story atrium.
This Los Angeles institution (Clifton's first opened in 1935) has benefitted from a remarkable $10 million remodel. A giant (albeit fake) tree dominates the middle of the building, while a waterfall gurgles nearby, and stuffed (literally) animals strike a pose. While there's a chance these frozen critters could scare small children, they're easy to avoid; just show the kids directly to the cafeteria. The enormous bison might look better after lunch, and it's hard to argue that the stuffed peacock isn't pretty.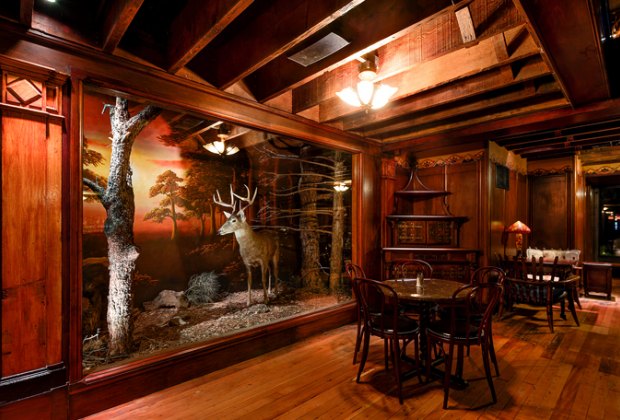 Pick a table near your favorite animal.
Adventurous kids can go exploring to find critters posed in unexpected corners. Not all of the fauna are bear or bison-sized. Crawling through tunnels or peering around corners can reveal foxes, raccoons, and other furry friends. Of course, if the wolf chasing its prey across the upstairs dining room worries anyone, it may be a better idea to eat in the sofa lounge with cartoons playing on the wall.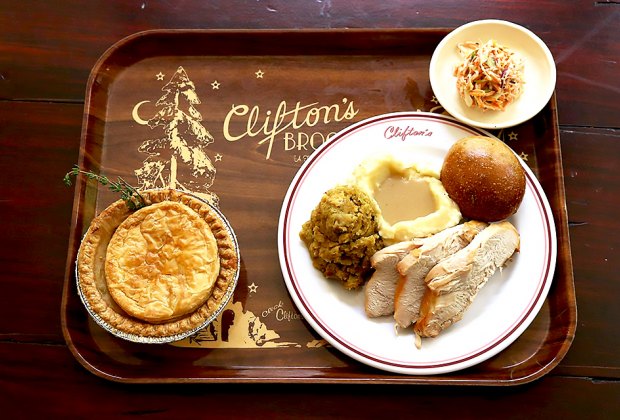 Grab a tray and wander through the rows of delicious food.
Though Clifton's is now cool with hipsters, that doesn't mean kids aren't welcome; staff cheerfully greet young guests, and the main hall frequently has kid-friendly stage entertainment on weekends, like vintage bands and character appearances that may even include Snow White. The Treasure Tray is a kiddie meal with a choice of pasta or chicken fingers, two sides, and a dessert. Most importantly, the tray comes with a token that can be redeemed for a toy from the big treasure chest downstairs. Parents are usually pleased with the turkey dinners, sandwiches, pasta and assorted meals available for grown-up palates, not to mention the various Happy Hour specials at Clifton's five different bars.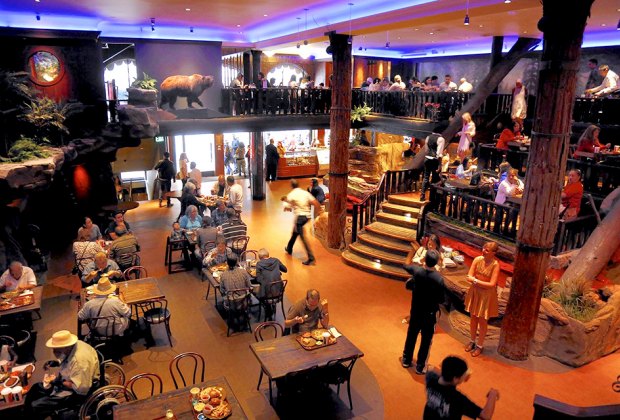 The vast interior of Clifton's takes up five floors.
Of late, Clifton's has become most famous for its bars and nightlife (and a weekend evening dress code), but that's no reason not to take a tour of the building during daylight hours. You can carry your cafeteria tray to any room in the place, enjoying different views, decor, and entertainment. For grown-ups, the upside of this is that it's easy to get a cocktail. Plus, if you pick the right bar, you might be able to get a glimpse (and even show the kids) a real, 250-pound meteorite. Truly, there's something spectacular to see around every corner, whether that's orginal artwork, '30s-era furniture, or a tiki-themed bar.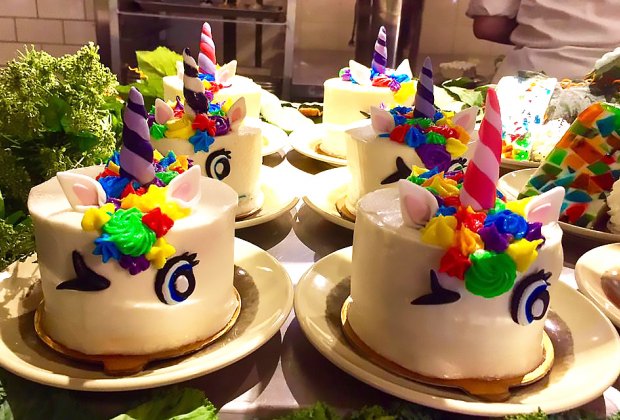 After taking in the magical scenery hit the bakery to gawk then eat a decadent dessert.
Since parking is expensive Downtown, consider taking the subway. Even though the crowds can be tough to navigate with kids in tow, taking the train is part of the adventure. Once there, Little Damage with its famous charcoal ice cream is right around the corner, and it's possible to walk to The Last Bookstore or Bottega Louie (though, being in opposite directions, probably not both) to make a trip to Clifton's last a whole afternoon.
When you finish your visit, be sure to remind the kids they've been inside the largest public cafeteria in the world—and surely one of the most weirdly, wonderfully magical.
Note: As of autumn 2018 the restaurant portion of Clifton's is closed for kitchen renovations. Only the bars are available until changes are complete—date unknown. Call before heading down.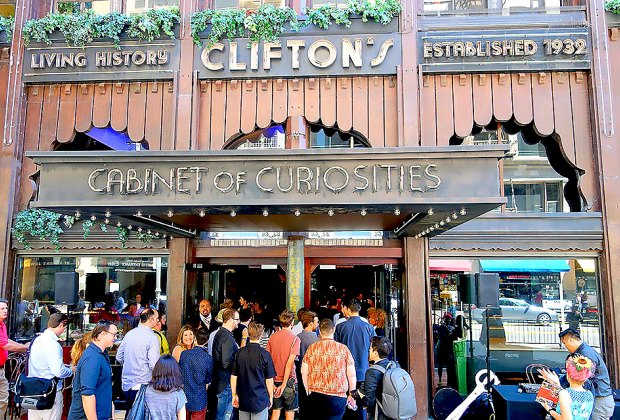 Top photo by Ron Gilbert/CC BY 2.0; all other photos courtesy of Clifton's Cafeteria