Nashville with Kids: 60 Best Things To Do in Nashville, TN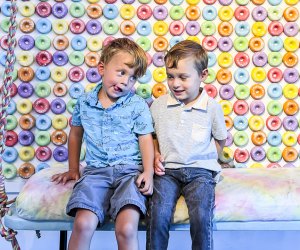 9/17/22
- By
Kylie Williams
Nashville, Tennessee—also known as Music City—is a mix of southern charm and modern hipness. Plus, there are so many things to do in Nashville with kids—outdoor adventures, interesting museums, distinct country sounds, and more. I travel to visit my brother and his family in Nashville at least once a year, and I have fallen in love with the magic of the city.
Here are 60 things to do in Nashville, TN with kids, including kid-friendly Nashville restaurants and the best Nashville hotels for families. For more family adventures in Tennessee, check out our city guides to Chattanooga, Gatlinburg and Pigeon Forge, and Memphis. And, as always, visit our Family Travel Guide for more family vacation inspiration.
Top Attractions in Nashville, TN for Families
Kids can get in on the fun with interactive explorer bags, free for in-museum check-out, when you tour this famous spot highlighting the legends of country music. Children can also do crafts and participate in activities at the Taylor Swift Education Center, located inside.

Nothing says Nashville more than the Grand Ole Opry. Photo courtesy of the Country Music Hall of Fame Museum
The Grand Ole Opry is one of the most iconic things to do in Nashville. You can book a tour backstage at this famous music hall and check out rotating exhibits. If the kids are up for it, buy tickets to a show. Different country stars perform at the Opry weekly. Just check the schedule to see who is playing while you're in town.
So much of Nashville's history intertwines with the Ryman Auditorium. Book a self-guided, guided, or group tour to get to know the history of this landmark venue. Better yet, see who's playing while you are in town and catch a show.
If you want to sneak a little history lesson into your trip, a tour of the Hermitage (President Andrew Jackson's home) is enlightening, interesting, and fascinating. President Jackson himself is buried there.
RELATED: The Best Zoos in the US

There are so many animals to see at the Nashville Zoo. Photo by the author
This zoo is somewhat small, but it's lush, beautiful, and chock full of more than 375 species of exotic birds and animals. My 3-year-old was thrilled when we got up close and personal with a tiger (his favorite animal), and he probably could have spent three hours in the reptile exhibit.
Kids under 18 get free admission to this multi-exhibition art museum in the heart of Nashville. Keep in mind that the building is closed on Tuesdays and Wednesdays.
There is an amazing replica of the Parthenon in Centennial Park, but you can also find croquet courts, a fighter jet, a steam locomotive, a sunken garden, and a fantastic sports complex.
Best Nashville, TN Museums for Kids
This free museum tracks Tennessee's earliest history up through modern times, with priceless artifacts from the earliest people groups, the Civil War, and more.
Have you ever wondered what it would be like to ride on a travel train like they did in the olden days? Now's your chance. This museum offers excursions on vintage-style passenger trains every Saturday. During the holiday season, there's a Christmas excursion that's perfect for kids. Even if you aren't able to ride a train, visit the museum to get a close look at preserved locomotives from a different era.
Science meets imagination at this museum near Nashville that is specially curated for little minds. Kids can experiment with water, pretend to be a firefighter, "shop" at a mock farmer's market, and so much more.
RELATED: The Best Children's Museums in the US

There's lots to explore at the Adventure Science Center. Photo courtesy of the center
You can learn all about the planets, the human body, nanotechnology, tsunamis, beekeeping, the physics of flight, and more at this science center created specifically for children. Make sure to check out the adventure tower playground, where you'll find a spectacular view of Nashville from the top.
This sprawling estate has multiple gardens (including a children's garden), an outdoor play place, and model trains for kids to ogle. The estate doubles as an art museum with several exhibitions on property, and it hosts seasonal festivals annually.
Outdoor Things to Do in Nashville, TN with Kids
Let kids burn off some energy at the playground and explore this stunning park set right on the Cumberland River. There is a mile-long walking trail, a famous outdoor amphitheater, and an ornamental garden to explore.
While you are at Riverfront Park, make sure to walk the John Seigenthaler Pedestrian Bridge for the best view of the Nashville skyline. It's beautiful during the day, but you'll be mesmerized by the view if you visit in the evening and the lights are all on.
If you're looking for things to do in Nashville in the summer, try Wave Country, a government-run Metro Park with a giant wave pool. It's affordable, cool fun on a hot, humid summer day.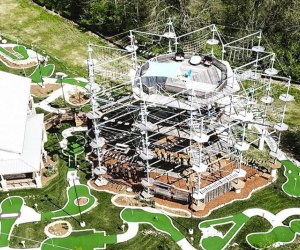 Tweens and teens can tackle the four-story climbing tower at SOAR. Photo courtesy of SOAR Adventure Tower
Scale a four-story climbing rig or stay on the ground for a round of mini golf at this extreme adventure park. Kids ages 3-8 can navigate the ground course. Parents are welcome to walk alongside their tiny adventurers and help them when needed. For go-getters, there are three different levels of climbs.
Did checking out the river make you want to jump in the water? Nashville Paddle Company rents out paddleboards and kayaks for some stunning views, healthy exercise, and fresh air.
18. Zip Line Through the Forest
Zoom over the trees and get an adrenaline rush with a zip line adventure. There are kid-friendly rides, too!
The Bluegrass is swingin' at this stunning vineyard right outside of Nashville. Visitors can pack a picnic, find a table, and enjoy a bottle of wine while the kids run in the grass and dance to live bluegrass music. It's quintessential Nashville and is one of my favorite spots in the city. Best of all, there's no admission fee.
RELATED: 30 Best Warm and Sunny Family Vacation Ideas

Hop on a tractor at Lucky Ladd Farms. Photo by Nikki Dempsey
Pet a goat, ride a pony, glide down a mega slide, get lost in a corn maze, mine for gems, race a rubber ducky, milk a cow, and more at this inexhaustible "ag-venture farm fun park" for kids near Nashville. The farm also has seasonal attractions, including a splash pad and bubbles in the summer and a pumpkin patch in the fall.
Learn about the Civil War and check out the Peace Monument at the Nashville Battlefield, the site of a two-day battle.
At this park near the Capitol building, rangers regularly host kid-friendly events. The 11-acre property holds memorials, gardens, a "pathway of history," and a 200-foot granite map of the state of Tennessee.
More Things to Do in Nashville, TN with Kids
When you think of Nashville, you probably think of the honky tonk scene full of country music performers and bars. That's Lower Broadway. It connects hip neighborhoods like The Gulch and Music Row with the Cumberland River and is full of nightlife. For kids, hopping on and off the trolley and taking in the lights and sounds of the city is an absolute blast.

Show some team spirt at Nissan Stadium. Photo by Joe Howell for the Tennessee Titans
During football season, locals can be found at Nissan Stadium cheering for their NFL team. Join the fun and buy tickets to a home game.
Locals love their Predators, and during hockey season you can catch a game at this iconic arena. In addition to hockey, Bridgestone is the setting for the annual Country Music Association Awards.
Learn to line dance to country classics at this dance hall and restaurant in the heart of the city. The venue is family-friendly, so your kids are welcome to join and jump in on the fun.
It's no secret that Nashville has some of the best musical talent in the world. Check out a show by some of Nashville's youngest performers. Who knows? Maybe someday you'll be able to claim "I saw him/her perform before he/she was famous!"
Have you ever seen photos of tourists posing by the "I Believe in Nashville" sign? You'll find it on 12South, one of Nashville's hippest boulevards full of fun food, unique shops (including Reese Witherspoon's store, Draper James), and other gems. There are frequently farmer's markets and food trucks along the street, and you'll want to keep your camera app open for the many photo opportunities.
Downtown Franklin calls itself "America's Favorite Main Street District," and for good reason. The old town has Stars Hollow vibes, complete with seasonal festivals including its Dickens Christmas and fall Pumpkin Festival. There are plenty of fun stores to pop into and great places to eat. Try a burger at Puckett's, the delicious treats at Tiny Little Donuts, to-die-for Mediterranean at Taziki's, or a specialty coffee at Frothy Monkey.)
This stately capitol building opened in 1859, and visitors are welcome to wander the halls on guided or self-guided tours on weekdays.


The Factory at Franklin is baby-approved. Photo by the author
While you're in Franklin, head over to The Factory for a snack and some shopping. The Factory used to be an actual stove factory, but now it's home to some of Nashville's most iconic eateries and a concert venue. Make sure to get a few tacos at Mojo's Tacos while you are there—you won't regret it. The smoothies at Franklin Juice Co. also hit the spot. And there's a fantastic farmer's market on Saturday mornings in the parking lot adjacent to the building.
This quaint little village outside of Nashville has delicious food and darling antique shops. Make sure to grab a bite to eat at Country Boy, an amazing brunch spot that happens to be the oldest in Williamson County.
33. Cheer for the Home Team at a Sounds Game
Nashville doesn't have an MLB team, but it does have a minor-league team and the crowds are just as enthusiastic. These easy games are very kid-friendly and provide a great atmosphere to get a snack, kick back, and watch some baseball.
Gawk at multi-million-dollar mansions on stunning expanses of property when you drive along this beautiful road. Families can also search for famous celebrity homes. Taylor Swift, Keith Urban, Dolly Parton, Tim McGraw, Kelly Clarkson, Sheryl Crow, Carrie Underwood, and so many others own property in the area (mostly near Brentwood and Franklin).
35. Take a Peek Inside the Belmont Mansion (and Tour the Belmont Campus)
Two of my siblings attended Belmont University, and I love strolling around the scenic red-brick campus. There is a beautiful mansion that was built on the property in 1853, and tours are available if you want a look inside.
Best Shops to Visit in Nashville, TN with Kids
Stop for a souvenir or just to satisfy your sweet tooth. The Bang Candy Company confectioners specialize in hand-made marshmallows, but are also well-known for amazing syrups that can add zing to your cocktails and mocktails.
Introduce your kids to the magic of reading at this whimsical children's bookstore in Franklin. The selection of toys and books is darling, and parents can browse a variety of coffees, teas, and candles.

Bring home a souvenir from White's Mercantile. Photo courtesy of the store
White's has expanded outside of Nashville, but it's still the perfect place to get your (cute and not kitschy) Tennessee souvenirs. The store seems to have everything, including baby goods, baking mixes, clothing, lotions, and soaps. Each of my babies has worn the "I pick TN" onesie we purchased here on one of our earlier trips.
If you want to bring home some distinctly southern treats that won't go bad in your suitcase, Savannah's Candy Kitchen is a must-stop. The confectioner sells red-and- white-striped boxes of pecan pralines, turtle gophers, apples and taffy, log rolls, and more. Its Nashville location is on Broadway.
I have never seen my 3-year-old nephew more excited than the day I took him to pick out a toy at this beautiful store in Brentwood. It's rare to find a quality toy store these days, but Brilliant Sky encapsulates the wonder kids feel when they walk into a place that was made just for them. We make it a regular stop on our Nashville itinerary now.
The downstairs store at Acme Feed & Seed is a great place to purchase a token from your trip, such as hot sauce. The upstairs honky-tonk and rooftop bar are also worth a visit, but are not as kid-friendly.
Kid-Friendly Nashville Restaurants

Don't leave Nashville without tasting some real southern barbecue. Photo courtesy of Martin's BBQ
If you're looking for some quality, southern-style BBQ, Martin's is the place to go. There are several locations, but to get the full experience, check out the one Downtown. It has a fun beer garden, dart boards, lawn games, and more.
Everything on the BoomBozz menu will have you drooling, but the restaurant is known for its handcrafted pizzas. It also has a great kids' menu, and the casual atmosphere is perfect for loud, wiggly, and hungry little people.
If you want a delicious local burger, The Pharmacy uses only Tennessee-raised beef to create a quality meal. Its house-made Coca-Cola BBQ sauce is worth a taste.
Looking for an easy eat? Hugh-Baby's is Nashville's newest fast-food chain. This local joint currently has three locations and serves up burgers, BBQ sandwiches, hot dogs, and—on Fridays only—"slugburgers." Curious? Head to the restaurant to learn more.
Considered the most family-friendly taproom in Nashville (and the most pup-friendly, too!), this brewery has a playground for the kids and plenty of outside picnic tables, so children can burn off energy while the grown-ups polish off a cold one.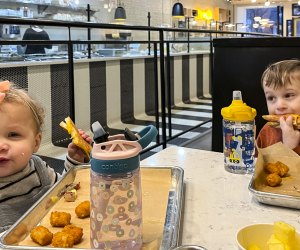 The Grilled Cheeserie is the restaurant of kids' dreams. Photo by Nikki Dempsey
Who doesn't love a good grilled cheese? At the Grilled Cheeserie, chefs put a spin on this American classic with several different melts or a make-your-own option.
This newer spot in 12South has mind-blowing brunch and bakery items that taste like they were made in Grandma's southern kitchen. I highly recommend the beignets and the Benedicts.
You're guaranteed to get the true Southern experience at this classic restaurant known for hot biscuits and country ham. The Loveless Cafe has snarky waitresses, checked red tablecloths, and all the biscuits your heart desires in an idyllic little house just outside of Nashville.
Nashville's famous hot chicken has made its way around the US, but Hattie B's is the real deal. If your kiddos aren't into spice, the restaurant also sells standard chicken tenders and nuggets. All four locations throughout Nashville are easy, order-at-the-counter spots to take kiddos.
You won't want to leave Nashville without ordering at least one round of "bonuts" at Biscuit Love—trust me. These delectable little half-donut, half-biscuit delights will have you planning your next trip to one of Biscuit Love's three locations.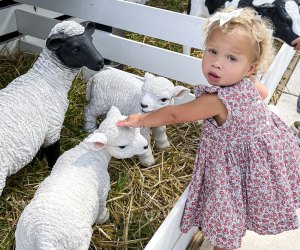 The farm animals at Wanna Spoon may be fake, but they sure are cute! Photo courtesy of the author
The double-entendre name will go over your kids' heads, especially when they walk in to see rows and rows of different cereals waiting to be eaten. Wanna Spoon offers cereal by the bowl or on top of ice cream, and has a great turf play area in the back with corn hole, pretend farm animals, and picnic tables. We essentially paid $5 for a bowl of Fruity Pebbles, but my 3-year-old can't stop talking about it.
If you want to compare hot chicken, Party Fowl is another Nashville favorite. There are four locations in and around the area. The restaurant offers creative hot chicken dishes such as "hot chicken and beignets," "hot chicken street tacos," and "hot chicken po' boys." There's also a wider menu for those that don't like spice—or chicken.
Ever heard of a 100-layer donut? Five Daughters is a Nashville gem with rotating flavors, including paleo options. There are four locations throughout Nashville, but the one on 12South has a playground for kiddos, so I'd recommend going there.
Are you more of a bagel person than a donut person? Pop by Proper Bagel for kettle-boiled bagels that are the talk of the town (especially among the kids at Belmont University).
Best Nashville Hotels for Families
If you want to stay close to the action on Broadway, this magnificent hotel is for you. It is a 100-year-old building that has been restored in a way that preserves the Romanesque architecture while also adding a distinctly Nashville flair.
RELATED: Best Family Resorts with Water Parks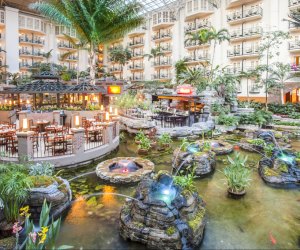 You'll feel like you're in the jungle when you stay at the Gaylord Opryland. Photo courtesy of Marriott
Even if you don't plan to book a night at this stunning greenhouse hotel, it's worth a trip over just to walk around. The Opryland is like an indoor jungle with lush green plants, waterfalls, world-class restaurants, and even a water park inside. I've spent hours wandering around in this southern palace and your kids will love all the pathways, rivers, boats, and more.
"Meet met at the Hermitage" is somewhat of a common adage in Nashville, and for good reason. This hotel has a breathtaking lobby and a decadence that enchants guests and lookie-loos alike.
Have you ever wanted to swim in a rooftop pool? The Holston House is a Hyatt property with stunning views from the roof, and yes—there's a pool up there.
Stay in a cabin or book an RV site at this family-focused resort with an on-site water park, a treetop adventure park, and a marina. Many of the features at this resort are bookable as daily activities as well, so you don't have to miss out on the fun if you're staying somewhere else. The resort hosts fireworks nights and dive-in movies regularly during the summer, and the water park stays open through September with daily tickets available.