50 Easy Summer Desserts & Snack Recipes Kids Will Love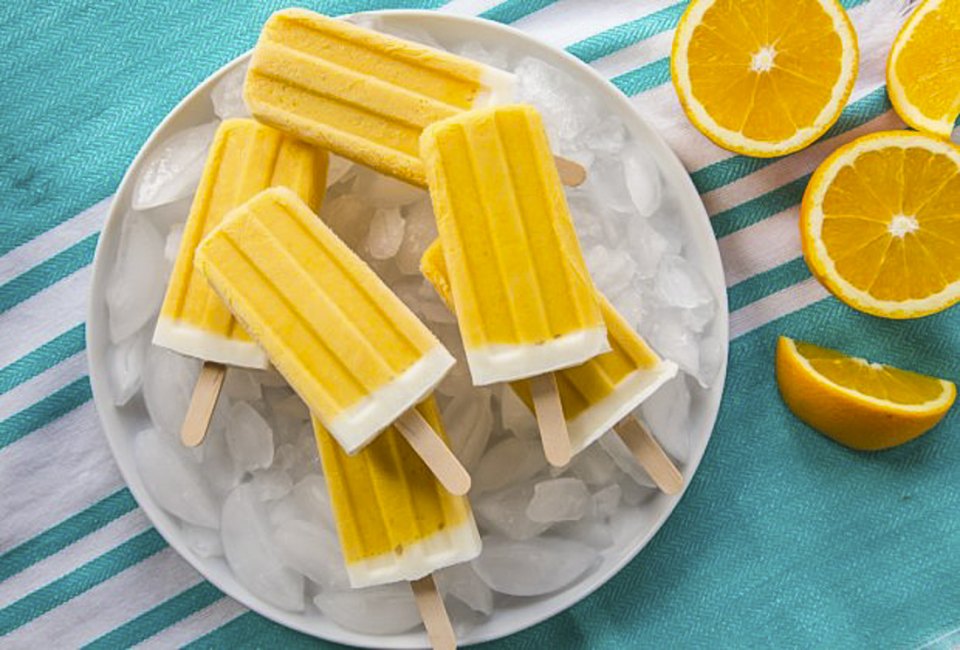 6/28/22
- By
Ally Noel
These easy summer desserts, snacks, and drinks will keep kids fueled up for a summer filled with adventure. Whether you are rushing home from camp, lounging poolside, or just trying to satisfy the seemingly endless requests for snacks, this list is for you! From salty to sweet, this list has all the ingredients for perfect summer snacking that will keep kids full and your kitchen cool. While every one of these recipes are tried and tested, you really must try the magic of Jell-O grapes, Sun Butter soft serve, and Oreo sushi this summer. Your kids will think you're a genius.
For more kid-pleasing easy recipes, check out 100 Favorite Kid-Friendly Recipes for Every Meal and more family favorites in our Guide to Easy Recipes for Kids.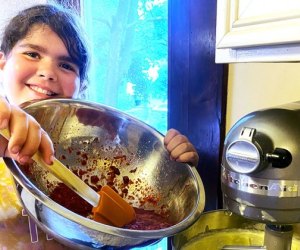 Whip up the pudding for an easy dirt dessert. Photo by Ally Noel
Easy Summer Desserts
1. Easy Edible Dirt Recipe
Dirt dessert is a layered treat made with crushed cookies, chocolate pudding, and a gummy worm. Because nothing says summer like playing in the dirt, and then eating it!
2. Disney's Dole Whip Recipe
Dole Whip is a refreshing, cool, classic treat. Not only is it a delicious Disney taste-alike, but it's also such an easy recipe that kids can help make it.
3. S'Mores Board
A s'mores board brings the yum to all your fireside entertaining. Start with plenty of the ingredients for the classic s'mores: tons of marshmallows, chocolate, and graham crackers. Then up your s'mores game by adding Oreo cookies, Reese's Peanut Butter Cups, caramel, fudge-striped cookies, mini marshmallows, waffle cones, and anything else you can imagine to make an endless variety of s'mores.
4. Banana Chocolate Chip Oatmeal Bites
Banana Chocolate Chip Oatmeal Bites are a healthy dessert that your kids will love—plus they're gluten-free and vegan. These bites are so easy to make that you can whip up a batch any time, and they're incredibly customizable. Feel free to experiment with your own add-ins or use what you have around the house.
5. Ice Cream Sandwich Cake
No measuring required for this ridiculously easy-to-make ice cream cake that uses store-bought ice cream sandwiches.
6. Oreo Balls
This no-bake recipe uses crushed Oreo cookies to create these little spheres of yum!
7. Pineapple Fluff
This pineapple fluff recipe is so easy to whip together. It's also completely customizable—all you have to do is switch out the canned fruit and pudding flavors.
8. Homemade Ice Cream
You don't need a fancy ice cream machine to make delicious homemade ice cream. Just follow these 5 simple steps.
9. Chocolate Candy Bark
Your favorite chocolate plus your favorite candy turns into your new favorite dessert: chocolate candy bark
10. Cookie Salad
Cookie salad is a festive mix of cookies, pudding, mandarin oranges, and whipped topping. Plus, since it's called salad, you can totally have it for dinner one night.
11. S'mores Skillet
This recipe for s'mores is baked in the oven in a few minutes, making it easier and less messy than s'mores around a campfire but just as yummy!
RELATED: Make Your Own Granola Bars

Kids will flip when you tell them you're making sushi for dessert. Photo courtesy of Sienna Sweets, TikTok
12. Oreo Sushi
Only two ingredients are needed to make Oreo sushi. Kids can help with this one, too. Test out your skills with chopsticks, or just use your fingers to enjoy this treat. Chocolate sauce stands in for the soy sauce here.
13. Sweet & Salty Snack Mix
This recipe is the perfect mix of sweet and salty. White chocolate drizzled over a mix of candy, cereal, and snacks is pure yum! Add themed sprinkles and candy to make it perfect for any holiday or celebration.
14. Strawberry Shortcake
Whip up some biscuits for breakfast before the day gets too warm, and be sure to make extras to slather with whipped cream and strawberries for dessert.
15. Pineapple Ring Ice Pops
A cored pineapple and some lollipop sticks are all you need to make these ice lollies!
16. No-Bake Brownie Bites
Who wants to turn the oven on in the summer? Not me! Thank goodness these no-bake brownie bites don't require an oven. Tuck them into your camper's backpack on field trip days for a sweet treat. Hint: if you freeze them before packing, they'll make a cool surprise.
17. Sun Butter Soft Serve
This nut-free, dairy-free, sweet and salty treat screams "summertime" and is a lovely way to commend your kid for working hard on a new skill at camp, without sugaring them up too much to go to sleep!
18. Red White and Blue Popsicles
This patriotic pop is bursting with watermelon, coconut, and raspberry flavors.
19. Fruit and Yogurt Swirl Pops
Alternating dollops of fruit and yogurt in the mold create pretty swirls in these healthy popsicles.
20. Orange Creamsicles
The secret ingredient of yogurt makes these orange cream popsicles healthier than the ones in the freezer aisle.
21. Chocolate Chip Cookie in a Mug
A tried and true favorite, this mug cake has a classic chocolate chip cookie flavor but a bit of a cakey-crumble. Plus, microwave cooking means no heating up the kitchen.
RELATED: No-Bake Easy Dessert Recipes for Kids

Hand-held tastiness for camp mornings, without all the processed junk. Photo by Ally Noel
22. Pop-Tarts
These treats sweeten up any family morning. Frozen pie crust simplifies this homemade Pop-Tart-style pastry recipe that kids can eat in the car on the way to camp.
23. Cookies and Cream Mug Cake
Oreo lovers rejoice: This mug cake is a perfect marriage of cake and cookie, with a white chocolate-based batter to round it all out.
24. Rainbow Sprinkle Oreo
These festive little treats combine chocolate, Oreos, and sprinkles. The result is a whole lot of yum!
25. Candied Jell-O Grapes
Kids of all ages enjoy helping out in the kitchen to create this pretty and easy snack.
26. Shaved Ice
Nothing will cool you down on a hot day quite like a big cup filled with this flavorful shaved ice.
Easy Summer Snacks
27. Granola Bars
Whip up a batch of these granola bars every weekend for the upcoming week—they're perfect for keeping hangry kids happy after camp!. You could also make extras and freeze them.
28. Banana Roll-Ups
Give bananas a punch of protein with these banana roll-ups
29. PBJ Tacos
Dress up an old standard in a new package—create a PBJ taco by cutting a piece of white bread into a circle to create your "shell".
30. Salad on a Stick
Everything is more fun to eat when you put it on a toothpick – even salad! Place a cucumber slice, cherry tomato, and piece of lettuce on a toothpick and serve with salad dressing for dipping.
31. Melon Balls
Melon balls figure on our list of easy lunch ideas in two ways: basic melon balls (which don't feel basic, because they're spheres!), or up your game by wrapping them in prosciutto.
RELATED: Summer Camp Snacks for Kids That Aren't Boring

Serve these easy treats as a fancy hors d'oeuvre, or as a cool snack. Photo by Ally Noel
32. Basil Tomato Skewers
Simple tomatoes get fancy with Italian flair. Place a mozzarella ball, cherry tomato, and basil onto a skewer to create this delicious snack.
33. English Muffin Pizza
Always a classic! Use an English muffin for your crust and top with pizza sauce and cheese. Let kids add their own favorite toppings, or get some inspiration from our favorite pizza recipes.
34. DIY Trail Mix
Trail mix is a camping food staple for good reason: it can be made ahead, doesn't spoil, and is packed with energy. Nuts can boost the protein component if allowed, or add sunflower, pumpkin seeds, roasted soy nuts, or crispy chickpeas if going nut-free.
RELATED: 100 Top Easy Recipes for Kids

Hummus is a perennial pleaser for kids of all ages. Photo by Ally Noel
35. Hummus & Pita
Hummus packs a punch of plant-based protein and fiber and makes the perfect dip for carrots, cucumbers, and pita. Make hummus roll-ups to pack in camp lunches or for picnics.
36. Apple Fruit Donuts
Apple donuts satisfy that sweet tooth without being deep-fried or overly sugary.
37. Frozen Grapes
Frozen grapes might just be the easiest summer snack ever. Toss both red and white grapes into the freezer and they'll be ready to enjoy for the next day's camp session!
38. Grazing Tray
Grazing trays make snacking fun again! Set up a snack board for your little ones to pick at throughout the day and you will never have to hear "I'm hungry" again (well, at least until tomorrow!).
39. Watermelon on a Stick
Say your goodbyes to sticky fingers with this little life hack! Perfect for a party or a picnic, simply cut a small hole into the rind of any melon and stick a popsicle stick in. For some reason, eating anything on a stick makes it more fun.
40. Fruit Salsa
Served with baked cinnamon chips, fruit salsa combines the different flavors of diced fruit.
41. Apple Nachos
Slice up a few apples and drizzle with peanut butter. Then sprinkle a few chocolate chips on top. Voila! You can also use raisins, caramel, nuts, or anything else that sounds yummy.
RELATED: Kid-Friendly TikTok Recipes to Try Tonight

Protein, fruit, and whole grains combine in this snack that's perfect any time of the day. Photo courtesy of food.com
42. Peanut Butter and Banana Toast
Peanut butter and banana toast is an easy and healthy breakfast that's ready to eat in minutes. Older kids can whip this up on a weekday morning by themselves. Use your favorite toast, a banana, and peanut or seed butter.
Easy Summer Drinks
43. Lime-In-Ade
The delicious mix of lime juice and club soda tastes like summer in a glass.
44. Classic Shirley Temple
Served in a special glass, Shirley Temples make any kids' gathering a fancy party.
45. Popsicle Mocktail
These popsicle mocktails add a bit of a pop to any backyard soiree.

Cheers to cold chocolate! Photo by Jody Mercier
46. Frozen Hot Chocolate
Who says hot chocolate is just for snow days? Frozen hot chocolate has all the makings of the perfect summer drink.
47. Watermelon Lemonade Cooler
Lemonade is a classic summer treat. Bring your beverage to the next level by adding watermelon.
48. Whipped Kool-Aid
Any flavor of Kool-Aid can be used to make this yummy treat! Whipped Kool-Aid is a mix of heavy cream, Kool-Aid, and sugar.
49. Smoothies
There are lots of fancy smoothie recipes online, but this basic smoothie is my favorite. It can be whipped up in seconds and makes for a healthy and filling breakfast or snack.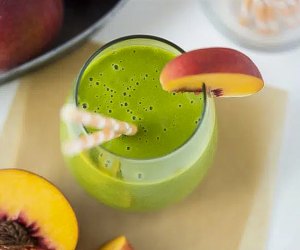 Green Hulk Smoothie is a healthy start to a hot day. Photo courtesy of superhealthykids.com
50. Green Hulk Smoothie
A Green Hulk Smoothie is a clever way to get some more greens into your kids. This delicious green smoothie is packed with superfoods that are great for little superheroes.