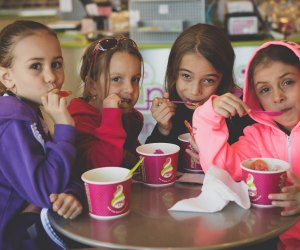 Frozen Yogurt: 10 Cool Spots for Fro-Yo from Hollywood to Torrance
Name a neighborhood – Studio City, Hollywood, the South Bay, or Santa Monica – and chances are you will find an impressive number of places to indulge in frozen yogurt. I freely confess that we here at Mommy Poppins enjoy our frozen treats; many a meeting is held on the patio of our local Menchie's, and rounding up great places to go for ice cream was one of our summer priorities. It may seem harsh to put our kids to work this way, but hey, somebody has to help with the taste testing, and they don't complain too much.
Ice cream is great, of course, but sometimes it's nice to go a bit lighter. And I think we can all agree to pretend that frozen yogurt is a healthy choice; it can have just as much sugar as ice cream, but the fat content of fro-yo is significantly less, and then there is the possibility that the probiotics have actually survived the freezing process. Many of the yogurt establishments below are self-serve and offer an array of toppings that are a kid's dream buffet. One way to be healthy is to cover your sweet treat with fruit and nuts instead of candy – not that I'll be talking my children into that any time soon.
Penguin's
One of the first LA fro-yo spots, Penguin's has been around since the 80s. Though the ubiquitous tart flavors are now part of the menu, Penguin's signature yogurt has a rich, custardy texture that really does come close to tasting like ice cream. The store has moved around and opened a few franchises, but the original one remains in Westwood.
Milky's
This shop on South Robertson is kosher and offers several vegan parve flavors. The vegan yogurt is soy based and quite popular. All of the toppings are kosher too.
Treats
Santa Monicans are treated to award winning, kosher, artisanal frozen yogurt at this cheerful aqua-colored shop with indoor and outdoor seating. ​The Ocean Park shop is a family owned business and dangerously convenient to the students of John Adams Middle School. Slightly more expensive than some, and not self-serve like others, Treats is definitely worth paying a little extra. This neighborhood shop consistently shows up on "best of" lists, and rightly so.
Menchie's
Also in Santa Monica, and pretty much all around the LA Basin, Menchie's is my favorite of the chains. Clean, bright, and cheerful, these shops are designed for hanging out. They all have blackboards (the one in Studio City even has a fireplace), and my kids and I can spend hours on the patio. Flavors rotate, and there are always tons to choose from. Sampling is self-serve and encouraged. ("Hi" to Tara in Santa Monica!)
Cups
This fro-yo hub in Torrance bills itself as "Frozen Yogurt That's Hot." The vibe is hip and upbeat; club music blasts, and while this is currently its sole location there are plans for expansion.
Yogurtland
When you're in the mood for frozen yogurt, it's a good bet that you'll be able to find a Yogurtland; they're everywhere. The yogurt is cold and the flavors are creative: How about "Hibiscus Passion Fruit Sorbet" or "Vanilla Date Shake?"
Frog
Hollywood's hip fro-yo spot sounds like a slimy amphibian, but presumably it's a combo of "frozen" and "yogurt." Frog offers a variety of flavors that are organic, vegan, tart, and/or sweet.
Humphrey Yogart
Occupying the same Sherman Oaks location for 30 years, this place takes the prize for goofiest name, that's for sure. It also serves up something a bit different: while many yogurt shops use soft serve machines, Humphrey Yogart lets customers choose from four hard packed varieties (vanilla, chocolate, tart, and soy), then customize flavor options in a blending machine choosing from 45 ingredient choices. In addition to yogurt, Humphrey also has healthy sandwiches and salads and tends to specialize in low-carb selections.
Chill
Studio City's Chill has yummy frozen yogurt as well as hot, home-made, sweet and savory crepes. It's a good place to go if there's a sourpuss in the group who actually doesn't want fro-yo.
PInkberry
​Not just cold, but cool. Pinkberry wasn't the first frozen yogurt, but it did start the craze for tart flavors and added a hip aesthetic. It doesn't do the kid-friendly self-serve; but, then again, sometimes we parents are grateful when it's the yogurt shop setting the limits…
Of course, if you prefer ice cream, we have 10 great ice cream and gelato suggestions on the Westside!
Photo by Anthony J via flickr