Now Scooping: Ginger's Divine Ice Creams Opens in Mid-City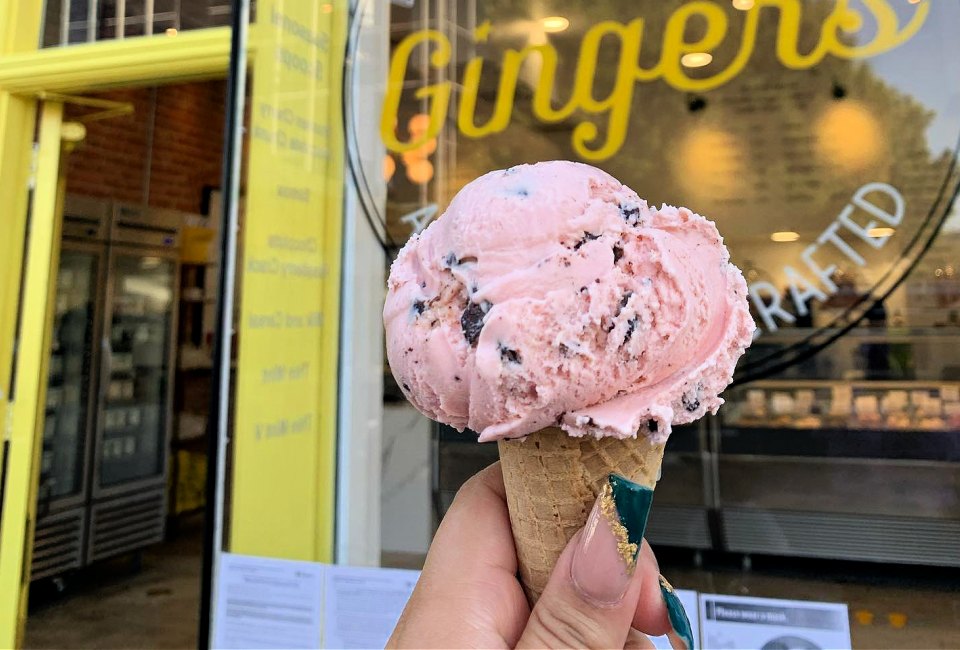 4/26/21
- By
Meghan Rose
For a long time in LA, ice cream cones meant a $1 Thrifty cone in a weird shape at the local Rite Aid. I'm not knocking it—people who grew up here love them, and now as a mom, I appreciate the ubiquitousness and price. But gourmet, it isn't. Then good ice cream began to appear; imports like Salt & Straw and Jeni's, and homegrown favorites like McConnell's and Sweet Rose. Some of the very best of the local shops are small-batch and freshly churned (or soft-served) mom-and-pop stores. So, if you wanted to try, say the fabulousness that is Ginger's Divine Ice Creams, you had to trek to their sole location in Culver City.
No more! Ginger's heard the pleas from the east, and just this month opened a new spot Mid-City. It's long been a favorite of mine, and I couldn't wait to check out the new store, and see if it's just as good as the original. My kids came along to play taste testers. Here's what we found...
I love ice cream, so when I say Ginger's is some of the best ice cream in town, it's not coming from someone who doesn't really care. But if you don't trust me, U.S.A Today just named Ginger's the #1 ice cream in LA, and Evan Kleiman put it on her list of the best ice creams in the city, too. And I feel pretty confident that once you try it, you will too!
I first tried Ginger's in Culver City a couple of years ago after a Girl Scout outing. Our little troop of girls and moms has a range of dietary restrictions (this is LA!). We needed gluten-free, dairy-free, and no food coloring. We also needed something filling for those who had skipped lunch, and something light for those who hadn't. And we needed treats to go to bring home to siblings and spouses. Ginger's had us all covered.
Welcome to the new Ginger's Divine Ice Creams storefront near the Beverly Center.
No food coloring was the easiest - Ginger herself is often found at local farmers markets, finding the freshest fruits and locally sourced inspirations. So everything here is fresh and natural and really tastes it. I'm a chocolate girl, so my favorite fruity flavors are the ones that include chocolate, like current special flavors Drunken Cherry Choc. Chunk and Chocolate Raspberry Crack, but when peach or rhubarb anything are on the menu, try them! Same with goat cheese paired with a fruit—those flavors are incredible.
This is the seasonal roasted grape and goat cheese flavor—if it's in season, try it!
Gluten-free is also easy, as long as you can resist ordering a cookie sandwich or brownie sundae. Plenty of flavors do not have cookies mixed in, and if you're even in doubt just ask the fantastically friendly and knowledgeable staff. (Those cookies and brownies are fresh baked in-house daily, so they're really tough to resist, but as my gluten-free friends pointed out, ordering an extra scoop of ice cream goes a long way toward making up for missing the cookies…)
Ice cream pops on a stick, or drumsticks, always available.
There are usually several vegan flavors, about 6-7. They're made with coconut cream, so they're safe for anyone with a nut allergy, too. Although the Dark Chocolate Peanutbutter is my favorite. (Honestly, I usually order that instead of regular ice cream, it's so good.)
Now we're getting to my actual favorite thing about Ginger's (besides just how tasty it is)--the takeaway options. They have something called Diving Pops, which are ice cream popsicles dipped in various chocolate coatings and then sprinkled with extra deliciousness. They are gorgeous and delicious, and there's something for everyone. My husband loves the 3x Chocolate (which is dark chocolate vegan ice cream, dipped in dark chocolate, and rolled in Guittard chocolate). Just don't tell him it's vegan. My son likes the Cookie Monster (cookies and cream, dipped in a blue raspberry hard shell, rolled in crushed Oreos). And my sophisticated daughter likes the Mocha, which is mocha ice cream, dipped in coffee-infused white chocolate, and rolled in cacao nibs. But you really can't go wrong. There are Drumsticks and chocolate-dipped ice cream cookie sandwiches, too.
Gorgeous offerings to bring home for later...
More great news about getting some to go? Pints are adorably packaged in mason jars, and they are so cute and homey that it looks like Grandma made them, which as we all know means the calories don't count.
And the last shout-out I want to give is for the flavors. They're interesting without being weird, which is a tough ice cream sweet spot. Some places try for combinations so "interesting" that you can't eat them. (Well, kids sure won't!) And some spots go for boring, which appeals to some kids, but not most parents (or adventurous eaters, like my daughter). Ginger's keeps the flavors fresh, like with a Yuzu Boysenberry, but for every one of those, there's a Unicorn Cotton Candy for the kids.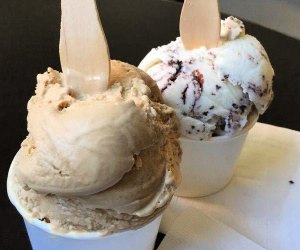 New flavors every season, so you'll want to visit often!
As summer approaches, there's now a Ginger's Divine Ice Creams on either side of the 405, so no one has an excuse to miss out on some of the best ice cream in LA. For a Mother's Day dessert, an end of school treat of kids, or an ice cream popsicle as a cool down on a hot day, Ginger's can't be beat.
Ginger's Divine Ice Creams is now open at 8430 West 3rd St, right near the Beverly Center. Street parking in the area can be a little tricky, and if you park in the neighborhood, be sure to check parking signs as they ticket ruthlessly here. The shop opens at noon daily and is a cashless store. You can try up to 4 samples of ice cream, and staff will give them to you in a small cup to taste outside; masks are required inside the shop.
Images courtesy of Ginger's Divine Ice Creams.
Places featured in this article:
---
Ginger's Divine Ice Creams
Sign up for the Mommy Poppins Newsletter today!