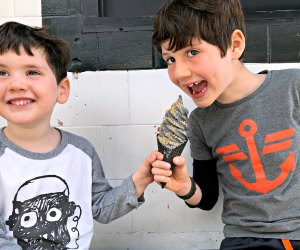 10 Best Next-Level Soft Serve Ice Cream Spots in Los Angeles
No matter if you're 5 or 85, everybody loves ice cream—especially soft-serve. Los Angeles has a new crop of soft-serve shops combining the familiar with some exciting, new flavors and textures, not to mention some very snazzy looks. We decided to take a soft-serve tour of Los Angeles to compare old classics to what's new and trendy. Check out what a long way soft serve has come since we were kids.
1. Magpie's
Our first stop on our soft-serve tour was Magpie's. There are two locations, one in Silverlake and one in Tarzana, and we visited the Silverlake store. Parking is tight, but worth the battle for vegan options such as green tea coconut, red bean, and mocha latte. The top seller, which also boasts dairy-free status, is corn almond; it tastes like what might happen if you froze the leftover milk from your bowl of Frosted Flakes and added a hint of nuttiness. In a good way.
We also tried the intentesley pepperminty shamrock mint and the malted milk chocolate, which was light, creamy perfection. Magpie's makes everything, from ice cream to toppings, in house. The crunch on the home-made sprinkles had none of that waxy texture we've come to associate with the larger chain ice-cream stores, and fun toppings include vegan chocolate-covered honeycomb and butterscotch Rice Crispies.
RELATED: Taking the Ice Cream Sandwich up a Notch in NoHo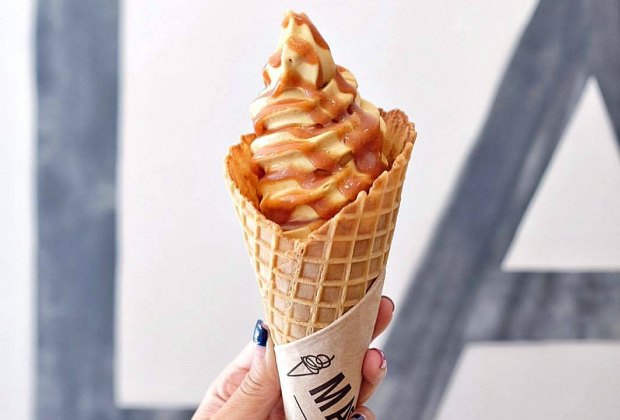 Everything at Magpie's is made in house. Photo courtesy of Magpies Softserve
Next up on our whirlwind tour was Bumsan Organic Milk Bar, located in Koreatown. In fact K-town has a number of spots offering inspired flavors of soft-serve, but if you're looking for 100% organic soft-serve, Bumsan is your destination. At this Instagram-popular spot, the flavors true milk and matcha are the most commonly ordered. Both refreshing and sweet, the matcha was distinct without being too intense. For me, matcha can be hit or miss, but I ordered a swirl of matcha and true milk and found the two flavors offset each other for perfect afternoon refreshment.
Bumsan decorates the cones with sparkly sugar crystals and sprinkles and offers one free topping per order. Toppings on the day we visited included Cap'n Crunch and powdered Oreos. Added bonus: plenty of street parking right in front.
RELATED: Dragon's Breath - Liquid Nitrogen Is Cool, But Is It OK To Eat?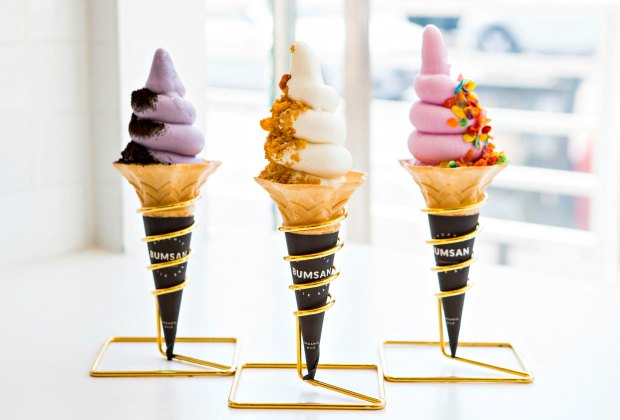 Bumsan offers one free topping per order. Photo courtesy of Bumsan Organic Milk Bar
We next headed to Drips & Swirls, where the motto is: All Flavor, No Gimmicks. As is the case with many soft-serve shops, the list of flavors is limited, and if you're looking for traditional flavors like chocolate, vanilla, and strawberry, you're not going to find them. However, if you've got a hankering for some Korean melon bar or purple sweet potato pecan (which tastes like the inside of a donut), then Drips & Swirls has got you covered. While those flavors might sound intriguing, the main attraction at this soft-serve kiosk is the charcoal crispy rice served with a charcoal cone, garnished with a crunchy rice topping. Parking is a bit challenging at Drips & Swirls, and you may have to walk a block or two, but the store has happy hour every Tuesday through Friday from 3-6pm, offering discounted cones to make it worth the effort.
Drips & Swirls is not the only place in town to offer charcoal cones, as we discovered last summer on our visit to Downtown's Little Damage, the star of every teen's Instragram account. Like Drips & Swirls, Little Damage has a very small selection of unusual flavors, and like Bumsan one topping is included. You can order charcoal flavor on both the cone and the ice cream; there's even a practical reason to try the charcoal, since it's said to promote better digestion—meaning you can tell yourself you're doing something healthy instead of just indulging.
Our energy ran out after four stops, but yours doesn't have to: there is gourmet, next-level soft serve to be found throughout the city. Sweet Rose Creamery makes hand-crafted ice cream sold in six shops throughout Los Angeles, and though the flavors are limited, soft serve is part of the mix. Stop by a location to taste what cream sourced from local farmers tastes like, and maybe try a scoop of ginger with caramel ripple or carrot cake along with your soft serve, just for fun.
6. Somi Somi
Somi Somi makes ah-boong, or Korean soft serve in unique flavors like black sesame and ube, then lets you pick your cone filling (yes, more goodies inside the cone) which is shaped like an adorable fish. With locations in Northridge and Koreatown, this place is worth the trip.
7. Swirl
Inspired by childhood nostalgia, but serving up distinctly grown-up flavors, Swirl is a locally owned soft serve shop in Hawthorne. Head to Swirl for chocolate hazelnut or vegan pineapple soft serve, or maybe try the mysterious blue monkey flavor.
8. Cottonhi
Adding organic cotton candy right on top of soft serve, Cottonhi puts a heady twist—not to mention a mound of fluff—on the traditional soft serve. Try tiramisu or red velvet creations (sometimes charcoal is on the menu here, too, if you can stand that many odd flavors in one mouthful), and point out the Rock 'n' Pop to the kids; it comes with caramel popcorn, caramel, and chocolate drizzle—plus Lucky Charms marshmallows. Maybe your little ones will give you a bite (if you say please).
9. Honeymee
Feeling guilty for giving your kids a sugar rush? Honey is still sugar (sadly), but one that has trace minerals, enzymes, and vitamins refined sugar doesn't. Take the kids to one of the many Honeymee shops around LA and the OC, and they can even get a real honeycomb chip in their healthier-than-average soft serve.
10. The CVT Truck
Want to get soft serve on the run? There's a food truck for that: the CVT Truck. Serving up chocolate or vanilla (swirls are possible, too), it's the perfect capper to your next food truck adventure.