11 Food Trucks Los Angeles Kids and Parents Love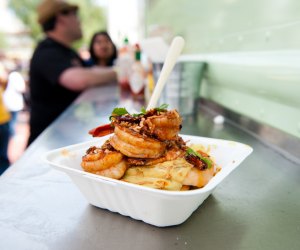 The City of Angels is all about highbrow food in casual, comfortable settings, and nowhere is that more evident than the food truck scene. LA's food trucks offer up every cuisine mash-up imaginable, and between the trucks' websites, Twitter, and Instagram, it's easy to track down your favorites. A truck at a festival can be a little culinary surprise, but there's also a thriving, family-friendly, deliciously casual scene that pops up at regular local gatherings like the Santa Monica Food truck lot, Abbot Kinney's First Fridays, Natural History Museum First Fridays, and others. A bonus for us with food trucks is no worrying about the inevitable mess left behind by my little whirlwind, or trying to keep her butt in a high chair.
Here are the LA trucks I most enjoy tracking down with my tiny food critic.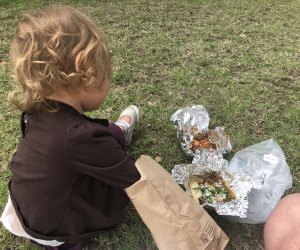 The food critic tucks in.
Don't stop here! There are so many more to check out, from the Granada Hills Grubfest to Smorgasboard downtown. A food truck gathering can be a different adventure every time.