Santa Monica Food Truck Lot - A Family Night Out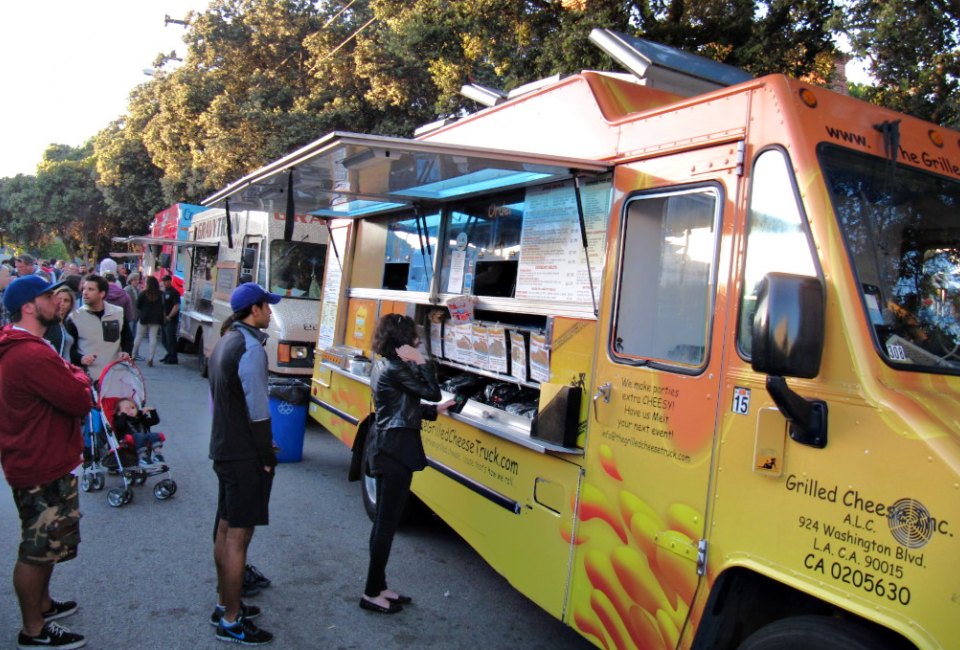 5/12/18
- By
Angela M
Santa Monica's Tuesday Food Truck Night at the California Heritage Museum is the ideal venue for a stress-free dinner with children; plus, as an added bonus, you can cross off item #80 on our LA with Kids Bucket List!
Inspired by reading Pamela Druckerman's Bringing Up Bebe, about French children's perfect eating habits, I resolved to expand my own son's limited palate. I mean, these children eat foie gras in preschool while my son turns his nose up at anything besides goldfish crackers and squeezable fruit crushers. Visiting the food trucks seemed like the perfect scenario for venturing into new culinary territory. As my very male son loves all vehicles, I thought that being served directly out of vehicles might entice him to try something new - and there is free parking on site.
The Scene

Pleased to see a variety of different trucks, with options from the India Jones Chow Truck (Indian) to Poutine (a Québécois tradition of fries with curds and gravy), to Gourmet Genie To Go (Mediterranean) and Cheerburger ('nuff said), we had a hard time making up our minds. My boyfriend, son, and I circled the scene completely, weighing each choice as if our lives depended on it – or more likely our stomachs – before gravitating toward a Japanese Burrito truck and a Korean-Mexican fusion truck.
We ordered and surveyed the eclectic crowd of chowhounds. My son ran in circles rearranging stools, leering at sweets, and attempting to get a little girl to dance with him. Overall, the relaxed nature of the parking lot, ocean breeze, and milling folks made this whole experience quite different from our usual restaurant going, which includes a lot of wrangling and pleading and even bribing to maintain some semblance of order.
After a few minutes the food ready, and we sat on the curb and prepared for battle. Would our two-year-old attempt something new? Spicy? Different?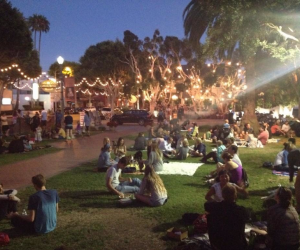 Photo courtesy of Santa Monica Food Truck Lot
Digging in
As it turned out, the Jogasaki Sushi Burrito truck had a uniquely south of the border bent, as the spicy tuna came encased in a tortilla-like rice wrap with fresh avocado and cucumber.
Fascinated, my son examined this mixed breed of a meal and chomped down heartily – success! He tried again, dipping it in soy sauce and passed it back to his dad.
The "fun" packaging made this unusual food palatable to him, while we adults just marveled at the deliciousness being churned out of what is basically an extremely large appliance. These food trucks bear no resemblance to the "Roach Coaches" of my youth.
Our next venture revolved around the Komodo truck's Korean Tacos, another fusion of East and West. At four for ten dollars, the variety was awesome, and I settled on seared top sirloin with jalapeño aioli, pork shoulder braised in coconut cream, shrimp, and cod (with grapes!).
We all shared the different tacos, with the toddler lunging for the fish like nobody's business. It turns out that food from an automobile definitely warrants more of an open mind than food from a refrigerator. Chewing on a corn tortilla, said kid jumped up and down triumphantly while shouting "more!" It definitely felt like a win-win.
Enjoy

A unique feature of Santa Monica's Food Truck scene is the gorgeous setting in historical Heritage Square, smack between the California Heritage Museum and The Victorian, a house-for-hire catering venue that offers drinks in a rather magical setting. In fact, parents are invited to pretend to be full-fledged grown-ups for a night by bringing their food truck fare into the Victorian and ordering a martini while their kids skip the light fantastic to live music on the patio.
Alternatively, diners can take their food on a quick jaunt down to the sea for an impromptu picnic. Heritage Square is a quick block from the sand.

Success

As a reward for all of our labors, we visited Sweet E's Bake Shop dessert wagon for cupcakes - chocolate chip cookie dough and red velvet - for the stroller ride home.
Sated and mostly un-harassed, we all savored a meal out of the house but without the stress of restaurant confinements and expectations. Having sampled new and delicious fare, we all felt that another trip to the trucks in the future would be most welcome.
Now for #6 on our Bucket List: A visit to Underwood Farms...
Santa Monica Food Trucks
Tuesdays 5pm-10pm
Public parking lot on Main Street between Ocean Park Blvd. and Hill Street.
Weekly truck schedule

Other Family Friendly Food Truck Nights around Southern California:
Food Truck Squad
Best Buy Parking Lot in Fullerton
Fridays 5:30pm-9pm
San Gabriel Valley Foodtruck Fest
Southlands Christian School
First Fridays of the month from 6pm-11pm
Originally published May 5, 2012
Places featured in this article:
Enter to Win!