Smorgasburg LA: Bringing Kids to Downtown's Weekly Food Extravaganza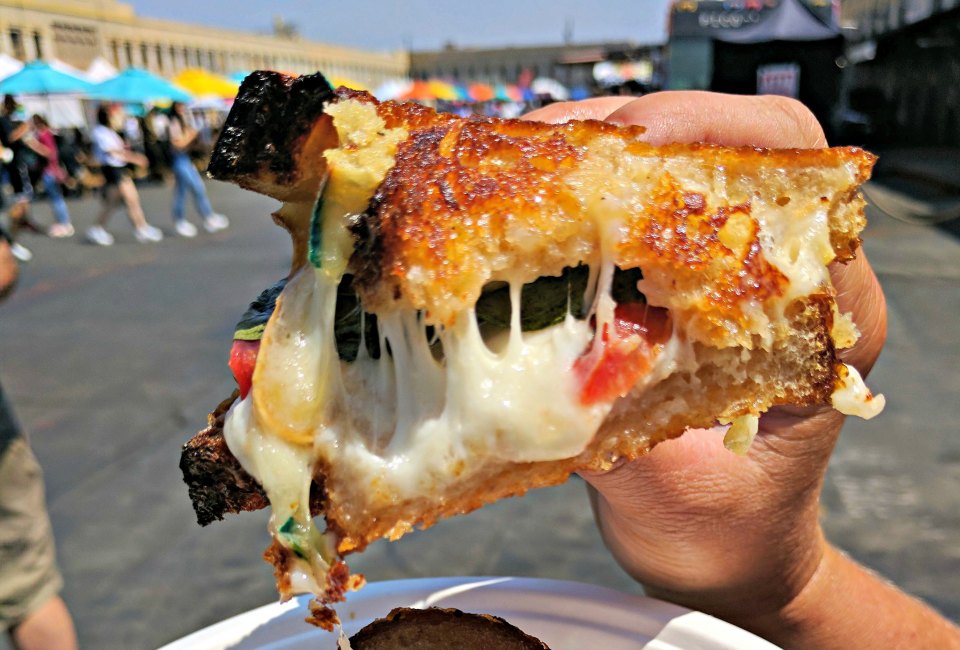 4/23/18
- By
Lindsay Halladay
Los Angeles has become the city for foodies—and now Smorgasburg LA is taking the foodie destination trend and kicking it up a major notch. This weekly, family-friendly marketplace happens every Sunday in a hip section of Downtown LA, combining cool food trucks with that other thing LA is known for—shopping.

Grab the kids for great eats and maybe a chance to snap up clothes, jewelry, and even records from local merchants. What could be better?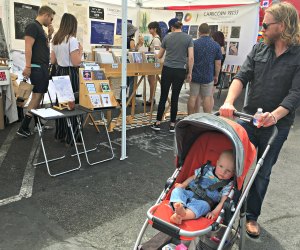 Strolling and strollers welcome!
Smorgasburg LA is located inside ROW DTLA, an industrial section of Downtown featuring office spaces, restaurants, and shopping. Parking here is plentiful, convenient, and free for the first 2 hours, which makes Smorgasburg an even more delicious spot for a lazy Sunday.
Once we arrived, we spotted a tree-shaded eating area and lots of families with kids. We followed the music to enter the event and found stall after stall of interesting eats and shopping in an open parking lot. We arrived on the early side to avoid the crowds, and it paid off as we zipped through to find tasty treats. There were a good number of picnic tables with umbrellas right by the vendors, but they filled up fast and felt hectic (not great for little ones). Instead, we took a quick tour of the space, then took your food out to the open plaza for some shaded seating at communal tables or the open curbside.

Some families managed to grab tables.
The first Sunday of every month is Family Day, which features live kid-friendly music, face painting, and more. It's almost perfect—though I would have loved to see more kid-friendly vendors.
What We Ate:
Mozzerella Sticks from Big Mozz: Huuuge. Tasty, if not a tiny bit overdone, and with a great marinara dipping sauce.
Grilled Scallion Pancake with Pork Belly from Chinese Laundry: Gorgeous, rich, and tasty. Definitely eat this dish at a table, or be brave and fold it up taco-style. Our toddler loved this. He even ate the flower petal garnish.
Shaved Hawaiian Ice with Passion Fruit and Mochi from Chichidango: Beautiful and not overly sweet, despite the toppings. Eat it fast, as it will melt quickly in the hot LA sun.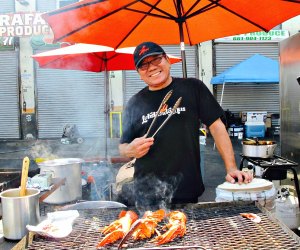 Manning the grill at Lobsterdamus. Photo by Elisa Paluan/CC BY 2.0
Other Standouts:
Amazebowls: Healthy, tasty, tropical goodness served in a coconut shell. Need I say more?
Lobsterdamus: Everything here sounds divine if you're a lobster lover.
Black Sesame and Sticky Rice Mango Ice Cream at Wanderlust Creamery: I am in love with the artisanal ice cream trend right now, and this combination of savory and sweet sounds incredible.
Donut Friend: Seriously, some of the best donuts in all of LA.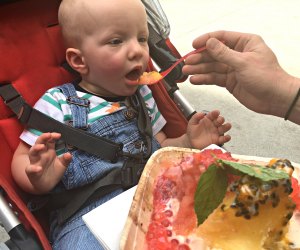 Grilled Cheese Sandwich from Cheezus: What dairy-loving child wouldn't dig one of these epic grilled cheese sandwiches?
The Base: Feel-good tea and smoothie jars with all-natural sweeteners and adorable, inspirational quotes.
Baohaus: Jumping on the steamed Chinese bun trend that Momofuku owner David Chang made famous, these buns are the perfect size for little hands.
Here are a few tips to make sure a good time is had by all:
1. Arrive early to avoid long lines and the heat of the midday sun. Rumor has it some of the food vendors run out of items by the end of the day.
2. Go in a group to sample even more of the goodies.
3. Have cash on hand. Most of the vendors take cards, but it won't hurt to keep a little at your disposal.
4. Be sure to follow the signs for "Smorgasburg LA Parking" once you are nearby on Alameda and Bay Street. Our GPS had us going in circles.
We loved coming to this event. It's a fun, foodie, family-friendly alternative to Sunday brunch, and we will most definitely be back.
Smorgasburg LA
Sundays 10am-4pm
(first Sunday's of every month is Family Day)
785 Bay Street
Los Angeles, CA 90021
718.928.6603
Photos by author unless otherwise noted
Places featured in this article:
Sign up for the Mommy Poppins Newsletter today!
i