Eataly LA: A Taste of Italy without the Airfare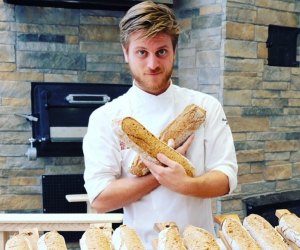 For those who pine for fresh pasta, Neopolitan pizzas, and every Italian delicacy that never pops up at Trader Joe's, there's good news. Eataly LA, the latest outpost of what has been called the Disneyland for Italian food (and has become a New York institution), opened its first North American location west of Chicago last week in the newly redone Westfield Century City shopping center. Eataly now has 39 locations throughout Italy and around the world, and just five of those can be found in the US. Eataly LA has three floors (the third is an as-yet unopened restaurant) and offers a little bit of everything: a grocery store, sit-down restaurants, prepared food counters, cafes, and fresh food for home preparation. There's even a cooking school (La Scuola), and foodies who don't want to cook for themselves can watch fresh food being made as well as sample olive oils, balsamic vinegars, and pestos.
So what should kids try? Even picky eaters who hesitate to try Italy's more adventurous fare will be able to find some satisfying pizza and gelato to excite their palates, whether you want to eat in-house, grab a quick bite, or purchase food to make at home.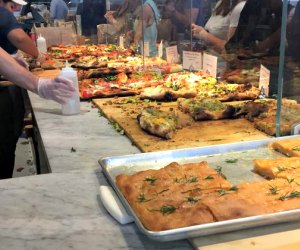 Photo by Audrey Morris
Before You Go
To park in the garage nearest the Eataly LA entrance, enter from Avenue of the Stars and follow the signs.
Want a quick coffee before browsing the goods? Good news: while the store opens daily at 9am, Caffe Lavazza opens at 8am. Counters and restaurants have staggered times for serving lunch and dinner, so be sure to check their hours in advance. No reservations are accepted at this time.
Lines have been long this first week, and just getting in the door may take 45 minutes or longer. Eataly LA has introduced a "line-o-meter" on Twitter and Instagram. Much of the line isn't shaded, so be warned to wear your sunscreen and know that it will be hot out there on a warm day.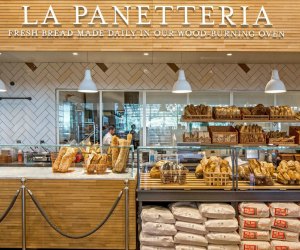 Photo courtesy of Eataly
Groceries
Eataly LA has a complete Italian grocery store stocked with canned and jarred goods, dried pastas, a butcher's department, fresh cheeses and yogurt, salumi, freshly-made pastas, fresh fruits and vegetables, sodas, candies, and more. Mozzarella and pasta are both made where guests can watch the process—and be sure to stop by the sampling station. Depending on the time, it may be serving olive oil, pestos, vinegars, or all of the above.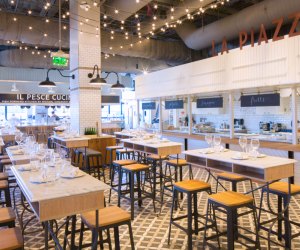 Photo by Elizabeth Daniels
Table Service Restaurants
Unfortunately, the sit-down restaurants in Eataly LA do not take reservations at this point. If you're able to get your name onto a list, be sure to check your status regularly—they have no way to find a party within the establishment. Also, forget planning a romantic date night; all of the restaurants currently open are loud due to the open floor plan.
La Pizza and La Pasta: With a menu of freshly-made pasta, sauces, and pizzas, this restaurant is definitely kid-friendly. Kids and adults may want to watch the pizza bakers slide pizzas in and out of the golden ovens, and once your order goes in, be prepared—pizzas cook in 90 seconds.
Il Pesce Cucina: This eatery emphasizes an Italian take on California seafood, with an emphasis on wild-caught fish.
La Piazza: Guests seat themselves and order from among panigacci (a flatbread specialty of Lunigiana), salumi, house-made mozzarella, and other small plates. This one has a full bar.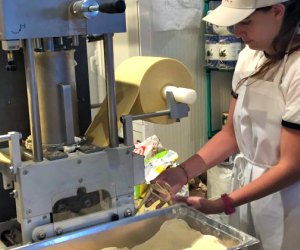 Watching someone make pasta can be mesmerizing. Photo by Audrey Morris
Savory Counters
The counters may be the best place for hungry families to stop. Lines are shorter and most of the food is already made. There are tables available for eating in-house, too.
Pizza alla Pala: Serving up Roman-style pizzas and Ligurian focaccia, this counter has a variety of toppings for customizing a crust.
I Panini e la Cibatti: A good to-go choice, this counter has Italian-style cold sandwiches and fresh bread as well as focaccia.
L'Orto dello Chef: Those seeking a light lunch can pick up salads, soups, and fresh juices here.
La Rosticerria: Want something a little heartier? Stop here for rotisserie meats, antipasti, and panini.
Sweets Counters
What kid (or parent) doesn't love a sweet treat? The pasticceria (pastries and chocolates) is on the second floor, while gelato, cannoli, and bomboloni (stuffed-to-order pastries) are on the first—a great place to stop on the way out.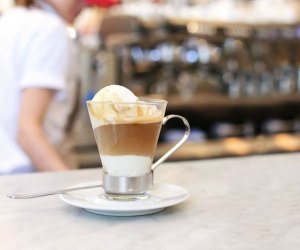 Enjoy an affogato and power up for the rest of your shopping trip! Photo courtesy of Eataly
Cafés
Eataly LA has two cafés: one is an Italian-style coffeehouse, while the other has a variety of pastries in addition to coffee.
La Scuola
Eataly's cooking school is open to all ages—but know that kids must be registered with an adult. Various classes are offered, covering the ins and outs of egg pasta, semolina pasta, gnocchi, pasta e fagioli, and more. Expect to see more offerings and a larger variety of classes in the near future. La Scuola also hosts chef's table tasting events. Check the calendar for available classes and events. Other Eataly locations have kid-specific classes, so look for them here soon.