12 Themed Restaurants and Family-Friendly Dinner Shows in Los Angeles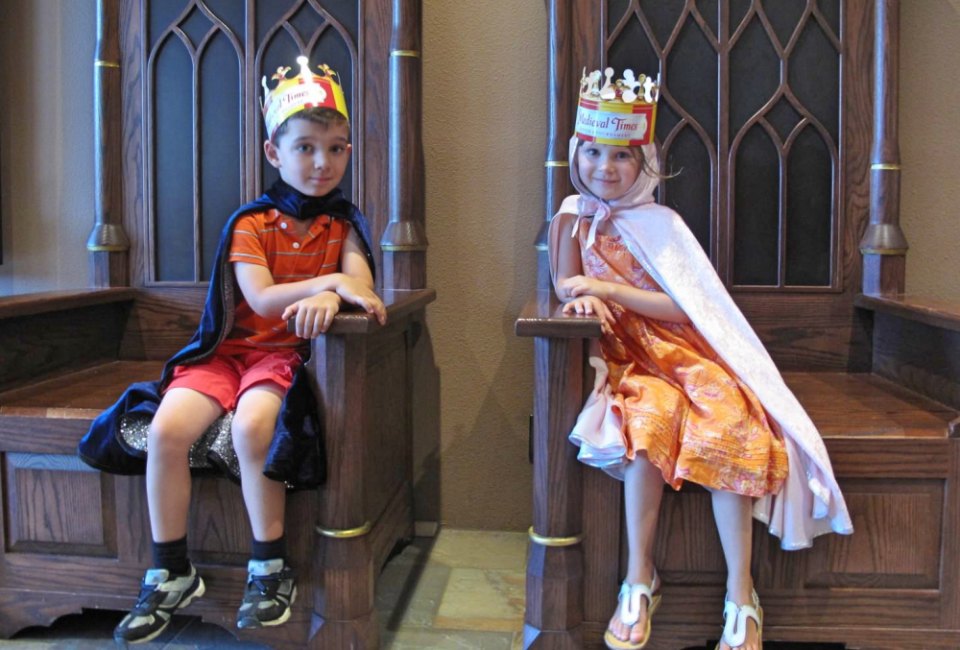 8/13/21
- By
Meghan Rose
Looking for some fun along with your food? From knights and horses to pirates to magicians, loads of Los Angeles restaurants offer themed and interactive dinner shows for the entire family—after all, this is the entertainment capital of the world! You might land in the middle of a recreated land or find yourself with dinner shows served on the side—every single one of these spots will make your next family meal a bit more magical.
Check out our restaurant guide for more kid-friendly eating experiences in Los Angeles, including restaurants where kids can play while parents eat, gorgeous restaurants with outdoor dining, and even mouth watering treats that dazzle kids of all ages.
Enjoy a rousing live jousting tournament, marvel at awe-inspiring horsemanship and falconry, and enjoy a four-course meal at this classic dinner theater show. Kids become part of the action, as the audience is divided into groups who each cheer for one of the knights. (My daughter caught one of the flowers that our knight threw into the crowd once and she was walking on air for the rest of the show).
The food selection is kid-friendly (soup, chicken, dessert—and vegetarian options are availabel) and utensils are a no-no. Ticket prices start at $36.95, and lap children (under 3 years old) are free.
Lil' scallywags just might get invited up on stage. Photo courtesy of Pirate Dinner Adventure
Right down the street from Medieval Times is a pirate world. Instead of a jousting arena and live horse and falconry show, the pirates adventure takes place a aboard a fully-rigged 18th-century Spanish galleon that sits inthe middle of a 250,000-gallon lagoon. The live-action show is filled with special effects, mermaids, and a princess. Mirroring Medieval Times, the Pirate Adventure offers up a 4-course meal and tickets for kids over 2 start at $36.95. At Halloween, there's a special Vampirates show that's extra fun.
Meet Jack! Photo courtesy of Beetle House
If your child is more of a Wednesday Adams than an American Girl, this is the spot that delights. The Beetlejuice-themed restaurant means everyone is dressed in (macabre) character. A variety show is the centerpiece of the entertainment, with Beetlejuice as the host, the show starts with the first seating and continues all night, so different times catch different parts of the show.The show has different characters and acts each night. The food is also themed, with Sweeny Beef (comes with it's own bloody machete to hack up the meat...) and Edward Burger Hands on the menu. Kids 12 and older are $55 per person, and under 12s are $20 for a three-course meal and the entertainment (tips and drinks are not included). There's no kids' menu, but plenty of kid-friendly options, like burgers, fries, and mac-and-cheese, as well as vegan and vegetarian offerings. It's Halloween here year-round!
Yo don't need to buy Disneyland tickets to visit the Tiki Tiki Tiki Tiki Tiki room. (Is that song stuck in your head now?) Belly up to the bar (or table for the under 21s) at Trader Sam's, which is actually inspired by The Jungle Cruise ride, at the Disneyland Hotel. While parents will definitely enjoy the exotic libations (and the fun surprises that happen when certain drinks are ordered), kids love the enchanted atmosphere and island-inspired foods. Children are welcome until 8pm. As Trader Sam says, "These tropical delights won't shrink your head—they just might stretch the belly." Look for little jokes and Easter eggs throughout the restaurant. Be warned that there may be a wait, as the restaurant does not accept reservations.
Do you know the magic password? (Don't worry, they'll tell you!) Photo courtesy of the Magic Castle
Would you like a side of magic with your entree? The first thing to know about the Magic Castle is that you can't just go; it's a private clubhouse for some of the best magicians in the world. Performing there is an honor among magicians, but just being allowed in is an honor for anyone else. Visitors are treated to non-stop magic shows in three or more theaters and a meal in the Castle's excellent restaurant. Evenings are only for the over-21 crowd, but weekend brunch is family-friendly and appropriate for kids who love magic and can respect a place that requires their "better selves" behavior. If it's a private club, how do you get tickets? We've got some great tips on securing that elusive reservation (basically everyone we know who has ever wanted to go has gone, it just takes a little ingenuity! Note: Brunch is still currently on hold, due to Covid, but rest assured, it will be back. Like magic.
While it hasn't been Cafe 50s since the 50s, it has been a diner since then, so the feel and the food are the real deal. Milkshakes, melts, burgers, fries and more round out a classic diner menu, and the decor is pure posters, ads, and vintage 50's nostalgia. Kids love the food ant the stmosphere, not to mention the classic gum ball machines, vintage comics, and classic board games that keep them entertained.
7. Miceli's — Universal City
This is my family's annual Christmas Eve tradition, so I may not be impartial here, but this is one of the most fun joints in town. Decked out to look a little like Italy by way of New Jersey, this Italian restaurant near Universal City serves up pizza and pasta in a room with Chianti bottles hanging from the ceiling. But the real draw here is the singing waiters, who all take breaks from delivering your chicken parm to belt out everything from Disney classics to opera to pop tunes in voices that belong on Broadway. The singing starts at 6pm, and the whole joint bursts into song for birthdays.
Step back in time at this diner in Burbank. Photo courtesy of Bob's Big Boy
Bob's Big Boy really has been around since the 50s; the Bob's in Burbank is the oldest Bob's Big Boy in America and was built here in 1949. Still going strong is the car hop service, friday night car show, and giant Big Boy statue out front. It seems like the menu and decor haven't changed in 70 years, and we wouldn't have it any other way. Tip: if you're not getting car hop service and decide to eat inside, try to sit at the "Beatles Booth." It's where John, Paul, George, and Ringo sat when they ate here in 1965.
While the original Mel's is in San Francisco, the one on Sunset Blvd. is a classic, lodged in an original Googie building that has been named an historic landmark. (It used to be Ben Franks Coffee Shop, which was a famous rocker hangout in the 60s and 70s.) Instantly ecognizable from all the movies that have been filmed here, one of my family's favorite things here is the fact that you can get diner food and green juice, so everyone goes home happy. Enjoy the jukebox on the table, the yummy food, and the retro decor, and even draft beers for parents!
How to describe this spot? Yes, it's touristy, but for kids it's loads of fun. The chain describes its aesthetic as "Rock meets Western ... merging the feel of an Aspen ski lodge with the style of an old Western saloon, complete with faux balconies and saloon girls." And that about sums it up! There are campfire pits you can roast s'mores over and a mechanical bull that delight kids, as does the food, which runs to giant and tooth-achingly sweet. We've heard that famous TikTokers like to hang out here, and many happy kids have spotted their social media idols here. (Whether that induces your crew to go or stay far away, we're just providing the local scuttlebutt.)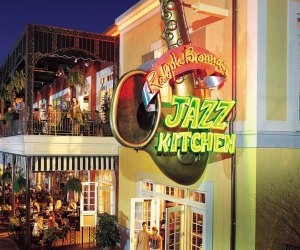 You'll think you're in the Big Easy. But it's just Anaheim. Photo courtesy of Ralph Brennan's
I've eaten at Commander's Palace in New Orleans, and Ralph Brennan's no Commander's Palace. That said, it feels like a Disney version of the famous New Orleans restaurant, which makes perfect sense as it is in fact the Downtown Disney version of New Orleans. With Gumbo Ya-Ya, Jambalaya, and po' boy sandwiches for entrees; beignets and bread pudding for dessert; and Hurricane's to drink for the grown-ups (and a virgin Mint Julep that makse kids feel very adult), you'll definitely get the flavor of the Big Easy here.
Much like Ralph Brennan's is not New Orleans, Margaritaville is not Cabo. But, if you've a hankering for giant plates of surprisingly tasty (if wildly inauthentic) Mexican food, Margaritaville is an immersive and fun night out. Giant sea creatures float overhead, the Volcano Nachos are enough for the whole table, the Cheeseburger in Paraside makes you smile as you order it, and yes, Margaritas are always being mixed, with or without that long lost shaker of salt. (Kids dig their drinks too, which come in light-up souvenier cups!) With live music and sunny servers, if you squint just right, you can pretend you're on a tropical getaway. In any case, you'll get a decent Margarita and happy kids.
Sign up for the Mommy Poppins Newsletter today!
i