Medieval Times: Knightly Dinner Theater with a Dose of Girl Power in Orange County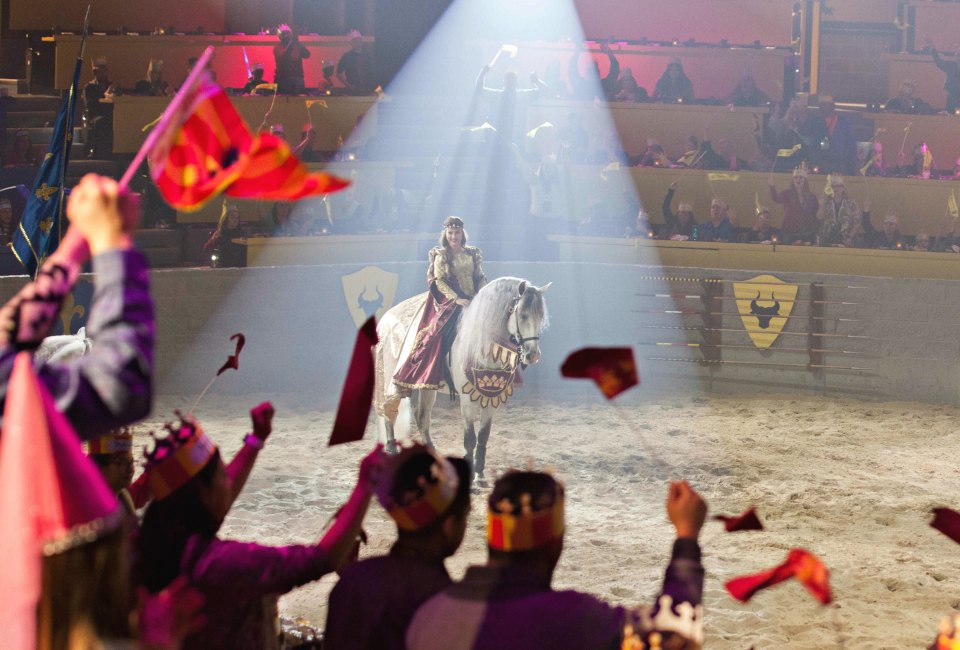 5/1/18
- By
Li Starr
While nearby Disneyland has sucked me in repeatedly over the years, the truth is that watching jousting and eating chicken with my hands at Medieval Times has always inspired a hard pass. That said, when the opportunity to play pretend princess in a "real" castle came up recently, my daughters were over the moon—and I was on the hook. As the saying goes, let the games begin.
Since Orange County's contribution to ye olde history opened in 1986, Medieval Times has brought recreating the time period of noble knights and crowned nobility down to a science. The main competition in this genre of anachronistic entertainment is the Renaissance Pleasure Faire, but that runs for only a few weeks a year—and involves a lot of walking. Medieval Times creates its knightly phenomenon in a faux castle, with arena seating and dinner.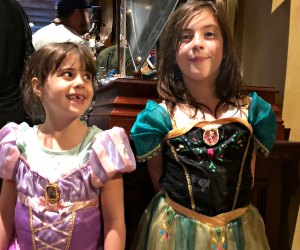 It's the perfect outing for wearing princess dresses! Photo by author
From the outside the castle may look more like a cardboard cutout than the real thing, but inside there are plenty of fun things to see, such as standing suits of armor and horses—lots of them. While waiting to be seated by friendly employees (expect to be addressed as m'lord or m'lady throughout your visit), you can hang out in a massive room lined with glass, with each pane acting as the back of a real horse stall to one of the royal horses (there are 30 horses involved in the show). While most of the horses aren't interested in turning to look at visitors, my kids loved having the chance to be (sort of) up close and personal with these massive beasts. You can even see two falcons behind glass at closer range than you might at the zoo.
It's worth arriving early—guests can enter up to 75 minutes before the ticketed show time—to explore the surroundings. And, if ye so desire, ye can purchase scepters, crowns, glow-in-the-dark doodads, and, yes, alcohol.
Worried your kids will whine for purchases? I took a tip from a friend and put my kids in princess costumes and crowns they already had. They were thrilled to be in princess mode, and I was thrilled they didn't make a single request for additional gear. Do be prepared (and perhaps budget accordingly) for the many upsell opportunities, including professional photos, entrance to the medieval museum ($2 each), and the drinks. While some beverages looked tasty (and came in light-up steins and glassware to take home), you'll probably also notice there are no prices on the menu.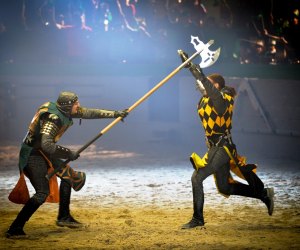 The games mostly involve pointed sticks...
Before being guided to a seat, everyone is given a colored ticket—and not only does that determine where you're sitting, but also which knight you're going to root for. Don't worry that you won't be able to spot him; even though we ended up in the top tier, there really might not be a bad seat in the house, or an obstructed view. The arena is surprisingly intimate given how much space the knights and horses need to perform.
What's new and interesting about Medieval Times right now is a new storyline in the show: instead of a king overseeing the jousting tournament, it's a queen. There's also a grumpy knight who becomes the villain of the show by barking about how he won't answer to any woman or swear allegiance to her. There's probably a lot more to this story, but on the day we were visiting the sound system was, alas, a shambles; though the volume was loud, the words being spoken were largely unintelligible. Given that the show is about two hours long, that meant a lot of talking with only every third word making sense. It's a shame, because we could tell the cast was absolutely committed to their roles and doing their best to impress an audience that, in some cases, seemed more interested in their chicken.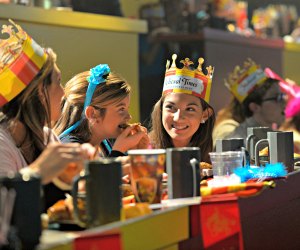 Eating like a lady looks a little different at Medieval Times.
Speaking of chicken, Medieval Times is known for its rustic menu—and its lack of cutlery. No forks, spoons, or knives here, and no ordering off the menu. While there's a vegetarian option of vegetable stew, hummus, pita, and carrot and celery sticks, otherwise you get what you get and don't get upset (especially not in front of your kids, who probably know what it's like not to have choices for dinner). There's tomato soup, corn on the cob, garlic toast, a potato wedge, and a half-chicken to eat with your hands. There's also dessert, which for us was a slice of pound cake but is often a turnover. It's not fine dining, but part of the fun of being there is eating the way they ate centuries ago. While it could be argued they weren't drinking Pepsi back then (your beverage choices are water, unsweetened iced tea, or Pepsi unless you purchase something else), no one seems to mind.
But the real reason to come to Medieval Times is to see the tournament and the rest of the show. If you've never seen a horse walk on two legs, it's quite a sight, and seeing falcons zip around the arena is something my older daughter loved (while the younger one ducked her head). The knights are remarkably skilled, and when you see sparks fly during their battles, it's not a theatrical effect—smashing swords together actually causes these fireworks, as it presumably did back in olden times. Even if you feel a little silly with a revamped Burger King crown on your head, it's impossible not to root for your knight and, as in our case, feel disappointed when he's beaten. Kids are quickly swept up in the battle and, even when the lights weren't shining on our section (a cue to applaud for our knight), they were clapping wildly from the edges of their seats.
As we left, my older daughter told me she had a great time—and wouldn't mind returning. And, while I'm holding out for an improvement to the sound system before I commit, I wouldn't mind, either.
Photos courtesy of Medieval Times, unless otherwise noted
Places featured in this article:
---
Medieval Times Dinner & Tournament
Sign up for the Mommy Poppins Newsletter today!