SoCal's Renaissance Pleasure Faire Offers Kids a Day Trip through Time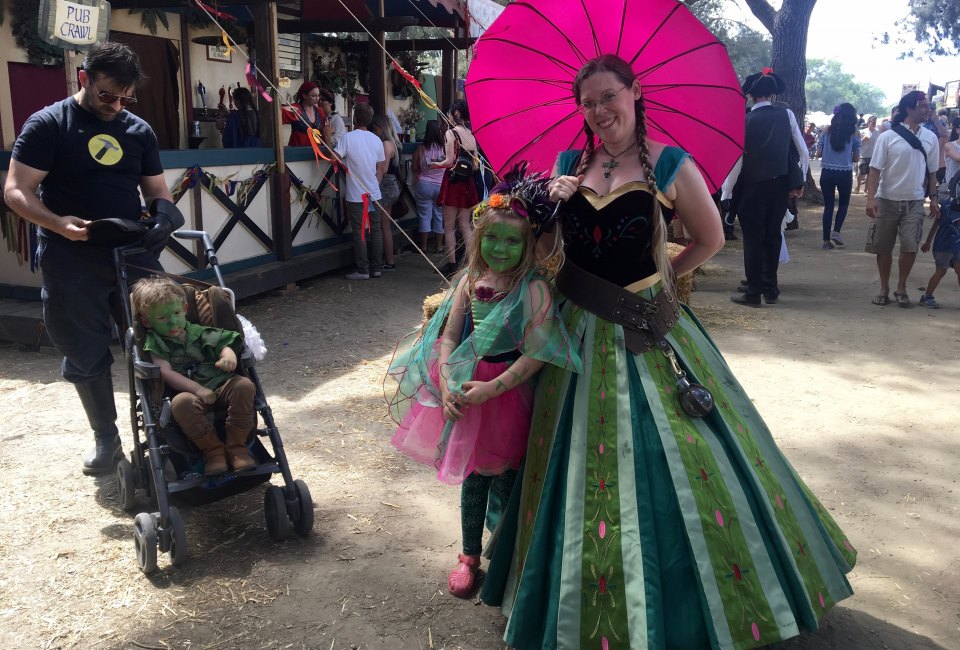 5/10/18
- By
Roberta B
Hear ye, hear ye! There's more to Ye Olde Renaissance Faire than turkey legs, men in tights, and replacing all thy "yous" with thees and thous. So if you—or thou—art wondering whether or not it's worth venturing 45 minutes inland in search of a park full of people pretending wholeheartedly that Queen Elizabeth I is still on the throne, the answer is an unmitigated, "Huzzah!"
The Renaissance Pleasure Faire runs Saturdays and Sundays, April 9 through May 22, 2022.
While not quite as old as it pretends to be, the Renaissance Pleasure Faire has been presenting its peculiar brand of anachronistic entertainment to SoCal for more than half a century. "Southern Faire" as it's also known (to distinguish it from several other Renaissance Fairs dotted around the west coast) has moved location once or twice over the years, but the people—like the jokes—have barely changed. Unlike the Queen Elizabeth of our century, the one at Renaissance Faire never ages.
The Faire has undergone its own renaissance in recent years, however, expanding in size and scope, adding themed events each weekend, and offering more shows and entertainment than ever before. . If you've never visited any renaissance fair before, though, you might need to know a little more of what all the fuss is about.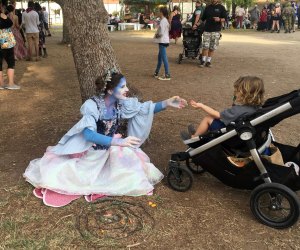 Fantastical costumes and children are a perfect match.
For starters, yes, most people attend the Renaissance Pleasure Faire in costume of some sort or other, which is good news for parents wishing their daughters could get more wear out of those expensive Disney princess dresses. Pirate costumes and knight costumes are also de rigueur, and we highly recommend bringing along whatever toy swords you might have lying around—if only as defense against the many vendors who sell them ("You already have one" works so much better when the object is actually in your kid's hand). Visitors are, of course, welcome to walk around in Bermuda shorts and college t-shirts if that's their thing, but wearing a puffy shirt somehow makes the day more fun. If there's no Jack Sparrow wear in your own cupboard, the costume rental stall just inside the Faire's entrance is happy to suit you up starting at around $25.
Costume considerations aside, there is so much to do and see at the Renaissance Faire that, forsooth, a single day does not suffice. We started off wandering slowly through the Guilds near the entrance, where women walking with distaffs explained to us how medieval mothers actually used to spin thread while doing the family shopping, and a man at a giant loom showed my son how the mother-spun thread was then turned into cloth. Men at the forge showed us how they were creating swords and other weapons, and glass makers gave a fabulous, educational demonstration in which they simultaneously created works of art, explained thousands of years' history of glass blowing, and illustrated a few principles of physics.
We didn't make time for the Queen's College, which offers craft and artisan workshops all day long, but this is a great way to delve in a little deeper (and walk a little less). If you want to do a workshop, it's a good idea to look over the workshop schedule online in advance, so that you can plan your day around catching one of these neat (and reasonably priced - most cost around $10) classes.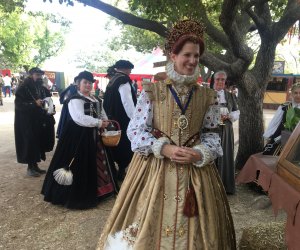 This Queen Elizabeth hasn't aged in 50 years.
Speaking of planning ahead, there are plenty of tempting items for sale, so you might want to let kids know in advance how much they have to spend. The path leading through all of these interesting wares is the same one that you'll cover on your way home, so that the journey in can be about seeing what there is, and the journey out can be reserved for purchasing that special something before heading home. Temptations include all manner of trinkets, jewelry, and handicrafts, as well as gem stones, handmade clothes, tasty treats, and puppets. Kids can also get some creative hair braids and henna tattoos.
But wait, there's more! I haven't even begun to discuss the shows, which take place on stages throughout the Faire. Entertainment ranges from magic shows to commedia dell'arte, from courtly music to bawdy comedies, from aerial dancers to strong woman shows, from Shakespeare to jousting. The jousting all takes place in a ring at the far end of the Faire, with a story line that builds over the course of the day from courtly entertainment for the queen to a bloody duel to the death. Stage shows of particular interest to kids are the Broon (fire-eating and bowling ball juggling!), MooNie the Magnificent (clown), and Willy Nilly's Shakespeare (for a touch of sock puppet meets Shakespeare!). Grab a schedule by the entrance to stay on top of your options.
Like all good fairs, this one has plenty of games to play for a few bucks a pop—though instead of whack-a-mole you can count on throw-an-axe, shoot-a-crossbow, and dunk-a-jester. Rides are man-powered, and it's really a delight to see how much fun kids can have on a giant swing with two big men pushing them, no roller coasters required. Kids can also explore a giant maze, climb a rock wall, ride a zipline, or even try a real fencing lesson. Why not?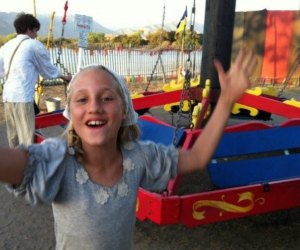 The man-powered rides never let us down.
Organized entertainment aside, one thing I particularly love about bringing kids to the Renaissance Faire is the opportunity to talk about history in—what at least appears to be—context. A passing joke about Anne Boleyn that my son wanted explained led to a chat over lunch about Henry VIII's six wives and the birth of the Church of England. And, yes, he wanted to know. Taunts by a pack of folks dressed as Puritans gave a visual to the Reformation—and to those odd religious extremists who set off to found a new society (where renaissance fairs would one day become a form of entertainment—oh, the irony!).
Food is plentiful and includes far more than the famed turkey legs. Count on finding pasta, soup in bread bowls, filled baked potatoes, artichokes, and all sorts of tasty finger foods. Our favorite dessert every year is the fabulous fruit gelato served in a slab of frozen fruit. Grown-ups can indulge in a mug of honey mead, too, if the many beers on tap look too 21st century.
The Renaissance Pleasure Faire sets up its 16th century village at the Santa Fe Dam Recreation Area in Irwindale, near where the 605 and the 210 meet. Temperatures tend to be a few degrees warmer than in town, so sunscreen and plenty of water are highly recommended.
The Renaissance Pleasure Faire runs Saturdays and Sundays, April 9 through May 22, 2022.
All photos by Roberta Brown
​Originally published May 10, 2013