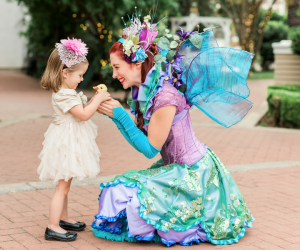 Magicians to Puppies: 12 Great LA Party Entertainers Who Make the Party
Like the people who throw them, birthday parties have evolved. Grandma might point out that she managed just fine without ponies or puppeteers, but that doesn't mean we have to. The truth is that a good party entertainer can make a budget party in the backyard or local park feel like the event of the season. If you're that mom who's never at a loss to entertain a dozen 8-year-olds, our hats are off to you (and please contact us about writing a party piece!); for everyone else, here are 12 party entertainers who we think are really neat.
Booking Happily Ever Laughter is more than just renting adorably dressed fairies and mermaids to show up at your party; the whimsical activities the characters bring are teacher designed and range from puppet shows and magic shows to dance parties, face painting, balloon art, and other fun stuff.
Magician Brandon Scott does something most kids' party magicians don't do: he shares his secrets. The long-time Magic Castle performer offers magic shows on a variety of themes, then invites the next generation to carry on the tradition by teaching some of his favorite tricks. Brandon performs in both English and Spanish.
Want Star Wars characters (including a convincing Chewbacca) or the Marvel universe of superheroes to show up at your kids' party? Look no further. If kids really want to dig into their lightsaber technique, Jedi training is available, as well as face painting and even the chance to play tug-of-war with Batman (or whoever your kid's favorite superhero might be).
The Bubblologist is in the building. Did the Bubblologist make up his job title? Perhaps, but whatever you call Bubblemania's party entertainers, they offer plenty of good, clean fun, with programs built around the science of soap bubbles for children of all ages. Parties involve an indoor presentation followed by outdoor bubble playtime.
In addition to offering afterschool enrichment and acting classes, the Amazing Kid Company brings the active, sporty fun to parties. Kids can play dodge ball, color tag, Mr.Fox; dig into a whipped cream eating contest or a Nerf war; or even have non-stop, organized fun at a pool party. This company emphasizes old-fashioned fun and even nurtures sportsman-like behavior in kids as a bonus.
Soft and furry? Scaly and slithering? Whether it's puppies or snakes your child craves, this party entertainer can bring 10 to 11 animals to any birthday party. Critter visitors include turtles, snakes, bugs, lizards, and five different breeds of roly-poly puppies.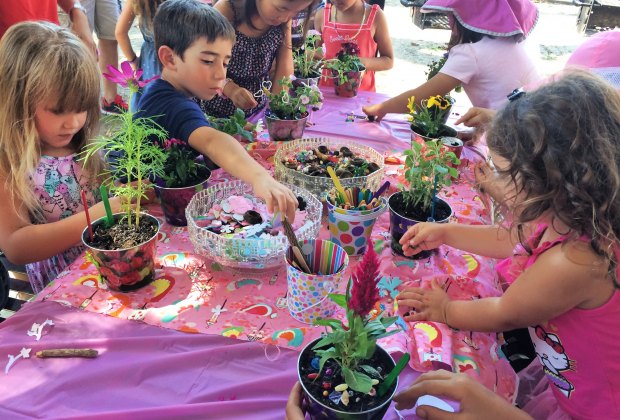 Kids make their own party favors at a Little Saplings party. Photo courtesy of Little Saplings
Ruth Steinberg of Little Saplings empowers kids as expert gardeners, and her love for greenery is infectious. She can help create natural wonder in the child's own garden, or at a park where gardens can be created in pots (to take home as favors). Digging and planting activities can be augmented by nature walks, scavenger hunts, mud pies, and anything else plant-related.
Quirky French Chef Madame Chocolat creates a stir at birthday parties and other events with her interactive cooking show. The chef solicits help from the audience to make a chocolate cake (scratch cake off the shopping list!) and can throw in some fun storytelling, too.
Want swashbuckling pirates, noble knights and fair princesses, Indiana Jones or a variety of other characters at your party? How about Harry Potter or Scooby Doo? These entertainers are known for staying in character, wearing spot-on costumes, and making every kid feel included.
A musical duo who play their own acoustic music just for kids, The BeatBuds not only play music for kiddos but invite them to dance, play, and get involved. They also bring musical instruments for the kids to play, making the show an interactive experience. If your kid loves The BeatBuds, they can get a CD of their music, too.
In addition to characters like Princess Leia and Alice in Wonderland, Wishing Well has magicians, face painters, wash-off tattoo artists, and even a "snake lady." Kids swoon over the swimming mermaid (fully CPR certified to boot) who tells stories, sings, and more. If you want the grown-ups to be entertained, too, the company has a Lucille Ball, Groucho Marx, or Marilyn Monroe.
Scott Land is both the creator of his intricate marionettes and the puppeteer who brings them magically to life. It's great fun to watch Land's little wooden troupe interacting with the children, and his dry wit keeps parents chuckling to themselves. This show is a hit every time.

Originally published January 15, 2013