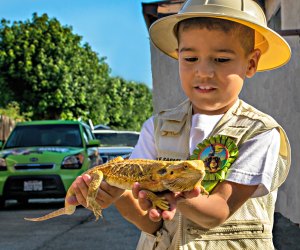 Animal Birthday Parties for Los Angeles Kids: Parties That Come to You
Though some animals are pretty standard on the birthday party scene, each company does offer a unique selection. Look around to find the selection that works for you, as well as to determine costs—transportation distance means a lot. Do you live in an apartment? Many of these companies are happy to come to a public park, but you are responsible for any permits required by your parks department.
1. Farm Friendz
2110 Stunt Road
Calabasas, CA 91302
maddison@farmfriendz.com
310.463.8795
Has your little one always wanted to live on a farm? Try renting a farm-themed petting zoo with dwarf goats, alpaca, ducks, bunnies, chickens, and more (a mini donkey and a mini cow are available for an additional fee). Prefer ponies? Not only can you ride ponies, there's one that's available to be painted (a twist on painted ponies) and Farm Friendz provides the paint and brushes.

2. Critter Squad
18730 Oxnard Street
Tarzana, CA, 91356
gowild@crittersquad.com
818.654.9433
Whether you are looking for reptiles, the cute and cuddly, birds, insects, a mix, or a petting zoo—Critter Squad has a party package for you. Be sure to book at least four weeks in advance for the best selection. Animals can be touched or held, and specialty animals are available. Critter Squad can even supply your entire party - with favor bags, a birthday present, balloon artist, specimen table, photo booth, and extra animal teachers.
3. Jessie's Party Animals
info@jessiespartyanimals.com
818.355.7599
Jessie brings the petting zoo to you. Pony rides are an option too. Yes, just the cute and cuddly here—goats, sheep, pigs, ducks, rabbits, chickens, guinea pigs, ponies, mules, mini horses, and donkeys. Ponies can be accessorized to match a party theme. Call to choose a package, select animals, and determine transportation costs. Jessie serves greater LA and all of Southern California.
4. Jurassic Parties
18818 Brookhurst Street
Fountain Valley, CA 92708
714.500.0593
Snakes, lizards, bugs, spiders, tortoises, frogs — Jurassic Parties offers two different birthday party packages, featuring either 12–15 or 15–20 different animals, and one presenter. Either package includes extensive photo opportunities, so be sure to have cameras ready.
5. Pacific Animal Productions
Serving all counties in the LA metro area
3946 S. Mission Road
Fallbrook, CA 92028
760.723.7761
With three different party packages and a wide variety of animals available (birds, reptiles, mammals, spiders, bugs—even a kookaburra and wallaby are available), you might have some tough choices to make. Call to find out the travel charge; pony and llama also have an additional trailer charge. Many of the animals can be held or pet, and those that can't be pet are designated as such on the website, so no one will be crushed when they discover the sugar glider is in the see-but-don't-touch category . Small animals come in wrapped, ventilated travel containers, making each one a surprise to the party guests.
Photo via Bigstock
6. Reptacular Animals
Serving greater LA, the Antelope Valley, and San Diego
PO Box 15972
North Hollywood, CA 91615
(travel is from Glendale)
reptacularanimals@gmail.com
818.727.1594
Reptacular Animals offers more than just reptiles; exotic birds, bugs, cuddly pocket pets, bunnies, puppies, a petting zoo, and ponies are also available. Reptacular offers one of the only bird-themed parties out there. Goodie bags, extra assistants, and extra time can all be added on. Kids can even choose a creepy crawly party (with millipedes, tarantulas, scorpions, and the like) or an all-bunny party that's less likely to inspire screams from the squeamish. Spanish and bilingual programs are available.
7. The Reptile Family
1336 Moorpark Road #187
Thousand Oaks, CA 91360
805.498.8788
With animal baskets and safari clothing, The Reptile Family looks like it's stepped right off a safari truck—and one package even involves a 1947 Ford Canopy. All party guests are welcome to look, touch, or hold (or not!) as they choose. Party packages feature anything from 16 to 20 animals, and a 60- or 90-minute show. Animals include arachnids, snakes, frogs, turtles, tortoises, and lizards—including some big ones. Spanish language presentations are available.
8. Wildlife Learning Center
Serving the San Fernando, Santa Clarita, and San Gabriel Valleys; West LA/Malibu/South Bay; the I-10 corridor; north Orange County; and north to Bakersfield
16027 Yarnell Street
Sylmar, CA 91342
818.362.8711
In addition to hosting on-site birthday parties, the Wildlife Learning Center also has a variety of party packages that allow families to choose which animals they'd like brought to a party. Costs vary widely based on number of animals and number of trainers needed, as well as travel costs. Animals vary from mammals (fox, serval, porcupine, sugar glider, etc), birds (owl, macaw), and reptiles (snakes, lizards, tortoises), to spiders and bugs. For animals not on a party list, call for availability and price.
Originally published November 20, 2013