7 Best Zoos near Los Angeles: the LA Zoo Is Just the Beginning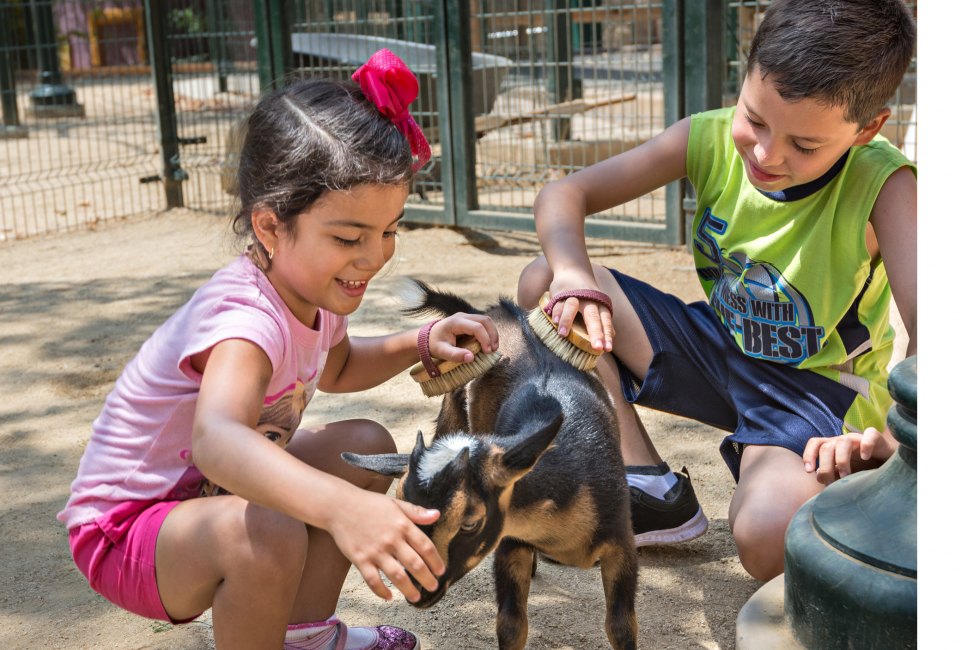 8/24/19
- By
Li Starr
Did someone say zoo? If your little ones have fallen for the non-stop furry cuteness of LA's petting zoos (and there are plenty in and around LA), there's a chance they're going to start thinking bigger. There are lions and tigers and bears (oh my!) to see at many zoos, and while petting is not recommended for most of the occupants (seriously, keep your kid out of the bear enclosure), young ones love seeing creatures live and in-person that they usually only read about in books. Here are some of the many zoos within easy driving distance. While the Los Angeles Zoo is naturally on the list, it's hardly the only game in town.
While the LA Zoo is a must-see destination for holiday lights, it's also a pretty great place to visit with the family year-round. There is an animal nursery, a carousel ($3 a ride, so be prepared), giraffe feeding ($5, cash only), hippo encounter ($15), the World of Birds aviary show (definitely put that on your schedule—there are shows at noon and 2:30pm daily except Tuesdays), and the elephant care demonstration (11am daily). There are so many animals it will be challenging to see them all in one trip. The LA Zoo may not be as large as the San Diego Zoo, but it's pretty darned impressive (for kids and grown-ups). Oh, and there's a petting zoo with 15 friendly goats, too.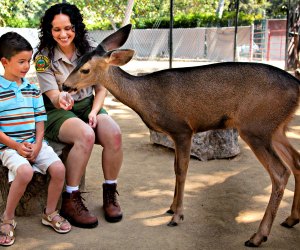 Orange County Zoo. Photo courtesy of OC Parks
Located in Irvine Regional Park, the OC Zoo has a focus on the southwestern United States, so the animals reflect that—but that doesn't just mean porcupines and prairie dogs (though you can find them here, too). Eagles, hawks, black bears, and mountain lions are also in the house. While it's not as big as the LA Zoo, its children's petting zoo is slightly more robust, with sheep, pot-bellied pigs, and bunnies available to feed and pet. It's cheaper, too, with admission at $2 a person (over 3 years old). Prepare to pay for parking, which can be up to $10 on some holidays.
This teaching zoo is only five acres, but for small kids, that's more than enough. Being a smaller, cozier zoo means it's harder to get lost, little ones won't get too tired, and (best of all) kids can get closer to the animals. Because the zoo is teaching students how to educate visitors, it's possible to see shows (three daily) and watch animals engaging in enrichment activities ranging from painting with primates to water buffalo football.
Take a ride on the Zoofari Express for a special view of the Family Farm and Tierra de las Pampas exhibits. Photo courtesy of the Santa Ana Zoo
Does your little monkey love monkeys? The founder of the Santa Ana Zoo requested that the zoo always house at least 50 monkeys on the premises, so you'll be sure to see more than one. There is also a Ferris wheel, a carousel featuring endangered species, a train ride, and a children's farm where kids can feed and pet goats and sheep. You can even milk a replica cow (call ahead to make sure these activities are planned during your visit since they're not available every day). There's also a Rainforest Adventure Maze and a walk-through aviary. Do note that some options, like the Ferris wheel and the train ride, aren't included in admission ($12 for adults, $9 for kids, and parking is free).
When Los Angeles is broiling inland, Santa Barbara can be pleasantly balmy. The Santa Barbara Zoo is also a great size for kids who might be overwhelmed by the sprawling Los Angeles Zoo (this one is 30 acres, while the LA Zoo is 133). Like at most other zoos, there are activities here that are more about fun than education (a climbing wall, a train ride, and the Rattlesnake Quarry where kids can pan for hidden treasures), but there is also daily giraffe feeding and an animal you won't see at most zoos: penguins! In all there are 500 animals to see, so even if you convince your kids to bypass the climbing wall, they'll still have loads of fun at the Santa Barbara Zoo.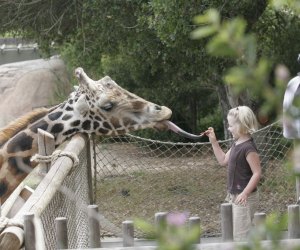 Photo courtesy of Santa Barbara Zoo
This is considered, by many, to not only be the best zoo in California, but maybe even the entire world. If you are figuring you can just pop in for the day while exploring San Diego, you are seriously underestimating how amazing this place is. Even though it's technically smaller than the Los Angeles Zoo at 100 acres, it has 3,700 rare and endangered animals. These animals range from cheetahs to elephants and many more. You may want to book a full weekend. There's a lot for little kids to love, too: They can watch monkeys and otters play together in a shared exhibit on Hippo Trail (the cuteness factor will get to grown-ups, too), and the Polar Bear Plunge lets visitors see these majestic creatures at close range. A miniature train is a fun way to see part of the zoo, or for bigger kids and thrillseekers, so is the aerial tram. While the zoo attracts huge crowds throughout the year (which can make it a bit much for little kids), it's definitely one to put on your bucket list.
It's as close to an African safari as you're going to get in SoCal, and not only is it a lot cheaper and easier, it may even be better. There is ziplining, rope bridge challenges, and even a chance to sit close to a running cheetah. Little kids will appreciate being able to sit in a tram and watch the wildlife (while you'll appreciate not having to push a stroller or carry a toddler). There are plenty of chances to get out of the tram and see animals up close, too. Visit the Lorikeet Landing to feed the brightly-colored birds, and consider the Park's Interactive Animal Encounters program to get the chance to have face-to-face contact with a cheetah, alligator, serval, and more.
Sign up for the Mommy Poppins Newsletter today!
i