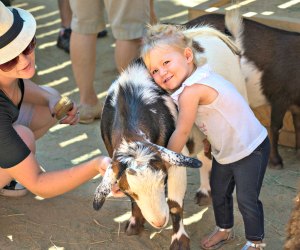 Best Petting Zoos around LA Where Kids Can Get Their Animal Fix
Kids of all ages love animals, from babies barely aware that the cow goes "moo" to older kids who can somehow spit out the full Latin name of a rare South American pig most adults don't know exists. So it's very special when children get the opportunity to go beyond the classic zoo to meet critters in closer quarters, and even get their hands on them (gently, of course).
1. Los Angeles Zoo
It may seem obvious, but the best and most convenient petting zoo I've found in the area is definitely the LA Zoo. It has a fantastic kid's area (pun only slightly intended, as it's full of goats). The sheep are a little shyer, but there are oodles of goats and lots of brushes for the kids to use on them. And for your hygienic convenience, there is a massive, beautiful art installation/hand wash station right outside the fence. Surrounding the children's area are a number of small animal encounters that run at 10:45 and 11:45 every day. The last time we were there my daughter got to pet a guinea pig, a hedgehog, and a bearded dragon. The zoo also gives the opportunity to feed giraffes. I highly recommend getting a membership; ours has paid for itself many times over.
Beyond the zoo, being in the second largest city in the country isn't exactly conducive to a lot of farms—meaning there aren't many "brick and mortar" petting zoos open to the public in LA proper. There are lots of fun, up-close animal experiences just 45 minutes to an hour-and-a-half away, though, as well as animal sanctuaries open by appointment. What follows are some of my favorites worth the drive.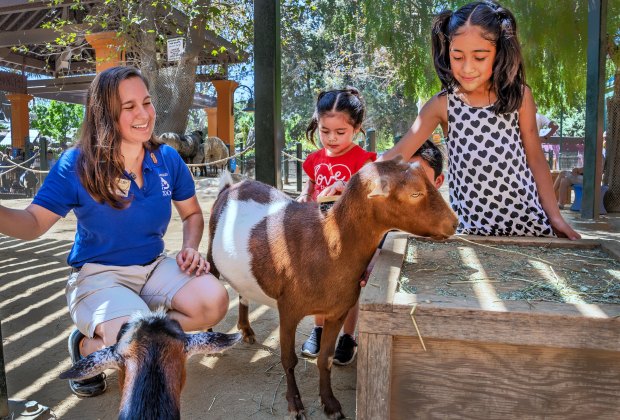 Photo courtesy of Los Angeles Zoo
2. Montebello Barnyard Zoo
It's got all the petting zoo hits: goats, ponies, pigs, tortoises, a llama (or is it an alpaca? We'll never know)—there's even a bull. The zoo also has those classic pellets to feed the animals, but there are signs warning just to throw them in the pens rather than feed the animals directly. The goats are particularly pushy about getting the pellets. The zoo is located in a lovely park that has a couple cool playgrounds and even a splash pad, so it's worth the trip. It's definitely a mom 'n' pop operation; we did it in less than an hour, but it also has pony rides for kids who are up for that. However, most of the animals are behind small fences, and there are signs up asking not to pet many of them... so there's not a ton of actual petting going on. Admission is $5.
2. Wildlife Learning Center
Located in Sylmar, though not technically a petting zoo, the Wildlife Learning Center is a small rescue center where the animal enclosures are very close for an intimate experience with the animals. It's very exciting to only be a few feet from a lynx, foxes, and sloths. Even better, the center has animal encounters every hour on the hour with a staff member and a different critter (I was told it's usually one of the many reptiles). On our trip I mentioned to the friendly staff how much my daughter liked the tortoises, so they kindly made the next animal encounter with a baby tortoise. There are also lots of extra animal encounter packages, like meeting one of the many adorable porcupines, armadillos, or more. Also of note: the Wildlife Learning Center does parties, so I might get a sloth for my birthday. The animals are obviously being well taken care of, and it's a great institution. Admission is $10 for kids under 15, $12 for over 15. Tots under 2 are admitted free.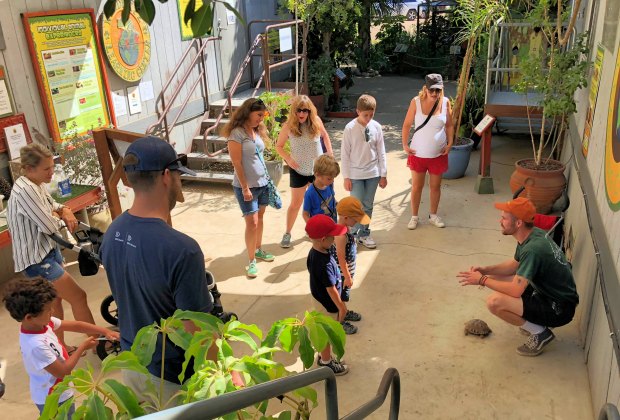 The Wildlife Learning Center. Photo by Mike Anderson
3. The Gentle Barn
A working animal rescue farm with locations in Tennessee, Missouri, and Santa Clarita, California, the SoCal Gentle Barn has tons of classic barnyard animals: horses, turkeys, pigs, sheep, goats, and even an emu. The barn is only open to give guided tours to the public on Sundays, and it is highly recommended to make sure to plan your trip and buy tickets in advance. The grounds look absolutely stunning and the people here clearly love their animals. Note: They ask that guests not bring dairy, egg, meat, poultry, or seafood onto the property out of respect for the animals, so bring vegan snacks only. It's a working farm, so guests are strongly advised to wear long pants, closed-toe shoes, hats, and plenty of sunscreen. Admission is $20 for adults, $10 for kids.
4. Danny's Farm
Danny's Farm was founded by former Los Angeles Dodger (and current pitching coach for the Los Angeles Angels of Anaheim) Jim Gott with his wife Cathy in 2007, in honor of their son Danny, who has been diagnosed with autism. The farm is geared toward providing experiences to children with special needs. Danny's Farm recently found a new home at the Special Spirit Equine Center in Shadow Hills and is now open by appointment only (or at a family open house, like the one on October 28, 2018). Danny's also runs a mobile petting zoo that is open at the Cal Poly Farm Store on Saturdays from 11am-3pm, March through October. The mobile petting zoo is available to come to parties, too.
5. Griffith Park Pony Rides
Not quite a petting zoo, but this is right around the corner from the LA Zoo and a super fun way to get your kid introduced to horses. There's a merry-go-round of ponies for very small (and nervous) riders, and slow or fast pony rides for older kids. Park once and take a trip on the Griffith Park Train Rides right next door. Pony rides cost $5.
6. Giddy Up Ranch
The ranch is only available for private events, but the Giddy Up folks set up a petting zoo weekly at the Monrovia Friday Night Family Street Fair as well as Huntington Beach's Surf City Nights on Tuesdays.
7. Farm Friendz
I recently got to experience Farm Friendz at Boomtown Brewing's Family Festival, and it was great. Daddy got to sip a beer while daughter got to run around a pen with pygmy goats, a llama, some ducks, rabbits, baby chicks, and so much more. It was very well set up and the animals had been well cared for. Farm Friendz is also available for private events.
RELATED: Where To Pet Bunnies in LA and Orange County

Photo courtesy of Griffith Park Pony Rides
8. Reptacular Animals
The Reptactular Animals have been on Oprah, Jimmy Kimmel Live!, and a host of other TV shows. The Reptacular Ranch is located in Sylmar and is available for weddings and other events. Despite the name, this ranch has way more than just reptiles. It's home to over 550 different animals. Admission costs $150 per hour for up to 6 guests with a maximum of 3 children. Each additional guest is $15 per hour.
9. Animal Tracks
This animal sanctuary located in Agua Dolce features a serval, kangaroos, and a baboon named Chrissy. Animal Tracks offers several different public and private tours by reservation, curated by the age of the children.
10. Peter Weber Equestrian Center
This horse-driven experience down in the South Bay offers all sorts of riding experiences, and the Equestrian Center also has a petting zoo available for parties by appointment.
11. Planet Rehab
Located in San Dimas, Planet Rehab is a very cool animal sanctuary that is open by appointment during the week and offers lots of volunteer opportunities for kids to get hands-on experience caring for animals.
12. The Sanctuary at Soledad
Located about an hour-and-a-half outside of Los Angeles in the deserts of Mojave, California, The Sanctuary at Soledad is available by appointment during the week for private tours and all sorts of events. On Saturday and Sundays, these folks set up a pop-up location at The Grove Farmer's Market, so you can meet the animals and shop.
In addition to these businesses, some farmers' markets can be relied on for petting zoos. The California Science Center even has an aquatic petting zoo-meets-raw bar exhibit where kids can touch mollusks and other weird sea creatures. Most of the listed animal sanctuaries and zoos above are not-for-profits, so volunteering is a fantastic way for older kids to get to hang with the animals, learn, and do a bit of good in the world. It can take a little bit of research ahead of time to figure out the hours and locations, but watching a child's face light up as she pets an alpaca is absolutely worth it.