Animal Birthday Parties for Los Angeles Kids: Parties That Come To You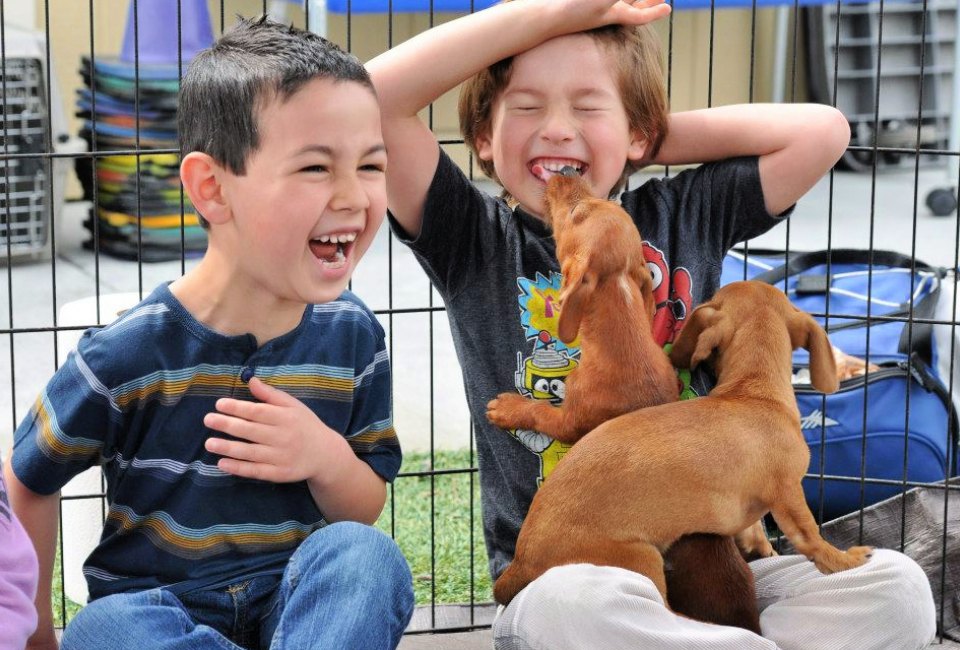 4/4/21
- By
Audrey M
Does your animal-crazed kid want a critter-themed birthday party? While you could just take everyone to the zoo or aquarium, it might be easier (and more fun) to have the party at home this year. This way, you can have a larger socially distanced party outside, or keep it intimate—with more one-on-one animal time, kids won't miss having a huge party. Plus, when the party's at your place, there are no extra fees for staying late and no public restrooms to contend with.
The best part is that having adorable animals show up at their very own house will surprise and delight your little animal lover. These are our favorite businesses that offer a variety of animals and party experiences and are happy to bring the party to you.
Though some animals are pretty standard on the birthday party scene, each company does offer a unique selection. Look around to find the selection that works for you, as well as to determine costs—transportation distance can mean a big difference in price. Do you live in an apartment? Many of these companies are happy to come to a public park, but you are responsible for any permits required by your parks department. We have noted each business's guest limits (if applicable), whether parties must take place outside, and any other COVID-restrictions.
maddison@farmfriendz.com
310.463.8795
Has your little one always wanted to live on a farm? Try renting a farm-themed petting zoo with dwarf goats, alpaca, ducks, bunnies, chickens, and more (a mini donkey and a mini cow are available for an additional fee). Prefer ponies? Not only can you ride ponies, but there's also one that's available to be painted (a twist on painted ponies) and Farm Friendz provides the paint and brushes. Everything comes to you and is available by the hour. Note that there is a travel fee per mile away from Calabasas that the animals must travel.
805.498.8788
With animal baskets and safari clothing, The Reptile Family looks like it's stepped right off a safari truck—and one package even involves a 1947 Ford Canopy. All party guests are welcome to look, touch, or hold (or not!) as they choose. Party packages feature anything from 16 to 20 animals, and a 60- or 90-minute show. Animals include arachnids, snakes, frogs, turtles, tortoises, and lizards—including some big ones. Spanish language presentations are available.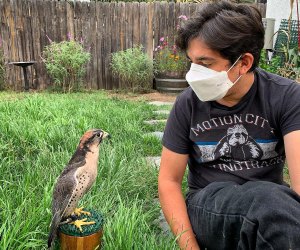 Get up close and personal with birds of prey. Photo courtesy of Raptor Events
info@raptorevents.com
562.335.5029
Don't let the name fool you, there are more than just raptors that will come to your party! The people at Raptor Events have a passion for animals and the natural world, and they bring all that enthusiasm to your kids, along with the exotic animals. There are three party options, ranging from Basic (three snakes, a tortoise, and 3 birds of prey) to All Inclusive (which gets you about 20 animals and a chance to work directly with birds of prey). At all parties, kids can put on the glove to hold a raptor, and also pet an owl. There are no travel charges for parties within 50 miles of Long Beach, and the company will work with you to customize the perfect animal experience for your animal lover.

Critter Squad brings everything—from reptiles to a whole petting zoo—right to you. Photo courtesy of Critter Squad Wildlife Defenders
gowild@crittersquad.com
818.654.9433
Whether you are looking for reptiles, cute and cuddly animals, birds, insects, a mix, or a whole petting zoo—Critter Squad has a party package for you. Be sure to book at least four weeks in advance for the best selection. Animals can be touched or held, and specialty animals are available. Critter Squad can even supply your entire party, including favor bags, a birthday present, balloon artist, specimen table, photo booth, and extra animal teachers. Parties are currently limited to 10-12 kids and must take place outside.
310.328.2040
Forget waiting for a birthday, I think everyone has earned this party this year: it's puppies! (Or reptiles. Or puppies and reptiles.) The puppies are home-raised, friendly, and well-behaved. The reptiles are exotic and delightful (and surprisingly cuddly!). A puppy party gets 10 adorable dogs (2-3 adults and the rest are 3-8-month-old puppies) brought to your home (or park). The puppies love to play until they're tired out, and then they just might curl up on a lap and nap. Unspeakably cute. For a reptile party, kids can meet 13-15 animals, including snakes, lizards, frogs, tortoises, tarantulas, and giant hissing cockroaches. The company kindly requests that all guests over 3 wear masks during the party.

Hello there, little friend. Photo courtesy of Jurassic Parties
714.500.0593
Snakes, lizards, bugs, spiders, tortoises, frogs—Jurassic Parties offers two different birthday party packages, featuring either 12–15 or 15–20 different animals and one presenter. Either package includes extensive photo opportunities, so be sure to have cameras ready. Parties taking place in 2021 must take place outside.
760.723.7761
With three different party packages and a wide variety of animals available (birds, reptiles, mammals, spiders, bugs—even a kookaburra and wallaby are available), you might have some tough choices to make. Call to find out the travel charge; pony and llama also have an additional trailer charge. Many of the animals can be held or pet, and those that can't be pet are designated as such on the website, so no one will be crushed when they discover that the sugar glider is in the see-but-don't-touch category. Small animals come in wrapped, ventilated travel containers, making each one a surprise to the party guests. Parties are limited to 20 kids or less and must take place in a large, open area (preferably outside). The petting of animals is still allowed, with proper hand sanitizing before and after.
Have your child's favorite animal make a house call.
reptacularanimals@gmail.com
818.727.1594
Reptacular Animals offers more than just reptiles; exotic birds, bugs, cuddly pocket pets, bunnies, puppies, a petting zoo, and ponies are also available. Reptacular offers one of the only bird-themed parties out there. Goodie bags, extra assistants, and extra time can all be added on. Kids can even choose a creepy-crawly party (with millipedes, tarantulas, scorpions, and the like) or an all-bunny party that's less likely to inspire screams from the squeamish. Spanish and bilingual programs are available. The only change for 2021 is that kids over 3 are required to wear masks when petting the animals. A travel charge is assessed for any destination more than 10 miles from Sylmar.
818.362.8711
Usually, the Wildlife Learning Center hosts both on-site birthday parties and a variety of party packages that allow families to choose which animals they'd like brought to a party. However, in the spring of 2021, these options have been a bit scaled-down. You can schedule a virtual tour or performance with friendly and funny animals, or a small group of people (up to 8) can plan a picnic safari where your group meets with animals like an armadillo, porcupine, and owl. Families can also schedule individual animal experiences with favorite animals (like the sloth!) for groups of up to 5. In-person animal picnics and experiences all currently take place at the Wildlife Learning Center.
Originally published November 20, 2013
Sign up for the Mommy Poppins Newsletter today!
i