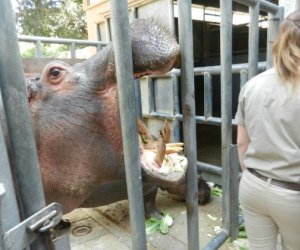 Hippo Encounter at the LA Zoo: Happy Hungry Hippos
Normally, we encourage you to play it safe: no running with scissors, wait half an hour after eating before going for a swim, that sort of thing. But now we're telling you throw caution to the wind and go poke a wild animal. Heck, say cheese and take a selfie with it. The Los Angeles Zoo is offering a new and unique experience that allows kids to have an up close and personal interaction with the wildest of creatures: a 1500 pound hippo. And her mother.
The Hippo Encounter gives zoo visitors a chance to go behind the scenes, to an area that is normally off limits to all except zoo staff. The stars of the show are 12 year old hippo Mara and her baby, Rosie. (Daddy Adama stays outside in the family enclosure; you can catch up with him later in your visit.) Mara and Rosie feast on greenery, melons, and other crunchy treats while kids pepper the zoo staff with questions. Details are shared on everything from the care and feeding of hippos to the family secrets of the Zoo's trio. (True fact: Mara and Adama were not intended to be mates, and in fact Mara was on birth control when they met. But love finds a way, as Rosie's birth on Halloween 2014 attests!)
RELATED: Animal Encounters at America's Teaching Zoo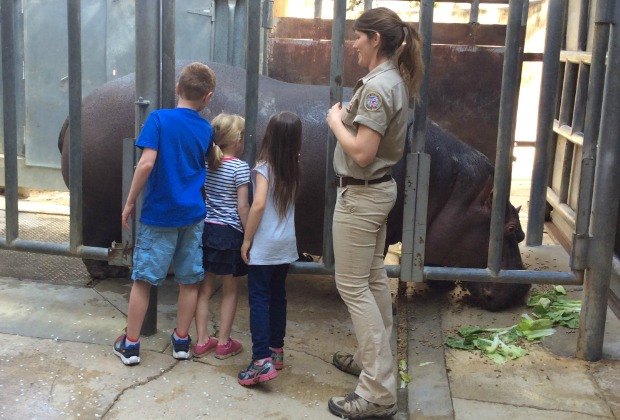 Without question, the highlight of the experience is the hippo meet and greet. Separated from the gentle but enormous creatures by bars, participants actually get to reach through and touch the textured hides of the hippos. (There was no consensus among our group as to what hippo skin feels like. Answers ranged from "blubber" to "rough" to "leathery" to "avocado.") The moment can be preserved with "hippo 'n' me" selfies. Hello, new Facebook profile pic!

The kids in our group were simply blown away by the experience and couldn't wait to share what they had learned with their friends. Towards the end of the encounter, the hippos were encouraged to bare their teeth—their massive, super-sized teeth. A few kids noticeably drew back at that point, but it didn't seem to dull anyone's enthusiasm.

For concerned parents: the hippos seem to enjoy the encounters, happily munching on their veggies as they get pet. These hippos were born in captivity and are quite accustomed to human proximity. That said, visitors are reminded to keep their hands away from the hippos mouths, and trainers keep a watchful eye to make sure no one gets too close. And as for anyone worried germs, hand sanitizer before the experience/wipes after ensure that what happens at the Hippo Encounter, stays at the Hippo Encounter.
RELATED: Where To Go Whale Watching with LA Kids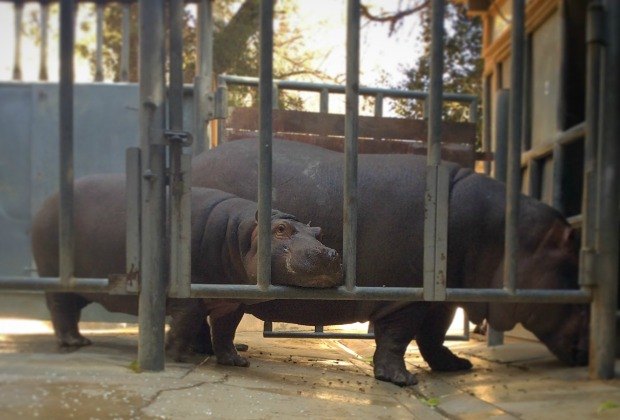 The LA Zoo participates in the Association of Zoos and Aquarium's Species Survival Plan and places great importance on the well-being of animals. Mara and Rosie appear behind bars in these photos both for their safety and ours, but most of their day is spent in a natural environment; and it's worth noting that when the door was opened to allow the ladies to go back out to their shady hippo pool, they were in no particular hurry to say goodbye, lingering for a few more photo ops (and to make sure they cleaned their plates).
The Hippo Encounter
The Hippo Encounter is offered at noon on weekends and on select holidays. The group size is kept small, so the Encounter usually sells out. Advance reservations are therefore strongly advised; you can check availability and purchase tickets on the website. Tickets cost $15 per person, in addition to general Zoo admission. Minimum age to participate in the Hippo Encounter is 4 years old.