Zoo Lights Holiday Display: Animals Light up the Night at the LA Zoo
We Angelenos love our holiday lights, and we are blessed with an abundance of viewing opportunities. But sometimes logistics can be an obstacle, particularly for families with small children. Where do we park? How far do we have to walk or drive? Can we find all the displays…? One simple and family-friendly solution is the Zoo Lights display at the Los Angeles Zoo. This large scale sparkle, which replaces the old Griffith Park Lights drive-through event, puts everything you want to see within the grounds of the LA Zoo, and parking is free (merry Christmas to me!).
RELATED: Reindeer Romp at the LA Zoo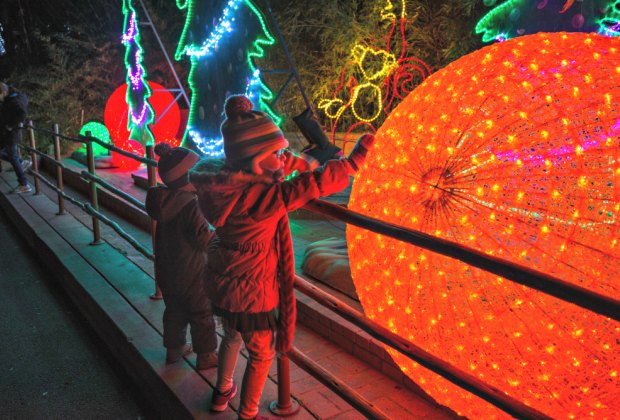 One thing needs to be made clear up front: Yes, Zoo Lights is at the Zoo, and the displays are informed, inspired, and possibly even created by the animals, but visitors coming to Zoo Lights do not see much of the actual critters. The only live animals out for viewing are the visiting reindeer and the reptile/amphibian/insect residents of LAIR. All the other zoo creatures are tucked in their beds for the night. (A few creatures may get curious, though; the night we went, some swans were enjoying the evening air, and we've heard that an elephant has been known to do the same.) Any children expecting to see their favorite lions, tigers, or bears would be in for disappointment.
RELATED: Christmas Boat Parades around LA and OC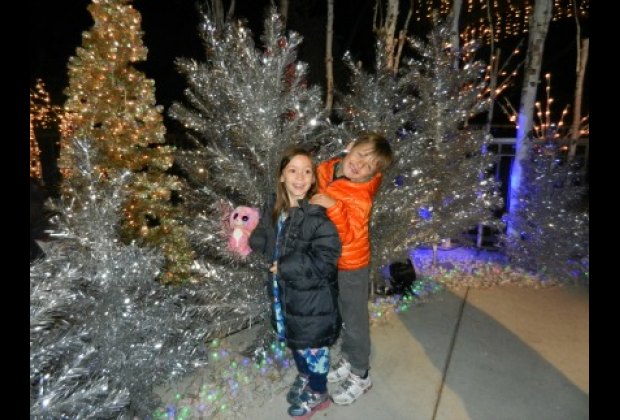 Photo by author
You know who they can see, though? Santa Claus! He must have hitched a ride with the reindeer, because old Kris Kringle is available to hear wishes and pose for pictures. Santa appears at the Zoo on select nights; an extra fee applies for a photo package.
We discussed beforehand that the animals had decorated the zoo before they went to bed, as a surprise for us. (Smart money is on the monkeys: They have excellent hand-eye coordination, and no one's better at reaching the high spots on trees!) Most of the displays are animal-themed, but there is endless variety in how that is achieved. Displays can be found in the backs of animal enclosures, set among the trees along the paths, hung from fences, or built into open spaces. Each display uses a different technique: lights on wire frame or projected on water, morphing images on animal statues, projected onto screens, static or intermittent lights… every turn of a corner leads to a different take on the motif.

RELATED: LA's Best Home Holiday Light Displays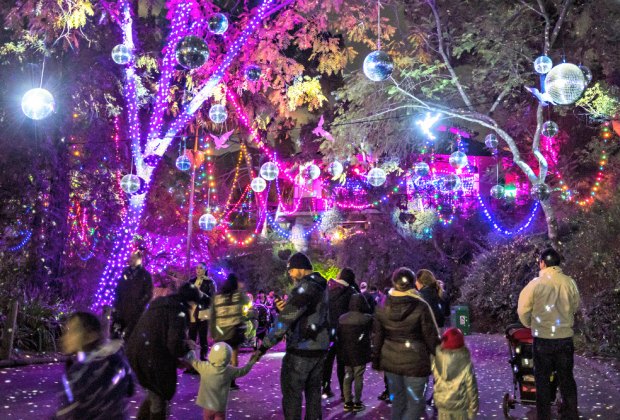 Among our favorite displays were the "disco lights" in the trees, a tunnel of twinkling lights that truly felt transportive, and the water display near Santa's nook. The fantasy-lit tunnels through the trees are breathtaking to walk through and fill celebrants young and old with a sense of awe and wonder.
Be sure to bring a camera, of course, since numerous photo ops are scattered throughout the zoo. Kids can pose next to Christmas trees, Kwanzaa candelabras, and Hanukkah menorahs.
While there is sufficient lighting to see, naturally the zoo is somewhat darker during this event. Kids with darkness issues (or adults with visual issues) might do well to bring a small flashlight to navigate the more dimly-lit areas. Not surprisingly, a variety of light-up souvenirs are available for purchase (mostly in the $5 to $12 range).
RELATED: CHILL at the Queen Mary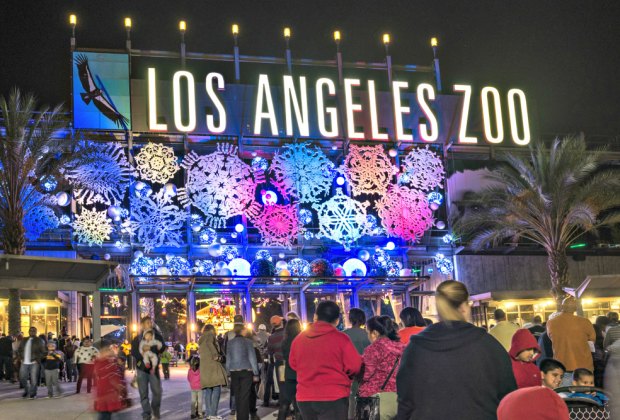 The walk through the displays is self-guided, so you go at your own pace. We took about an hour and a half. Roughly half of the zoo is decorated for Zoo Lights; the remainder is closed off. Strollers are advisable for younger ones who may nod off before the night is through.
Keep in mind that the weather is unpredictable at this time of year. Some in our party got chilled before the night was over, while those of us who bundled up fared better. Zoo Lights is a rain-or-shine event that goes on regardless of the weather (though some displays may not be in operation in the event of high winds).
RELATED: Christmas Train Rides for LA Kids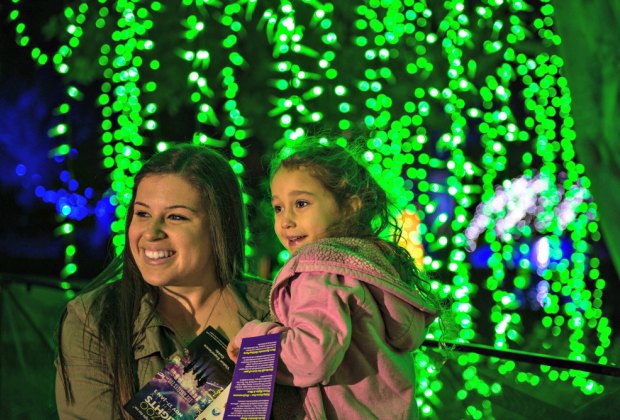 Tickets for Zoo Lights have a window for timed entry. Zoo Lights is an entirely separate admission from daytime Zoo visits. Even if you visit the Zoo and do Zoo Lights on the same night, you need to exit the Zoo at closing time (5pm) and re-enter according to your timed ticket for Zoo Lights. Tickets cost $15 for adults and $12 for children during non-peak times; $20 for adults and $15 for children during weekends and premium dates. (Children under 2 are free.)
Zoo Lights runs from November 17 through January 7, 2018
Photos by Jamie Pham unless otherwise noted