23 Best Breakfasts in Los Angeles at Kid-Friendly Restaurants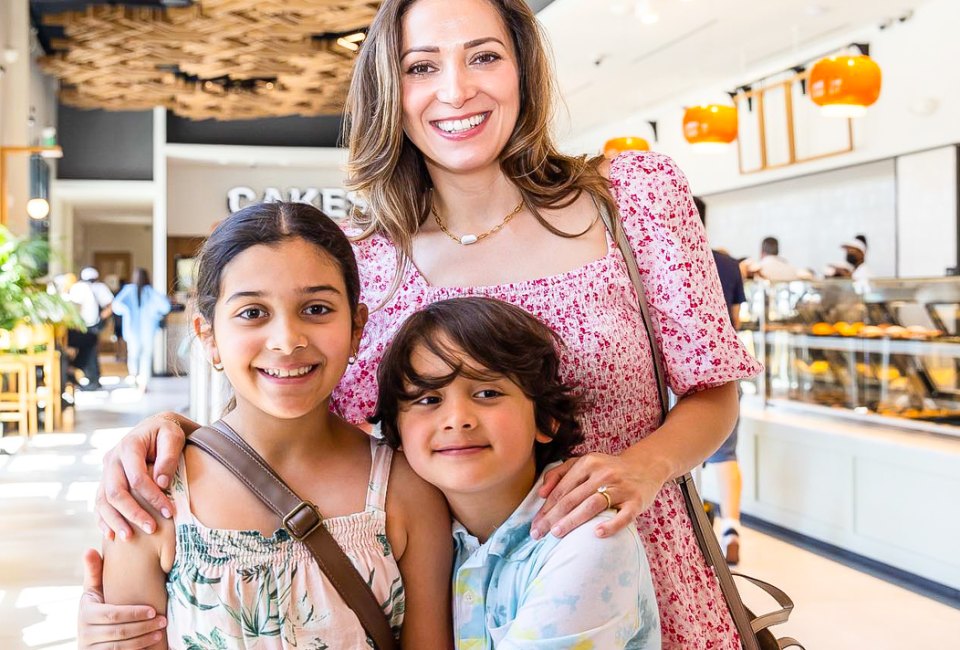 2/24/23
- By
Matt Matasci
The best kid-friendly breakfasts in Los Angeles can be found all over Southern California, from the eastside to the westside, the south bay, and the valley. Angelenos are blessed to live in one of the top foodie cities in the United States. From American staples like the French dip and cheeseburger, to unique fusion cuisine like Roy Choi's Kogi trucks, dining options are endless across this sprawling metropolis. While breakfast usually isn't at the front of folks' minds when they think of the culinary scene (okay, maybe brunch), Los Angeles is jam-packed with choices.
For those of us toting along children breakfast choices can be a little more limited. After all, kids won't be enticed by bottomless mimosas. However, there's a plethora of kid-friendly breakfast spots in Los Angeles. Whether you're a stay-at-home parent looking to pop in for a bite before or after the park, or searching for the perfect weekend breakfast for the entire family, here are our favorites.
If you need more kid-friendly breakfasts in Los Angeles, there's always donut shops, coffee shops, bagel shops, and so many other dining destinations in our best restaurants for kids guide.
Best Breakfasts in the Valleys
1. Great Maple — Pasadena, Newport Beach, and Anaheim
Great Maple is a brunch-themed restaurant that caters to all ages. While it skews toward upscale, it serves classic breakfast staples like donuts, french toast, chicken and waffles, biscuits and gravy, and more all day.
2. Porto's — Glendale, Burbank, Buena Park, Downey, Northridge, and West Covina
Porto's is an iconic Cuban bakery beloved by many, and there are always families in tow dining at their many locations and taking their recognizable yellow boxes to-go. From savory potato balls (and seasonal turkey balls during Thanksgiving) and Cubano sandwiches to croissants and other breakfast pastries, it's a must-try for anyone living in or visiting Southern California. Plus, we're looking forward to their newly announced location in Downtown Disney.
La Grande Orange is in the plaza adjacent to the Del Mar light rail station. The airy layout of the restaurant makes it easy to enjoy the perfect Southern California weather, and kids will love breakfast items like lemon ricotta pancakes.
The Black Cow Cafe is a classic diner serving the breakfast staples you might expect. There are eggs and omelets, bacon and sausage, biscuits and gravy, waffles, and much more. Honolulu Avenue in La Crescenta is one of the region's hidden gems, a quiet, shop-lined street perfect for strolling after breakfast.
RELATED: 16 Restaurants Where Kids Can Play While Parents Eat

Step into a delicious morning. Photo courtesy of Sweet Butter
Sweet Butter Kitchen on Ventura Boulevard has an extensive breakfast menu that will please kids and adults alike. The Sunrise Kid's Breakfast includes two buttermilk pancakes with the restaurant's namesake sweet butter, maple syrup, and fresh berries.
Best Breakfasts in the South Bay
The name says it all: this is one of the best places to get pancakes in the Los Angeles area. There's much more to this beachside restaurant than pancakes, with all the breakfast favorites on the menu. Plus, it's just a short walk down to the beach to burn off those carbs.
7. Martha's — Hermosa Beach
Another beachside diner, Martha's whips up mouth-watering breakfast items like cinnamon bun pancakes, stuffed French toast, and more. Plenty of savory items are available, including omelets and eggs benedict.
8. Dinah's — Inglewood
Dinah's is a soul-food institution and has been in business for decades. Chicken is their specialty, but they have a wide-ranging menu with many breakfast items. There's French toast, oven-baked pancakes—and of course, their famous waffles with fried chicken.
If you can imagine any pancake, The Original Pancake House probably has it on its menu. They have buckwheat pancakes, bacon pancakes, Hawaiian pancakes, banana pancakes, sourdough pancakes, coconut pancakes, pigs in a blanket—the list goes on and on!
Best Breakfasts on the Westside
RELATED: Visiting the Original Famers Market with Kids: 27 Top Things to Eat, See, & Do

A quiet place to eat with kids on the second floor of the Farmer's Market. Photo by Amanda Schutt
The Original Farmer's Market is a dining destination that will please everyone and is a Los Angeles must-visit. Choose from dozens of vendors like Charlie's Coffee Shop, Du-Par's, Coffee Corner, and more.
Choose from delectable pastries and morning standards like a breakfast sandwich or burrito on Huckleberry's all-day breakfast menu. Plus, there's a kid's menu. Ordering is counter service, and it can get busy here during the morning rush, but the staff are incredibly accommodating, especially to young kids.
Feeling something a little more rustic? Head up to Topanga's Inn of the Seventh Ray. This restaurant is already one of our favorite places to eat while kids play, so try their breakfast and start your day with some creekside dining.
As the name suggests, this is your go-to spot for beachside breakfast dining. You'll be hard-pressed to find more picturesque dining accommodations in Los Angeles or anywhere else. The menu includes eggs, pancakes, fruit salad, French toast, and more.
Inspired by Los Angeles' country markets, Playa Provisions incorporates four dining experiences into one location. The restaurant is owned by Top Chef winner Brooke Williamson and her husband, with King Beach serving as the location's breakfast outpost. From granola and pastries to eggs and salads, there's something for everyone of all ages.
The Rose is a Venice Beach staple, and a popular one at that, with an enormous outdoor space perfect for families. They serve breakfast all day on the weekend with items like huevos rancheros, sandwiches, and breakfast burritos.
Best Breakfasts on the Eastside
RELATED: 17 Best Coffee Shops in Los Angeles to Bring Your Kids When You Need Caffeine

Bonus! A kid's play area is adjacent to the dining room. Photo courtesy of Kitchen Mouse
Kitchen Mouse on Figueroa is a bright and colorful space with a variety of snacks to nosh. The menu includes breakfast tacos, sandwiches, huevos rancheros, and more. We especially love the play area for the little ones.
If you're out for a bike ride along the Los Angeles River, Spoke is a must-visit. This little riverside cafe is easily accessible from the river bike trail and features snacks like baked goods, scrambles, sandwiches, and more.
Lady Byrd Cafe is a fantastic choice on the eastside for all your favorite breakfast dishes (plus vegan options), as well as a juice bar and cafe. There is a larger-than-usual kids' menu, with breakfast items like an egg and cheese burrito, silver dollar pancakes, and a delectable Monte Cristo sandwich.
RELATED: Destination Donuts: LA Donuts That Are More Than Just Donuts

This outdoor space is perfect for kids. Home photo courtesy of the Los Angeles Mayor's Office
19. Home — Los Feliz
The food at Home is delicious, but one of the biggest draws for families is the expansive outdoor dining space. Kids can enjoy the freedom to move around and be a little loud while you enjoy avocado toast, an eggwich, or huevos rancheros.
20. HomeState — Hollywood, Pasadena, Highland Park, Playa Vista and Sherman Oaks
Not to be confused with Home, HomeState is a whole different locale. Straight out of Austin, Texas, this up-and-coming restaurant chain has locations across the Southland. Breakfast tacos and burritos are their specialties, but there are plenty of other options on the menu.
Best Breakfasts in DTLA
While Grand Central Market isn't a breakfast spot per se, it does have many options for a morning meal. Jose Chiquito serves breakfast all day, PBJ.LA takes peanut butter and jelly sandwiches to the next level, or grab a sweet treat from The Donut Man.
The Nickel Diner is a throwback to old-school dining. This restaurant strives for the affordability of a greasy spoon combined with gourmet cooking.
While its surroundings have changed significantly over the last few decades, The Pantry has managed to stay relatively the same. The menu is straight out of the classic diner playbook, with eggs, steaks and chops, pancakes, oatmeal, and French toast.
Sign up for the Mommy Poppins Newsletter today!