Destination Donuts: LA Donuts That Are More Than Just Donuts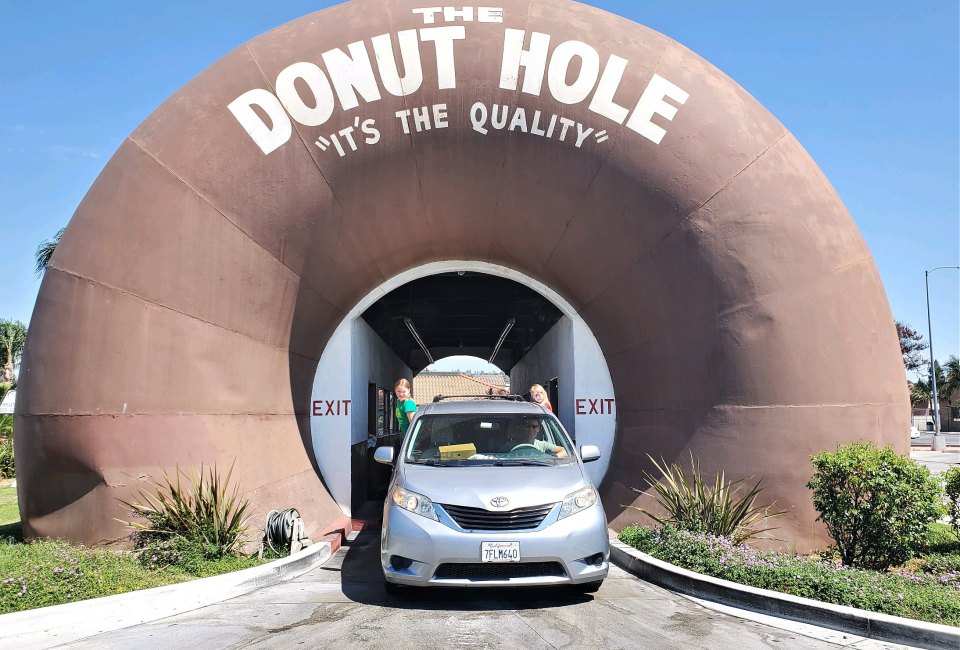 6/7/21
- By
Amanda Schutt
LA's donuts are legendary, and with good reason. It's tough to find a bad donut in this town! And if you know where to look, an everyday trip to the donut shop is even more than just a donut outing, it's a family adventure. There are drive-through donuts (where you actually drive through the donut), DIY donuts, VooDoo donuts, and more. We've rounded up the best donut shops that provide more than just a sugary treat —these worth the drive destinations are sure to make sweet memories.
Never leave your car, as you roll the minivan through this donut shop, which just might be the coolest donut experience in town. You enter and exit through a giant—and I mean GIANT—donut tunnel. It's like the infamous drive-through Redwood trees, but sweeter! The donut selection is full of reliable favorites and the overall vibe has a throwback feel to it. The next time you're in the area, hop off the freeway and drive through this gem for a photo op and some really great donuts.
Belly up to the bar to watch mini-donuts swim in a pool of hot grease, flip over, and finally get doused in sugar. Because they're minis, every kid can walk away with their own bag of warm, delicious kid-sized treats (because sharing is not nearly as fun). Zelda's also boasts a full breakfast and lunch menu if you're in the mood for something a bit more savory. Zelda's is located right off the Venice Boardwalk so you can finish your bag of donuts strolling along the boardwalk or with your toes in the sand.
When spontaneity hits in the late-late evenings and you want to be the coolest parent around, pile the kids into the car and head to The Donut Man on Route 66. It's open 24 hours and pumps out the freshest donuts in town on a non-stop basis. There's a walk-up counter with benches to sit on, some of which you can watch the kitchen action from. Seasonal donuts include pumpkin and their most famous option: fresh strawberry with gigantic red berries spilling out from a hot, fresh round.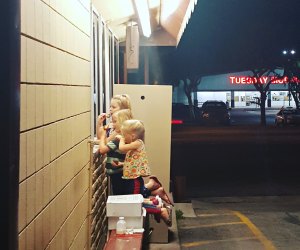 A midnight peek into The Donut Man's kitchen.
Simone's Donuts is located in a quiet little strip mall and is easily passed by as a run-of-the-mill donut stop, but Long Beach locals know better. Simone's not only offers a large variety of donuts (including luscious cronuts) 24 hours a day but is one of the only places in California where you can get a box of customized celebration donuts. Simone's will customize a box of donuts to read any message of your choosing and will decorate each donut to fit your theme. Who needs a birthday cake when Simone's has birthday donuts? They also will gladly plop a generous scoop of Thrifty ice cream alongside your choice of donut for a double treat.
Bob's is a historic staple that has long been a draw at the Original Farmers Market. Kid favorites are the bright green dinos and vibrant pink cat-shaped donuts. The donuts are delish but what really makes this spot special is the people watching. Sitting at one of the many tables by Bob's, you can watch tourists and locals alike, hear a multitude of languages being spoken, and if you're in the mood for something more than just sweet, you have your pick from a slew of stands boasting delights from around the world. Bob's is cash only.
Getting a donut at Bob's in the Original Farmers Market.
This is not your average donut shop. Voodoo Donut is painted bright pink with funky chandeliers, hip merch lining the walls, and the donut counter bumps up against an awesome Stumptown Coffee bar—stale coffee in Styrofoam is nowhere in sight! This Portland import takes creativity to the next level with wild donut concoctions, like donuts covered in Fruit Loops, grape dust, maple and bacon, and even Oreos. Cross your fingers and hope you don't get a headache when your little one bites off the head of a donut-shaped voodoo doll (or is it a voodoo doll-shaped donut?). And don't forget to take a picture alongside the lifesize voodoo donut.
DIY Donuts! At Donut Friend, you get to choose your donut flavor, filling, and topping, then watch as one of the friendly donut experts makes your perfect donut right before your very eyes. If you're insecure about your DIY abilities, donut worry; they have a great selection of already-made treats waiting for you. In fact, coming out of this past year, the shop is not quite ready to customize donuts on the fly (if you want to customize at this time, you need to place a special order). However, with flavors like Chocolate from the Crypt and Nutellavision, you won't miss the DIY option.
There's just something about donuts that makes everyone smile.
Randy's is perhaps the most iconic donut stop ever built. It's been featured in movies and TV shows, but is much more than just a pretty face—Randy's donuts are genuinely delicious. Randy's is a relatively small donut shop with a walk-up window and drive-through option, but it's Randy's gigantic donut sitting atop the building's roof that has been drawing the crowds since the early 1950s. Randy's is often crowded, but the lines move fast. The parking lot constantly has cars cruising through it, so be sure to hold hands with your kiddo if you get out of the car to take a photo in front of this famous roadside attraction. There are several additional locations (including four in South Korea!), but we have to recommend starting at the original shop, with the original giant donut.
Fonuts—Mid-City and Studio City
Fonuts fancies itself the purveyors of "the enlightened donut" as every donut baked here (not fried) is gluten-free and some are also vegan. However, you'll never miss what's missing. The flavor options (like Churro, Blueberry Earl Gray, Vanilla Latte, and Black & White) make it really tough to choose. You don't need to be gluten-free to enjoy Fonuts, and knowing it's just a touch healthier makes it taste all the sweeter. (Editor's note: this is my family's favorite donut in all of LA, and we're a gluten-loving family!)

These panda donuts at California Donuts are almost too cute to eat. Almost.
What do you get when you combine vintage donut stand staples like a walk-up window and nostalgic signage with some fresh new takes like letter-shaped donuts and specialty flavors? Why it's California Donuts; famous for its colorful concoctions and clever flavor combos. This shop has long been a local favorite but started attracting folks from all over SoCal when the panda-shaped donut went viral (it is pretty cute, so I can see why it became Insta-famous). The shop also makes a unicorn donut, a Reese's donut, a Circus Animal donut, and a variety of ... wait for it ... cheesecake donuts! Bonus: it's open 24 hours a day, so you can indulge your cuties craving for an adorable sweet treat at any hour.
All photos by Amanda Schutt
Sign up for the Mommy Poppins Newsletter today!