13 Better Than NY Bagels in LA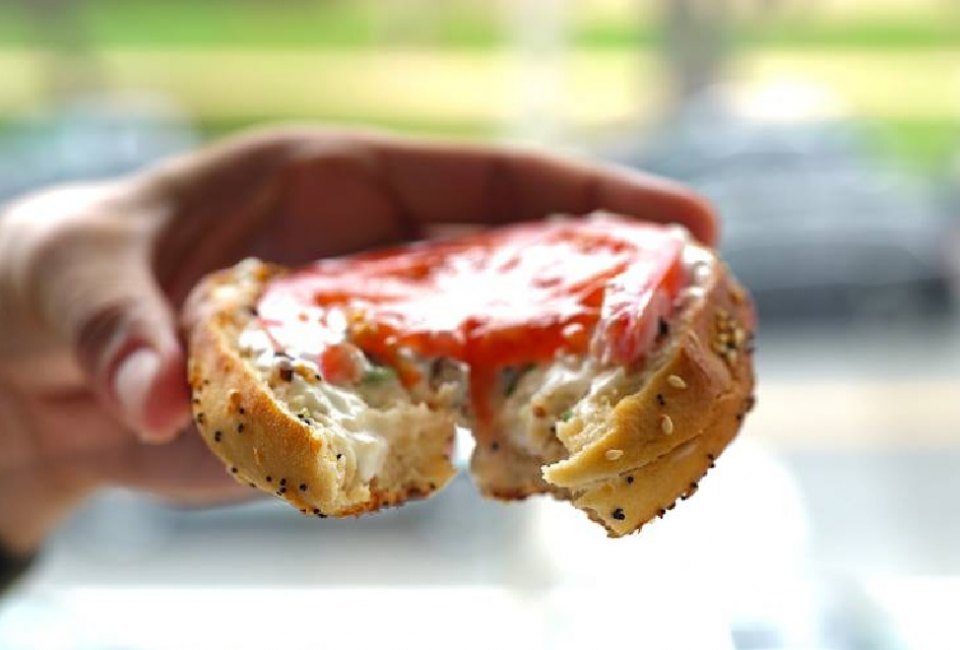 4/12/21
- By
Meghan Rose
Bagels are the best, especially when you have little kids to feed. Plain, inexpensive, portable—perfect. Teething tots can gnaw on a plain one for hours. Picky eaters will devour one toasted with butter. Adventurous eaters might opt for an exotic flavor, paired with an equally daring flavor of schmear. And parents can get an everything bagel loaded with luxurious lox and salty capers. The only problem is, LA used to be a bagel wasteland.
The key here is "used to be." Several shops have popped up in the last few years, determined to fill that bagel-shaped hole in the LA culinary landscape. And now no less an authority than the New York Times has declared that LA makes better bagels than New York. Look no further: here's where you can get the best bagels in town.
Wait, did the New York Times really say LA has better bagels? Yes! Though like every New York publication, they missed a few of the best LA spots. But we got 'em...
Where to Find the Best Bagels on the Eastside and the Valley
Burbank and Sherman Oaks
This newer spot in Burbank is such a hit that it routinely sells out before 10 am on the weekends and has already opened a second location in Sherman Oaks. These are my favorite bagels in town. They're the perfect density and the gravlax is stellar. Nothing here but bagels, spreads, bagel sandwiches, and deli salads. When they have bialy, get them.
Virgil Village
These bagels went from being sold off the back of a red beach cruiser around town to being so popular that the store truly can't keep them in stock. If you happen to luck into some of these bagels, you'll find that they're more of the Montreal variety. These bagels are a little flatter and a little more well done (crisper) so they're actually the perfect bagel for a teething toddler, or for a little one who can't get their mouths around a giant bagel sandwich. Best thing here for kids? Mini bagels and a side of amazing Jersey cow butter for what they call "rip and dip"— just rip pieces of bagel off and dip it in a vat of the very best butter.
Silverlake
Maury's makes some of the best of the best. This little shop is always packed with Silverlake hipsters, but the bagels are worth the wait. Kids will love the chewy and dense bagels and the rugelach, which are perfect, buttery bites. Parents will love the whitefish salad on a za'atar bagel. Everyone will be very happy if you pick up a loaf of challah and some halvah to bring home.

Worth the lines and the wait... Photo courtesy of Maury's Bagels
Van Nuys
Western Bagel has multiple locations, but this one is worth the drive. It's attached to the bagel factory, which churns out bagels that are sold all over town. This is the grandpa of bagel shops in LA. Here you can get kid pleasers like blueberry bagels, hot dog bagels, PJB bagels, and a dozen more to take home. The shop is open 24 hours, so if you have a baby who can't sleep, feed your soul. (It's also cash only.)
Historic Filipinotown
This is another longtime stalwart, from when there were basically only 2-3 good places in LA for bagels. The building the bakery was in pretty much collapsed in 2015 and was closed for several years, reopening in 2018 to the relief of eastsiders who were in dire need of good bagels. This is a great spot for classic bagel sandwiches and for the green bagels on St. Pattys. (Which are a classic at my house.)
Highland Park
As the founders say, these are honest bagels—honest ingredients, hand-rolled, boiled, and baked brown. Nothing fancy, bloated, doughy, or conveyor belt. That's why they're darn good. There are only six flavors and when they sell out, they close up shop (so if you're driving over from another part of town, try and come early!). This is an odd sentence to write, but the cream cheese is outstanding. (I like the beet, and if you don't tell your kids that beets are responsible for the amazing color, they'll love it too.) If you want your west coast kid to know what a great bagel should taste like, this is a perfect place to start.

Fresh, warm bagels. Photo courtesy of The Bagel Broker
Where to Get the Best Bagels Mid-City
La Brea Bagel Co.
Mid-City
This is where the local Orthodox community gets their bagels, so it's not open Saturday. You're not coming here if you want an experimental flavor or a PB&J bagel for your kids. You come here because you want a great basic bagel that you would get from a NY bodega, with cream cheese or as an egg sandwich. It comes wrapped in paper, and you eat it in the car. You're not getting a half-caf soy latte with it, but you can get a great, steaming paper cup of coffee. It's a good spot for homesick New Yorkers. Or just people who like bagels.
Mid-City
Waiting in line at the Bagel Broker on a Sunday morning is pretty much a rite of passage for young couples in LA. When those couples grow up, they bring their kids to wait in line with them, so the kids can pick out the bagels that look best from glass bins that steam up as they are refilled with piping hot bagels. This family-owned and operated shop makes some of the only marble rye bagels in town. Pick up a dozen and a tub of schmear and walk over to Pan Pacific Park for a picnic and playground playtime that will delight your kids.
Sam's Bagels
Larchmont, Hollywood, and Santa Monica
Every week (starting as soon as my kids had teeth and could gnaw on bagels) we made a ritual stop on our way to the farmers market: Sam's Bagels. You have to get there early on Sunday to get the mini bagels (the regular size are too big for little kids, though now that my kids are tweens, they can scarf down two in two minutes). We'd get a dozen minis, and that would be lunch and breakfast all week long. These are perfect kid bagels: Nothing fancy, nothing trendy, but solid tasty bagels with just enough chew and heft.

Made fresh just for you. Photo courtesy of Pop's Bagels
The Best Bagels in the South Bay and Westside
Manhattan Beach
Best bagels in Manhattan! We're just not saying which Manhattan … This is the only spot on our list that isn't just a bagel shop. You can also get stellar pastries, loaves of bread, and even breakfast and lunch entrees. But if you happen to be on your way to a South Bay beach for the day, and you've got a car full of hungry kids who can't agree on what to eat, stop by Manhattan Bread and Bagel, pick up a dozen bagels and some tubs of cream cheese and everyone will be happily fueled for a day of beach play with some of the best bagels in town.
Torrance
Traditional bagels, but made with the West Coast flavor flair. These are great East Coast-style bagels, but they come in a range of flavors that includes chocolate, Hawaiian, Power Bar, and spinach. You can also get breakfast (egg) sandwiches and lunch (tuna or turkey) sandwiches.
Culver City
People have been clamoring for Pop's to open a brick-and-mortar store since its first days at Smorgasborg LA, and just this past year that has finally come to pass at Platform. Pop's calls these bagels LA style and insists that they are separate from (and better than) NY style bagels, and I honestly won't argue. Somehow both light on the inside and having that perfect chewy crust on the outside, these are pretty outstanding bagels no matter where they're made. (But, ahem, they are made in LA.) Everything (including butters and cream cheeses) is made fresh daily. Will there be a line? Yes. Is it worth it? Oh, yeah.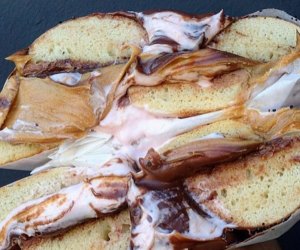 A peanut butter, Nutella, and cream cheese bagel is a messy and delicious delight.
The Best Roaming Bagels in LA
The Yeastie Boys roaming truck was one of the first of the new wave of bagel makers in LA, and they're still among the best. Check Instagram to see where the trucks will be, and you can place your order in advance online and pick it up at the nearest truck. Come for the great, authentic bagels for parents, stay for the kid pleasers, like the PB&J (which is peanut butter and strawberry jam on a blueberry bagel with strawberry cream cheese), the giant pizza bagel, and the black and white cookie ice cream sandwich (made with cookies from Canter's Deli). Bagels are big, but you can also get a pair of cream cheese-filled mini bagels, which is just right as a snack for two little kids.
Some photos in this post were taken prior to the pandemic.
Sign up for the Mommy Poppins Newsletter today!
i