25 Things To Do in Venice Beach with Kids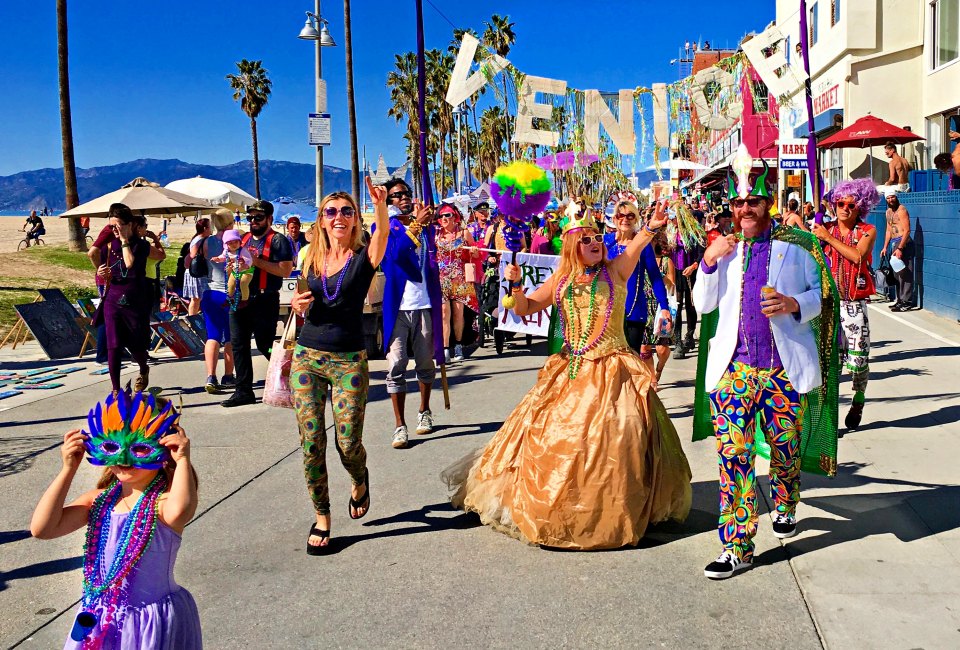 2/15/19
- By
Roberta B
Venice, California is about as unlike Venice, Italy as two cities could be, but the Bohemian beachside community has nonetheless acquired nearly as much fame as its namesake. Both Venices can boast canals, beach, and some larger-than-life parties, but LA's famous seaside tourist attraction replaces old world charm with funkadelic grunge, opera with karaoke, and gondoliers with bodybuilders.
Sandwiched between Santa Monica and Marina del Rey, Venice may be small but has its own distinct personality. And the 25 kid-pleasing activites below are good for a few days' worth of fun in the sun, Venice style.
Start with the obvious: sunbathe and bodysurf!
Go for a walk along the canals.
Bike or blade on the beach path, stopping to join any dancing skaters you pass along the way.


The beach path is world famous. Photo by Caccamo/CC BY 2.0

People-watch while munching pizza-by-the-slice on the Boardwalk.
Put lights on your bikes and join the Sunday Electric Light Parade.
Play paddle tennis on the free public courts (racquets and balls available at the Ocean Front Walk Parks & Rec office).
Play a game of basketball on the iconic courts (you've seen them in movies for sure).
Watch the flashy bodybuilders flex their stuff at Muscle Beach Gym.
Participate in a drum circle (there's always one going on).
Go sandsledding!


Sand sledding is classic Venice. Photo via Bigstock

Wander the irresistible shops, cafes, and ice cream parlours of Abbot Kinney Boulevard.
Bring a board to skate the Venice Skate Park.
Rent kayaks or paddleboards—for either the ocean or the canals.
Create your own graffiti on the famous Venice Art Walls.
Enjoy the farmers market with a beach breeze, Friday mornings at the corner of Venice Blvd. & Venice Way.


Photo courtesy of Moo Moo Musica

Snap a photo under the iconic Venice sign.
Let the good times roll at the annual Venice Beach Mardi Gras Parade.
Meet other coffee-drinking parents at the the free morning sing-alongs at the Cow's End.
See a family-friendly show at the Electric Lodge theater.
Boogie in a room full of dancing babies with Moo Moo Musica.
Have a family night of food trucks and free entertainment at Abbot Kinney's First Fridays.


First Friday food trucks meet for a monthly party on Abbot Kinney Blvd. Photo by Marissa Vitale

Eat piles of pasta and garlic knots while Mom and Dad pour themselves glasses of Chianti on C & O Trattoria's famous honor system.
Frolic at one of the two beach playgrounds on Ocean Front Walk.
Go to a storytime or other family activity at the Venice Abbot Kinney branch library.
Photograph the sunset on the restored Venice Beach Pier.
Top photo by CJ Gronner/Blogtown

Sign up for our free
newsletters.
Mommy Poppins is a family activity website that helps people find things to do with kids.
©
2023
MommyPoppins. All Rights Reserved.
mp-prod4-v4.32.99
Sign up for the Mommy Poppins Newsletter today!
i