Best LA Bike Rides, Trails, and Paths for Biking with Kids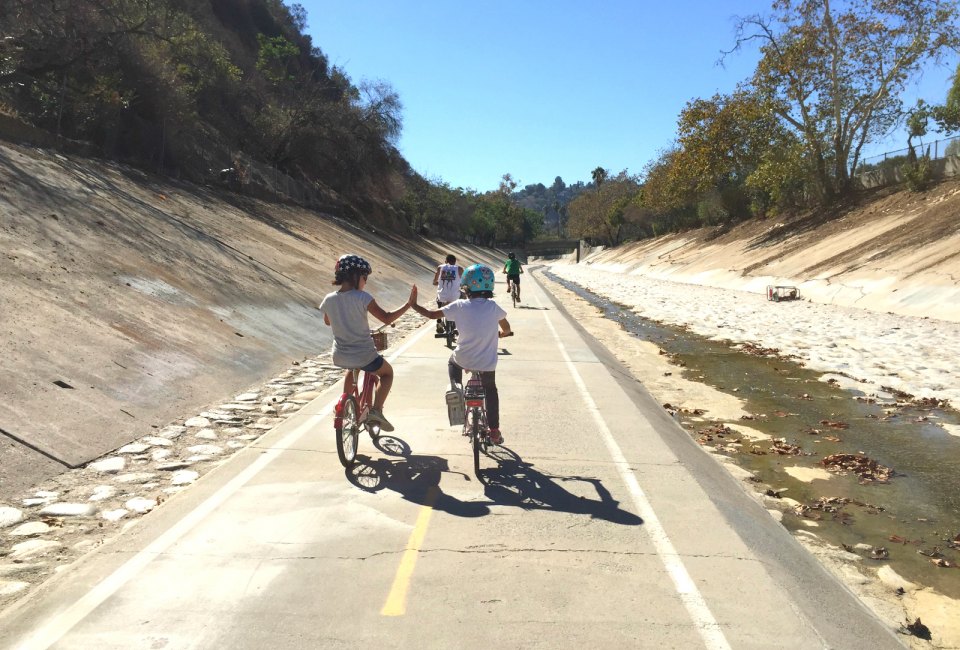 7/7/20
- By
Martha Hall
As long as there are kids and bicycles, a family bike ride will always be a hit. And while the streets of LA can be a stressful place to ride, not to mention keep an eye on kids on bikes, there are several lovely dedicated bike paths around LA that make a great family day out. So pump up the tires and pop on a helmet to enjoy one of these Los Angeles bike rides. No bike? No problem: some of the trails below have bike rental options adjacent to the trail, and many bike shops around the city offer rentals of all styles and sizes. And if someone in the family is a newbie, we have some tips for teaching a kid to ride a bike without training wheels.
Beach Bike Paths
We all know it, and most of us love it. The 27-mile bike path, also known as the Marvin Braude Trail, stretches along the beach from Pacific Palisades to Palos Verdes, offering a seemingly endless, flat, well-maintained surface to cruise. Joggers, rollerbladers, and walkers use it, too (and traffic gets heavy on the weekends), so beware of the varying speeds of your fellow users. While pedaling, feast your eyes on the majestic Pacific, the palm trees, volleyballers, craggy bluffs, sea-gulls, and glimpses of Catalina. It's all there for the taking, the whole length of it, or just a piece. Here are some suggestions for where to hop on and off...
This stretch is a great place to start, especially if you need to rent your wheels. Whether you prefer a tricycle, a beach cruiser, or a bike with a baby seat, Perry's Cafe has 'em. Choose from several path-side locations in Santa Monica and Venice. The path itself has been recently widened, to create separate lanes for cyclists and walkers. Arriving by car can be a challenge, especially in 2020 when beach parking has been closed for much of the season; it can be better to ride the metro to the end and be totally car-free. Once you're geared up, you're good to go North or South along the path.
With bikes on a rack or secured in the trunk, drive west on Culver Blvd. until it meets the beach at Pacific Ave. There's usually free parking available here, and a foot lane to the bike path. Hop on your bikes and head south, and you'll be on your way to Manhattan Beach and beyond. See the underbelly of an outbound jet as you pass the western-most end of LAX. You'll probably want to look to the west as you pass the Hyperion Treatment Plant (not necessarily a scenic delight) to watch pelicans glide toward the water and hear the delicious crash of nearby waves.
If you'd rather not dodge the foot traffic on the bike path, ride the Manhattan Beach portion of the path. Bikers get their own path, as do walkers (and their dogs), so everyone's happy. Or, further south, rent bikes at Hermosa Cyclery (trailers and kids' bikes are available, too) and pedal around Hermosa Beach (same Pacific, same great sights).
Perhaps you'd prefer a trail more inland. There are many of those as well. Here are a few:
Bike Paths in West Los Angeles
This nearly 8-mile stretch begins at Syd Kronenthal Park and meanders through Culver City to eventually join the bike path in Playa del Rey. Lots of dips and turns, and ample views of the creek and its burgeoning wildlife (and, unfortunately, some inevitable LA litter). Not lit at night, this path is best enjoyed during the day. Because of its popularity, the path bustles with bikers and joggers cruising at all speeds; heads-up. You'll notice the ocean breeze in your face as you head west, and undoubtedly enjoy the tail winds while you pedal back to your car.

For a shorter ride to the coast, roll on at McConnell Ave. (you'll find ample street parking) and head west. Upon your return, remember to refresh your well-worked legs and lungs with a juice and some chips at Beverage Warehouse before driving home.
Hollywood/Los Feliz Bike Trails
Ah, Griffith Park. Thanks to its vast, meandering landscape, and plethora of attractions, some call it the "Central Park of Los Angeles." Even if the park is not centrally located for you, it may be worth driving your bikes and family over there for a guaranteed good time. We suggest starting near the Ranger Station. Rental bikes are available there from Spokes 'N' Stuff, meaning it's a great launching spot whether you rent or bring your own.
Lake Hollywood is an artificial lake nestled in a neighborhood of pricey homes in the Hollywood Hills, with a few great views of the Hollywood sign and a lovely, easy paved path around the lake that locals largely have to themselves. The 3.5-mile loop is mostly flat, and and easily access from plenty of free parking in the neighborhood. And the best photo op? That would be on top of the Mulholland Dam, looking back at the sign.
The Arroyo Seco is a two-mile dedicated trail that follows the Arroyo Seco Freeway from Pasadena to Mount Washington, passing Arroyo Seco Park and Ernest E. Debs Regional Park along the way. Parking is available at Hermon Park (5566 Via Marisol), Sycamore Grove Park (4702 N. Figueroa Street), Ernest E. Debs Regional Park (4235 Monterey Road) and the Montecito Heights Recreation Center (4545 Homer Street). Some of the neighborhoods en route are LA's oldest, and although the 110 is nearby, cyclists are never bothered by cars on the trail.
South Bay & Orange County Bike Paths
714.973.6835
Bring your own bikes, or rent some from Wheel Fun Rentals at Irvine Park Railroad, and tool around the park at your own pace (your kids might delight in the 4-wheeled Quad Sport or 3-wheeled Chopper). Wheel Fun provides self-guided tour maps, on safe, flat streets and trails (usually without car traffic) taking the guess work out of your exploration, and keeping it simple and fun for all ages.
Runs from East Shoreline Ave (just South of East Ocean) to 54th Pl. and East Ocean
Long Beach has more than 60 miles of Class 1 (separate, off-road dedicated bike paths). Wow! The 3.1 mile Shoreline Pedestrian Bike Path gets you from Alamitos Bay to Shoreline Village. An early evening ride offers stunning sunset views and the opportunity to see the Queen Mary light up.
562.570.1773
If you're not in the mood for the beach, head over to El Dorado East Regional Park. Three words: it is huge. And bursting with green grass and water features, wildlife, and happy park goers flying kites and barbecuing. Oh, and there are more than 4 miles of paved bike paths. Parking: $5-$7
714.973.6611
The kind folks at the Path Bike Shop recommend this spot. Try the easy 2.5-mile, mostly flat loop around the lake (or any distance that works for you). Bask in the breezes of the black cottonwoods, willows, and sycamores, and catch a glimpse of the many birds and waterfowl.
Bike Paths in The Valley
This designated bike path stretches from N. Victory Blvd. in Burbank straight through to North Hollywood. The two mile Burbank portion runs from Mariposa Street to Clybourn Ave., and, in addition to being flat and (often) breezy, offers three bronze sculpture public art installations. Feeling energetic? Carry on to North Hollywood, and dazzle your senses with the eye-popping color and detail of the Chandler Murals.
818.756.9743
Wheel Fun Rentals is in operation in the park and offers a wide selection of bikes to choose from, as well as maps for your own self-guided tours. There are so many trails and roads and vistas to explore at this 80-acre water recreation facility. Stop for a picnic, or to feed the ducks, or to throw a frisbee. The summer days get hot here, and weekends usually bring crowds. But most bikers agree, no matter what the weather, this is one lovely place to cycle.
Top photo shows the Arroyo Seco Bicycle Path, a 2 mile long bike path under California sycamore and oak trees, along the Arroyo Seco river channel in Northeast Los Angeles. Photo by Umberto Brayj/CC BY 2.0
Originally published May 6, 2013
Sign up for the Mommy Poppins Newsletter today!
i