KidStock
Pretend City Children's Museum

Artificial Intelligence with Scratch Online Camp
Young Gates - Kids Online Personalized Classes

Online Robotics Camp
Young Gates - Kids Online Personalized Classes
Sign up for our free newsletters.
Carhops and Drive-Ins: The Best Ways to Eat Out in LA with Kids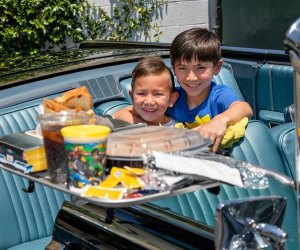 1/17/21
- By
Meghan Rose
Can't dine in. Can't eat outside. Everyone is tired of takeout meals that get cold or soggy before you get home. And a whole lot of parents (like me) have run out of ideas for what to make and eat with kids. If any of that sounds familiar, this is the perfect solution: a slew of new and classic drive-ins and carhops in Los Angeles.
Discover these drive-in spots where the food is fresh and hot, there's often a side of entertainment, and families can eat outside the house. All of these LA carhops have kid-friendly food and desserts, making them fun places to celebrate something special (like a birthday).

Service with a smile. It's there, just under the mask. Photo courtesy of Mel's Drive-In
Where to Get Full Carhop Service in LA
Twoheys moved in November from the Alhambra location to this new South Pasadena spot with a bigger parking lot, which suggests one thing: time to bring back the carhop! And thus, the new Curbside Carhop was born. Families can check out the menus online, call in an order in advance, and reserve a parking space. Upon arrival, pull up the Twohey's Carhop Spotify playlist, call to say you've arrived, and they'll bring out your order. The kids menu is available for takeout and features classic kid pleasers, and families can order individual meals, family meal packs, and even hand-crafted cocktails to go. Don't forget an order of the famous onion rings. Carhop service is available from 11am-8pm.
Bob's has the carhop thing down cold—because the classic restaurant has never stopped serving the famous burgers and milkshakes this way. Bob's Big Boy in Burbank has takeout and a traditional drive-thru, but the real fun is in ordering like you're living in the good old days. Serving breakfast through dinner from 9am-9pm, the process couldn't be simpler. Park in one of the carhop spots, and a waiter (wearing masks and face shields) will bring a paper menu to your car. Place your order and they bring it out as soon as it's ready, setting the meal up on a tray on the side of the car window. Dishware and utensils are all disposable. (Pro-tip: you may wish to bring your own pen to sign the receipt.) Highlights are the aforementioned burgers and milkshakes.
For the fun of a carhop, without the heavy diner food, this is the answer. Where else in the world can you get carhop service of authentic, piping hot pizza (you can't get more authentic than this outpost of one of Naples' most famous restaurants—it's the one from Eat Pray Love) while you watch a movie? Here's the skinny: The car-side delivery service (and movies) are set up in the valet lot across from the restaurant. Call to reserve a spot, as they are limited. A valet guides cars to the right spot on arrival, and a staff member takes orders (or phone orders in from the car). When the food (not just pizza—they have divine scallops, beet salad, truffle burgers, and more) is ready, they will bring it to the car, and families can enjoy it in the car, in the trunk, or sitting on the hood, while watching the movie. Currently a kid-friendly movie is shown at 5pm, followed by adult oriented films.
Classic carhop service is available all day at the Sherman Oaks location of Mel's Drive-In. (As of January 15, the West Hollywood and Santa Monica locations have temporarily closed, though they hope to reopen at the end of the month, with carhop service.) Diners place orders on arrival and when the food is ready it's brought to your car window (little tray and all) by masked and gloved servers. All Mel's Drive-In favorites are available, from the fresh squeezed juices to the classic Mel Burger and even Chrissy Tiegan's favorite Creamsicle shake.

Drive-in style movies and dinner at the Santa Monica Airport. Photo courtesy of the Rooftop Cinema Club
See a Movie in Your Car … And be Served a Full Meal
Drive-in movies have made a huge comeback in LA in the past year. While most let you bring your own food or offer typical movie concessions, a few offer full meals from top-notch restaurants:
Rooftop Cinema at the Santa Monica Airport has contactless pickup from nearby restaurant The Cloverfield. Order from the car, and pick up burgers, pizzas, and desserts on the way to the movie.
Starlite Drive-In in Irvine takes place at the Irvine Spectrum Center, where guests can place orders by phone and pick up curbside, on the way to the movie, from over a dozen eateries.
At the Drive-In Theater at the Hollywood Roosevelt, every guest not only gets a free popcorn with admission, but can also order from the full menu and bar at 25 Degrees, a gourmet burger bar with vegetarian and vegan options.

Food from Neptune's Net gives everyone big smiles. Photo courtesy of @beakersneaker
Los Angeles Spots for Dinner and a Different Kind of Show
Traditional carhop service? Not exactly. But these two seaside eateries offer a different kind of drive-in or drive-thru that combines with a show provided by nature. Both are personal favorites, that I couldn't resist including.
This seafood shack is equally famous for the diet-busting delish seafood and the decibel shattering Harleys that fill the lot. That parking lot has been converted to a drive-thru while indoor and outdoor dining is banned. Pick up some fried clams and calamari (chicken strips, hot dogs, and burgers are available for picky kids) and then pull across the street to park and enjoy the show—the ocean (and the bikers!).
The parking lot at the Annenberg Beach house is open and the restaurant is doing take-out on weekends from 10am-2:30pm. Call in an order, and do your own carhop service to eat in the car, before taking a walk on the beach to look for dolphins and whales. Or bike-hop over on the bike path to pick up some food and enjoy a picnic on the beach.