California Reopening: Everything Families Need To Know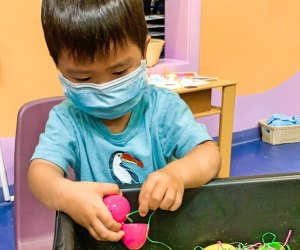 Yay! The great California reopening is happening! The Dodgers can play to capacity crowds. Disneyland can sell all the tickets—and we can bring out-of-town guests, too. Kids are out of school, but pretty much every Califonia school is pledging to return in-person, 5 days a week in the fall (or summer, since we have a ridiculously early start). Museums, theme parks, zoos, restaurants, and more are all open. But does California reopening mean no more masks? Is social distancing a thing of the past?
As California reopens fully this week, we're looking at what that means, what's reopening, and everything in LA that's now open for kids...
The Rules for California Reopening
As of Tuesday, June 15, California is fully reopen. One of the first states to fully lockdown, we beat this thing (knock wood) and the reward is a full reopening. That means Disneyland (and all our favorite theme parks) are allowed to open at capacity. Sports stadiums (outdoor ones) can sell as many tickets as the stands can hold. Restaurants and bars can seat people indoors. And every place we love can reopen.
These are the top questions parents, kids, and all Angelenos are asking:
1. Do I have to wear a mask?
Well, that depends. Fully vaccinated people do not need to wear masks unless they are on public transportation, in a K-12 school or child care center, in a hospital, or at a jail. Unvaccinated people (including kids over 2) are still required to wear face coverings when indoors in a public space. Also, a business can require masks of anyone on the premises. So check with a museum or business to find out what their mask requirements are before visiting.
2. Do I have to make reservations?
Mostly, still, at theme parks and museums. (You'll notice none of these answers are definitive!) As it took a while for businesses to implement operational guidelines, many are un-doing these same guidelines at varying rates. Check with a venue to confirm the current policy before visiting.
3. Will I have to prove I'm vaccinated to go places?
No, not to go places. However, businesses have the option of implementing a vaccine verification system and may require those who do not show proof of vaccination to wear masks. Also, at indoor events of more than 5,000 people, all guests must show proof that they are fully vaccinated (or show a negative coronavirus test) to enter. Some outdoor venues, like the Hollywood Bowl, may also ask for proof of vaccination or negative test (this is recommended for outdoor venues that seat over 10,000 people, but not required).
4. Will schools open this fall with hybrid or online learning still an option?
At this time, LAUSD plans to open all campuses for in-person classes, 5 days a week. Outgoing Superintendent Buetner has stated that there will be the option for online learning for families. But the fall is a long, long way away (it's summer, people!) and things may change if there is any change in the number of cases in LA. Also, there are a lot of school districts in Southern California, so be sure to check the policy at your school.
The rule we've been living under at Mommy Poppins during these changing times is to always verify before visiting. Institutions, businesses, and individuals are all making the decisions that are right for them, often on a daily changing basis. Check, verify, and keep following Mommy Poppins, as we update all our favorite local kids' museums, zoos, restaurants, and more as soon as the information is available.
Museums in Los Angeles That Are Open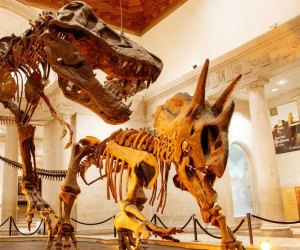 Hey! Who you calling a bag of bones? Photo courtesy of the Natural History Museums of Los Angeles County
Natural History Museum
The NHM is open, as is its sister museum, the museum at the La Brea Tar Pits.
CAAM
The California African American Museum is now open.
The Children's Museum at La Habra
This fabulous local children's museum reopened on April 14.
The Grammy Museum
Music to our ears; this spot reopened May 21.
California Science Center
This fabulous, much-missed space for kids is now open. Timed entry reservations are required for everyone. Some high-touch galleries and exhibits are still temporarily closed, many Science Center exhibits have been adapted for hands-free interaction. Timed tickets are also available for purchase for The Art of the Brick.
LACMA
After being closed for more than a year, LACMA is opening again. Though most of the buildings are closed while the new museum is being built, the grounds, the BCAM Building, and Resnick Pavilion will all be open. This means Metropolis II is back, and that's really all the kids care about!

The Hammer Museum

This art museum is Westwood open to the public. And it's free, every day.

The Getty Museum and Villa
The Getty Villa Museum reopened April 21 and Getty Center opened at the end of May with 4 new exhibits.
Pretend City
Pretend City is now open, which means camps and classes are back, too!
Battleship Iowa
The San Pedro floating monument is open for self-guided tours of the outdoor spaces, using the free mobile app.

Don't look down! Photo courtesy of the Museum of Illusion
Meet friendly lorikeets at the Aquarium of the Pacific. Photo by cruz__26/Instagram
Places in LA Where Kids Can Visit Animals
The Los Angeles Zoo
Hooray! The LA Zoo is now open, offering a modified zoo experience with limited capacity, and advance, timed-entry reservations are required. But the zoo is back.
The Aquarium of the Pacific
The Aquarium has reopened both indoor and outdoor areas as of March 16. Tickets must be purchased in advance. Retail and food services are also open.
Heal the Bay Santa Monica Aquarium
The Aquarium has reopened on the weekend only with new outdoor patio exhibits, which include two animal displays: tidepool creatures and the full lifecycle of sharks with shark pups.
Montebello Barnyard Zoo
Now open with pony rides (kids need to bring bike helmets to take a pony ride), train rides, a petting zoo, a picnic area, and playground.
While the farm is open for visits, for health and safety reasons, currently no more than 6 people can visit Danny's Farm at a time, and visits are limited to one hour. Check the website for details and to make reservations.
The Gentle Barn
The Gentle Barn is only open for "Cow Hug Therapy" at this time: Get hugs and unconditional love from the therapy cows. Make a one-hour appointment for your family.
The Ocean Institute
Dana Point's Ocean Institute fully reopened on April 10, with two new exhibits.
Moorpark Animal Center at Underwood Farms
See the farm animals! While play structures and feeding/petting the animals are not currently allowed, all 13 baby goats, baby chicks, ponies, alpacas, emus, sheep, bunnies, birds, and more are there for kids to see.
America's Teaching Zoo
This Moorpark zoo is now open to visitors.
The OC Zoo
The OC Zoo, home to animals and plants native to the southwestern United States, reopened on February 3.
San Diego Zoo and SeaWorld San Diego
The world-famous San Diego Zoo and the San Diego Zoo Safari Park are now open, and SeaWorld San Diego reopened on February 6, so it's the perfect time for a little San Diego summer vacation.
The Santa Barbara Zoo
The zoo in Santa Barbara is open again, and a visit is a perfect excuse for a day trip up the coast.

Kids can see animals in person again at favorite local zoos. Photo courtesy of Santa Barbara Zoo
The CatCafe Lounge
Now open for kids needing kitten cuddles.
Wildlife Learning Center
The center is open for two different private tours, both of which include animal meet and greets. (Perfect for birthday parties…)
The Shadowland Foundation
While the foundation has suspended Saturday visits with wolves, families or small groups can still book a private experience to meet (and feed) wolves in person.
The Gibbon Conservation Center
The Gibbon Conservation Center, the only facility in the world dedicated exclusively to gibbons, offers tours to visit the rarest group of apes in the western hemisphere. You can now visit the center.
The Living Desert
The desert zoo is open, and a trek to Palm Springs rewards visitors with a chance to get up close and personal with bighorn sheep, mountain lions, desert tortoises, and countless other animals.
Oasis Camel Dairy
While currently only offering private tours, this is an experience no one can forget: a visit to Oasis Camel Dairy, just north of San Diego. Tours can include feeding and taking rides on the camels.
What's Open at Theme Parks

Shane's Inspiration at Griffith Park is open. Photo courtesy of Landscape Structures
Parks and Playgrounds Are All Open in LA

Sand sledding! Do it while you can...
Beaches and Piers in Los Angeles—What's Open?
Entertainment and Stores Now Open in LA

Take a ride under the Hollywood sign. Photo courtesy of Sunset Ranch
Outdoor Sports & Activities for Families in Los Angeles
Farm Fresh Outings for Families in Los Angeles

Something is always blooming at Descanso. Photo courtesy of Descanso Gardens
Gardens That Are Open in LA (All of Them!)

Exploring the gorgeous Vasquez Rocks. Photo by Meghan Rose
The Best Hiking Trails in Los Angeles for Kids Are Open

Toodle around Griffith Park in a mini car. Photo courtesy of Sunny Day Scoot
Outings & Adventures for Families in Southern California

See wild bison in Catalina. Photo courtesy of Catalina Island Chamber of Commerce & Visitors Bureau
Daytrips & Staycations That Families Can Take in LA