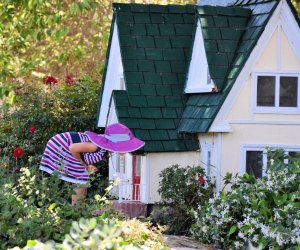 What's Open in LA for Kids Right Now
With the latest round of stay-at-home orders lifted at the end of January and numbers declining daily, the city just might be turning the corner. Playgrounds have reopened. Outdoor dining is now allowed. Family favorites with outdoor spaces are slowly opening their doors—like aquariums, zoos, mini golf courses, go kart tracks, and more. Add those to the list of gardens, parks, drive-ins, carhops, hikes, water sports … well, there are actually a lot of things that are open in LA right now.
Combine the newly allowed openings with the wealth of outdoor activities available to Angelenos, and you can almost feel the city start to hum back to life. (You can definitely see the freeways filling up!) Here we are tracking every single thing that is open for kids and families in Los Angeles. Bookmark this page; we'll update it frequently as more spots announce their reopening plans.
While we are trying to promote safer activities that occur outdoors or with social distancing guidelines in place, please keep your family and others safe by always wearing a mask and maintaining appropriate distance. If you arrive at an event that appears too crowded try using the "nearby" search feature on our event calendar to find something else to do.

Electric Mile Drive-thru is a dance music fest in your car. Photo courtesy of Insomniac
Drive-Thru Experiences in Los Angeles
Stranger Things Drive-Into
A drive-into experience based on the hit Netflix series? Stranger Things have happened! Currently, tickets are available through March 28.
Drive-thru Cruis'n the Park Car Show at Magic Mountain
Guests cruise through the park from the comfort and safety of their own cars for a drive-thru auto show experience featuring more than 100 automotive displays, presented by world-famous West Coast Customs, tickets are available through March 14.
Drive-thru Fair Foodie Fest
The drive-thru Fair Foodie Fest is at the Rose Bowl weekends through March 14 for drive-thru fair food from the car.

Don't look down! Photo courtesy of the Museum of Illusion
Museums in Los Angeles That Are Open
Meet friendly lorikeets at the Aquarium of the Pacific. Photo by cruz__26/Instagram
Places in LA Where Kids Can Visit Animals
The Los Angeles Zoo
Hooray! The LA Zoo is now open, offering a modified zoo experience with limited capacity, and advance, timed-entry reservations are required. But the zoo is back.
The Aquarium of the Pacific
The Aquarium has reopened its outdoor areas including the Shark Lagoon, Lorikeet Forest, June Keyes Penguin Habitat, Seals and Sea Lions, and the ray, moon jelly, sharks, and horseshoe crab touch areas.
America's Teaching Zoo
This Moorpark zoo is now open to visitors.
The OC Zoo
The OC Zoo, home to animals and plants native to the southwestern United States, reopened on February 3.
San Diego Zoo and SeaWorld San Diego
The world-famous San Diego Zoo and the San Diego Zoo Safari Park are now open, and SeaWorld San Diego is reopening on February 6, so it's the perfect time for a little San Diego vacation.
The Santa Barbara Zoo
The zoo in Santa Barbara is open again, and a visit is a perfect excuse for a day trip up the coast.

Kids can see animals in person again at favorite local zoos. Photo courtesy of Santa Barbara Zoo
The CatCafe Lounge
Now open for kids needing kitten cuddles.
The Ocean Institute
This Dana Point marine center is open weekends for outdoor excursions.
Wildlife Learning Center
The center is open for two different private tours, both of which include animal meet and greets. (Perfect for birthday parties…)
The Shadowland Foundation
While the foundation has suspended Saturday visits with wolves, families or small groups can still book a private experience to meet (and feed) wolves in person.
The Gibbon Conservation Center
The Gibbon Conservation Center, the only facility in the world dedicated exclusively to gibbons, offers tours to visit the rarest group of apes in the western hemisphere. Private tours can be booked for families in February, but starting in March, book tickets to a public tour.
The Living Desert
The desert zoo is open, and a trek to Palm Springs rewards visitors with a chance to get up close and personal with bighorn sheep, mountain lions, desert tortoises, and countless other animals.
Oasis Camel Dairy
While currently only offering private tours, this is an experience no one can forget: a visit to Oasis Camel Dairy, just north of San Diego. Tours can include feeding and taking rides on the camels.
What's Open at Theme Parks

Shane's Inspiration at Griffith Park is open. Photo courtesy of Landscape Structures
Parks and Playgrounds Are All Open in LA

Sand sledding! Do it while you can...
Beaches and Piers in Los Angeles—What's Open?
Entertainment and Stores Now Open in LA

Take a ride under the Hollywood sign. Photo courtesy of Sunset Ranch
Outdoor Sports & Activities for Families in Los Angeles
Farm Fresh Outings for Families in Los Angeles

Something is always blooming at Descanso. Photo courtesy of Descanso Gardens
Gardens That Are Currently Open In LA (All of Them!)

Exploring the gorgeous Vasquez Rocks. Photo by Meghan Rose
The Best Hiking Trails in Los Angeles for Kids Are Open

Toodle around Griffith Park in a mini car. Photo courtesy of Sunny Day Scoot
Outings & Adventures for Families in Southern California
Where Families Can Dine Outdoors in Los Angeles

See wild bison in Catalina. Photo courtesy of Catalina Island Chamber of Commerce & Visitors Bureau
Daytrips & Staycations That Families Can Take in LA