Fishing Lakes and Spots Where Kids Learn To Fish near Los Angeles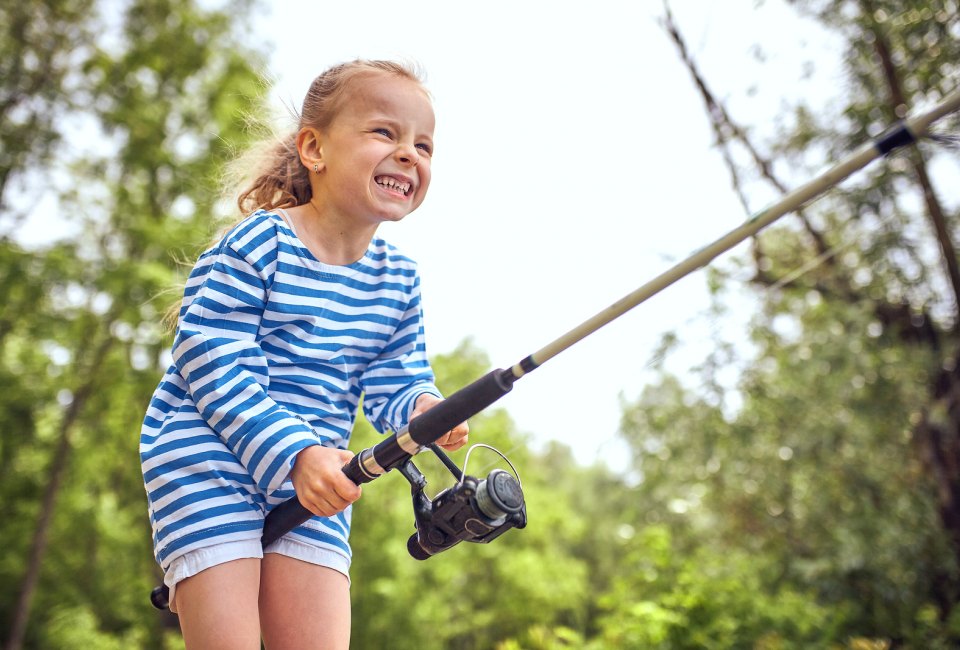 6/30/20
- By
Audrey M
Summer 2020 is turning out to be a retro summer, and taking kids fishing fits right in with going to a drive-in movie, playing in the back yard, and pitching a tent for the weekend. Whether you catch and release or fry it up over a fire, there is something timelessly relaxing about fishing—especially as a way for kids and parents or grandparents to spend quality time together. The fishing lakes below are great spots to learn to fish within easy reach from Los Angeles, and all are open so far this season.
Note that in public waters, a fishing license is required for everyone age 16 or older; this includes city and county parks, state parks, national forest waters, and even the ocean (you even need a license to catch grunion). Fishing licenses can be purchased at sporting goods stores including Big 5, Walmart, and many independent tackle shops. Private fishing areas do not require licenses. Most local lakes are stocked with trout in the winter and catfish in the summer—bass, panfish, and carp are also in most fresh-water locations. Be aware that different locations have different limits as to how many fish of each species you can take, and the limits may change over time; limits are generally posted and available from rangers or other staff.
All info below is accurate as of June 30, 2020, but we recommend calling ahead in case of changes.
Public Fishing Lakes for LA Families
Castaic Lake
32132 Castaic Lake Drive
Castaic 91384
661.257.4050
Vehicle entry: $11; camping $30/night (reservations recommended)
See website for open hours (generally dawn-dusk year-round); closed Christmas.
Run by the LA County Parks and Rec Department, Castaic Lake has two main areas: the lagoon/lower lake and the upper lake. In addition to a fishing pier, the Lagoon also has summer swimming and non-gas powered boating, a campground, and picnic areas, while the upper lake has fishing, wakeboarding, waterskiing, and jetskiing in designated areas. The lake hosts several Moonlight Fishing nights in the summer, and the first Saturday in May is Fishing and Fun for Kids day (with fishing lessons, arts and crafts, and giveaways). The website features recent fish reports and tips for fishing specific to Castaic Lake. Boat rentals are available. Parks and Rec will not allow new entries if maximum capacity is reached; this is most likely to occur on summer weekends, so arrive early!
Summer 2020: The lake is open for fishing, though many events have been canceled or postponed (Fishing and Fun for Kids Day has been pushed to November). Swimming is currently not allowed due to COVID-19 restrictions, but fishing continues.
Don Knabe Regional County Park
19800 Bloomfield Ave
Cerritos 90703
562.924.5144
Cerritos Park Lake is stocked with rainbow trout in the winter and spring, and catfish in the summer. There are also bass and panfish in the lake. Every June there is a kids' fishing derby (ages 5-15) at this lake—if your kids enjoy fishing, put this on your calendar! This is a large park, with playgrounds, a skate park, tennis courts, and more. Bring a picnic and make a day of it.
Summer 2020: Although some programs at the park are suspended during the pandemic, fishing is allowed.
El Dorado East Regional Park
7550 E Spring St.
Long Beach 90815
562.570.1773
Vehicle entry: $5 Mon-Thur; $6 Fri, $7 weekends; $8 holidays (CASH ONLY)
Open in the winter 7am-5pm and spring/summer 7am-8pm.
This large Long Beach park has two stocked fishing lakes. The northern lake is larger, with a boat launch. These lakes have bass, panfish, sunfish, carp, and stocked trout and catfish. Check with the park for current limits, and don't forget the fishing licenses for adults. This is a surprisingly good place for bass, especially near the rushes early in the morning, but fishing families are encouraged to release these. A free entry kids' fishing derby is held each November.
Summer 2020: Although some programs at the park are suspended during the pandemic, fishing is allowed.
Prado Regional Park
16700 S. Euclid Avenue
Chino 91708
909.597.4260
Admission: $8/vehicle weekdays; $10/vehicle weekends and holidays; $3 walk-in; $1 dogs on leash, $10 daily fishing permit Mon-Thur, $12 Fri-Sun, must be turned in upon leaving (in addition to state license)
Summer fishing hours: Mon-Thu 7:30am-6pm; Fri-Sun 7:30am-8pm
In addition to its 60-acre lake, Prado features a campground, disc golf course, hiking and biking, pedal boat rentals, and a large playground with a zero-depth water play area. The lake is stocked every other Thursday, with fishing permitted on stocking days.
​Summer 2020: Although some programs at the park are suspended during the pandemic, fishing is allowed.
Frank G. Bonelli Regional Park
Puddingstone Reservoir
120 Via Verde
San Dimas 91773
909.599.8411
Admission: $10/vehicle
Summer fishing hours: from shore sunrise-9pm; from boat sunrise-sunset
Puddingstone has the usual SoCal variety of fish: trout, catfish, bass, carp, and panfish. The east and south shores are more popular for shoreline fishing. Puddingstone hosts three fishing derbies each year. Maybe that's a bit much for young kids, but they will enjoy the swimming beach, trails, horseback riding, camping, and playgrounds that are available in this park. Be sure to check out their catch fishing limits.
Summer 2020: Swimming beaches at the lake are currently closed due to COVID-19 restrictions, but the lake is open for fishing.
Legg Lake at the Whittier Rec Center
823 Lexington Rd
South El Monte, CA 91733
(626) 575-5526
$6 Entry Fee/vehicle
Just a short drive from LA (off the 60 and the 164), this is a small lake that has trout fall through spring and catfish in the summer. A bike trail wraps around the lake if you want to take a spin before or after you cast your line.
​Summer 2020: Although some programs at the park are suspended during the pandemic, fishing is allowed.
Private Fishing Facilities near Los Angeles
Huckleberry Kids Pond
at Santa Ana River Lakes
4060 E La Palma Ave
Anaheim 92807
714.632.7830
Wed-Sun 9am-4pm
Admission: $3/rod, $8 per pound of fish; rod rentals $5 (bait included). Huckleberry Pond only; Santa Ana River Lakes entry is an additional fee; see website for costs, limits, hours, fish species.
Huckleberry Fish Pond is designed just for kids to learn how to fish—and there is no age limit, so parents can learn too. The pond is heavily stocked with trout and/or catfish. Bring your own rod, or rent one. Staff is there to answer questions and help kids with rigging and to offer fishing tips. Fish cleaning and ice are available. There is no catch and release permitted; your kids are guaranteed to catch dinner!
Summer 2020: Fishing is currently continuing as normal.
Dana Wharf Kids' Fishing
34675 Golden Lantern
Dana Point, CA 92629
888.224.0603
Trips go daily
$59/person
Dana Wharf Sport Fishing offers regular half-day ocean fishing excursions that are appropriate for kids and families. Ordinarily, the company also offers a weekly free wharf fishing clinic to introduce kids to ocean fishing, but during the pandemic that program is suspended.
Summer 2020: Although kids' fishing clinics are suspended during the pandemic, family fishing excursions continue, at lower capacity to allow for social distancing. Masks are required.
Be sure to check out all the fishing locations through the California Department of Fish and Wildlife.
Originally published July 15, 2012 and updated regularly

Sign up for the Mommy Poppins Newsletter today!
i