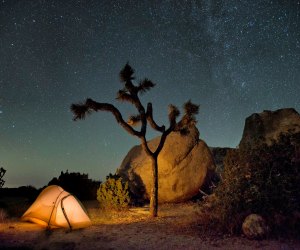 Last Minute Campgrounds in Southern California for Escaping Los Angeles Today!
Wouldn't it be great if you could go camping this weekend? Well, guess what—you can! Just because you didn't plan your camping trip months in advance doesn't mean your tent has to stay in the bag. Pitch that tent tomorrow at one of these SoCal campgrounds that accommodate last minute campers, and then break out the marshmallows. And if you think your kids need a little more incentive to embrace disconnecting for a weekend, check out these SoCal campgrounds with extra entertainment.
Note that campground openings and closures are changing frequently in the 2020 season; click through to the campground website for the most current information.
National Park Camping near Los Angeles:
One way to pull off a last-minute camping trip is to head for a campground that either doesn't take reservations at all or holds back a certain number of sites for walk-ups. Almost all national parks fall into this category. If you want to be sure of securing a campsite, plan on getting there early, though. And if you don't mind going primitive as a last resort, there are almost always a few primitive sites available somewhere in a national park.
Joshua Tree National Park
74485 National Park Drive
Twentynine Palms, CA 92277-3597
760.367.5500
$15-$55 (+ $30 park entrance fee per car)
Joshua Tree offers a surprising variety of desert terrain and is just over a two-hour drive from LA. The park has six campgrounds in winter and eight in summer; some are entirely first come, first served, while others take reservations via recreation.gov (including Cottonwood Springs, the only one with flush toilets). In hotter weather, one of the cooler, higher altitude, drive-up campgrounds might be more comfortable, in spite of the pit toilets.
Summer 2020 info: All Joshua Tree campsites are first-come, first-served until Sept. 4, 2020
Musch Trail Camp
20829 Entrada Road
Topanga Canyon 90290
310.455.2465
$7 (plus $10 to park overnight)
This hike-in camp right in the middle of Los Angeles is convenient in one way (it's in the Santa Monica Mountains) and less so in another—you have to hike about a mile to reach it. But it's an easy hike you'd likely want to take anyway, and for your effort, you're rewarded with a camp that has room for 8 tents, plus has tables, running water, and a flush toilet. Because no reservations are accepted, the spots are available on a first come, first served basis. No campfires or smoking are permitted.
Summer 2020 info: Musch Trail Camp has reopened for the summer season.
Death Valley National Park
P.O. Box 579
Death Valley, CA 92328
760.786.3200
$0-$36
The great thing about driving five hours to the hottest spot in the western hemisphere is that, chances are, you will get a campsite. Note that some areas are closed during part of the year, so check the website before heading out. The uber-desert park has plenty to fascinate kids (see our Death Valley with Kids review), and campgrounds that are first come, first served most of the year (only Furnace Creek takes reservations in the winter months).
Summer 2020 info: Death Valley campgrounds are closed until further notice.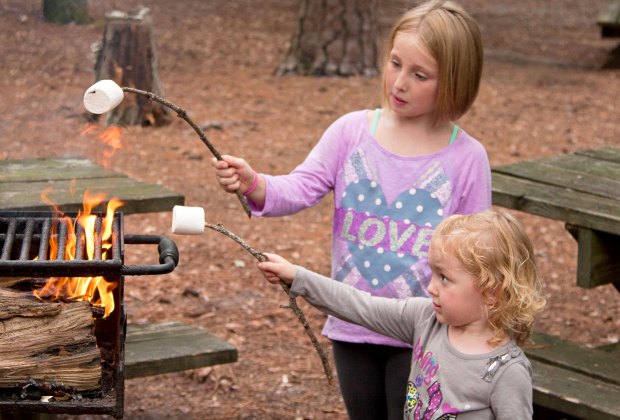 Photo by US Dep't of Agriculture via flickr
National Forest Camping near LA
National forests also have plenty of last-minute options, and we are virtually surrounded by national forests in LA. Check for the many campsites that don't take reservations in the Angeles National Forest, the Sequoia National Forest, the San Bernardino National Forest, and Los Padres National Forest. Here are some local favorites:
Green Valley Campground
33900 Green Valley Lake Road
Green Valley Park, CA
909.867.2165
Reservations through Recreation.gov
Some sites available on a first come, first served basis
$25-$54
Enjoy hiking through the pine-filled San Bernardino Forest, take a swim in the lake or rent a kayak or paddle boat. The campground is between Lake Arrowhead and Big Bear Lake, meaning a short drive gives you even more to do and see. A small nearby camp store sells firewood and other supplies. There are flush toilets (always nice) but no showers available.
Summer 2020 info: Green Valley is currently open to one household per campsite, with no gathering with other households allowed.
Wheeler Gorge Campground
17017 Maricopa Highway
Ojai, CA 93023
805.640.1977
$25-$40
Wheeler Gorge in Los Padres National Forest does take reservations, but it also holds some sites back for spontaneous campers. Streams run through the campground, and nearby trails offer miles of walking fun. All this just 15 miles outside of downtown Ojai.
Summer 2020 info: In 2020, only 9 sites are held back for drive-ups. The campground is operating on lower capacity.
Chuchupate Campground
Frazier Mountain Rd
Frazier Park, CA 93225
661.245.3731 or
805.434.1996
$20
If your heart's desire is a tent among quiet pine trees on a moment's notice, and without driving too far, Chuchupate is your destination. It's a quiet little spot in the middle of almost nowhere, yet barely 90 minutes from most of LA. At the top of a small mountain in Los Padres National Forest, no one seems to know about this place; we've been there on summer holiday weekends and found it half empty. Don't expect any activities beyond hiking, marshmallow toasting, and stargazing, but it's a grand spot for all three—and no reservations are taken at all.
Summer 2020 info: Chuchupate Campground is currently open for camping.
Chula Vista Campground
34580 Lockwood Valley Rd.
Frazier Park, CA 93225
661.245.3731
No fee, but daily ($5) or annual ($30) park pass required
No reservations
In Los Padres Forest, Chula Vista sits on Mount Pinos and is a favorite spot of star-gazers and astronomers. In fact, you have a good chance of being invited to look through someone's telescope in the parking lot. Altitude makes this a cool spot, and pine needles make it a comfy one.
Summer 2020 info: Chula Vista is closed through June 19, 2020.
Cleveland National Forest
10845 Rancho Bernardo Road #200
San Diego, CA 92127
858.673.6180
Daily ($5) or annual ($30) park pass required
There are campgrounds aplenty in this 460,000-acre forest, and they can be found in the Descanso, Palomar, and Trabuco ranger districts. The Bobcat Meadow Campground is a quiet choice near several connecting trails, with campsites located in oak groves with views of the desert (but thankfully cooler temperatures thanks to the higher elevation). There are 20 campsites available and 2 pit toilets, and each parking spot can handle a vehicle towing up to 27-foot trailers if you're so inclined.
Summer 2020 info: Cleveland Forest Campgrounds are closed through June 15, 2020.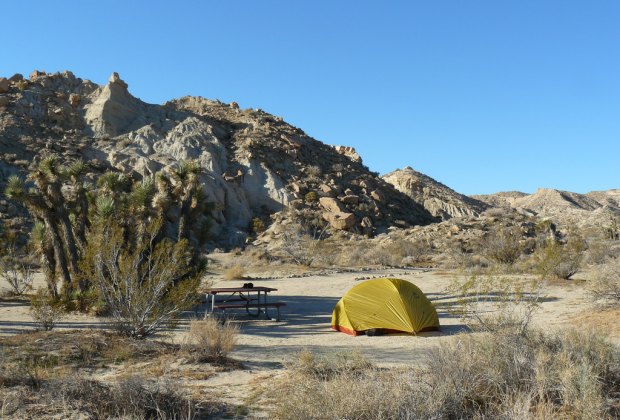 Ricardo Campground at Red Rock Canyon remains closed as of 6/15/20. Photo by Michael Jason Smith/CC BY 2.0
California State Park Campgrounds
California State Park campgrounds are mostly reserved through ReserveCalifornia.com or via phone at 800.444.7275. Most of these campgrounds are very popular; they are reservable six months in advance and generally fill up shortly after bookings open. A few select campgrounds are not reservable and therefore usually have last-minute availability (e.g. Ricardo Campground at Red Rock Canyon). It's always worth checking on the reservations site as well, though, for last minute cancellations.
During the 2020 COVID-19 shut-downs, state park campgrounds have mostly been closed but a few have begun reopening with limited availability as of June 12, 2020. All previous reservations for these campgrounds were canceled, giving everyone an equal chance at booking them now. SoCal campgrounds on this list so far include:

Leo Carrillo
Point Mugu
Refugio Beach
El Capitan
Chino Hills
Palomar Mountain
Mount Jacinto
Crystal Cove
Silverwood Lake
Privately Owned Campgrounds near LA
Privately owned campgrounds like KOA are generally quite a different experience from state and national park camping, and tend to be a whole lot easier to reserve at the last minute—often accommodating drive-ups. These campgrounds vary tremendously in style, so we recommend reading plenty of online reviews before choosing one. Most have plenty of amenities for the inexperienced camper, and some offer playgrounds and other entertainment for kids.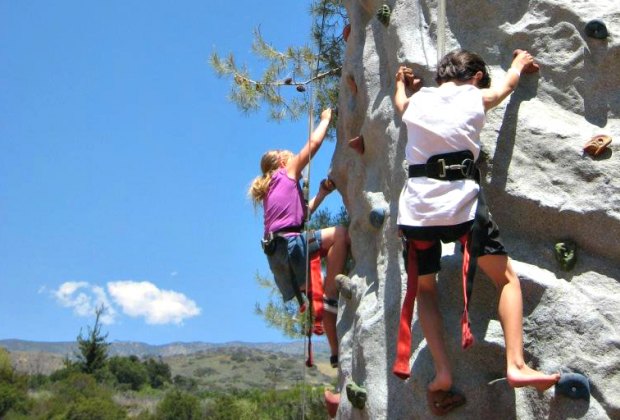 Scrambling up the climbing wall. Photo courtesy of KOA Ventura Ranch
Ventura Ranch KOA
7400 Pine Grove Road
Santa Paula , CA 93060
877.779.8080
$36 and up
This KOA definitely knows how to show kids a good time (FYI, there is a $10 charge per person, so be prepared if you have a big party). You can set your tent up under the trees, then let the kids go to the playground where they can jump on the giant bouncing pillow, climb the rock wall, ride racing trikes, or fly the giant zip line. By night, staff lead mildly spooky walks through the "haunted" corners of the campground. Just be prepared for early morning wake-up calls from the resident peacocks. Note that the 2017/2018 Thomas Fire caused considerable damage to this campground, but It is open for business again.
Summer 2020 info: Ventura Ranch is open for guests in RVs that are fully self-contained, or in cabins. No public restrooms or showers are available. Activities, play areas, and the pool are closed.
Temecula / Vail Lake KOA
38000 Hwy 79 South
Temecula, CA 92592
951.303.0173
$36 and up
This campground make a great base for a visit to some of Temecula's kid-friendly wineries; whether or not you're normally a fan of sleeping in a tent, it sure sounds better than driving back to LA after a day of wine tasting! The Temecula / Vail Lake KOA has a variety of bonus features, including miniigolf, three swimming pools, basketball courts, and a cafe with patio bar. The setting is pretty with plenty of trees, but only 15 minutes from Old Town Temecula.
Summer 2020 info: Facemasks are required in common areas. Cafe is open for take-out food weekends only. Swimming is open with limited occupancy. Mini-golf is closed.
Lake Isabella / Kern River KOA
15627 Highway 178
Lake Isabella Kern River KOA
Weldon, CA 93283
800.562.2085
$36 and up
The Kern River is a delightful area to set up camp, and KOA makes it easy. The campground has every option from tents to cabins, and entertainment that includes a swimming pool, splash pad, and playgrounds—not to mention rafting on the Kern River.
Summer 2020 info: Lake Isabella KOA is open for tents, RVs, and cabins. Activities, play areas, and the pool are closed.
OwlBee Farm
34737 Lyn Ave
Hemet, California 92545
714.514.9165
$65
Ready for something completely different? How about camping on a working organic farm, surrounded by adorable baby farm animals who love visitors? This private campground between Mount Jacinto State Park and Palomar Mountain State Park is an animal lover's dream. Tents and RVs are welcome at the farm's 17 campsites (plus one indoor glampy room for non-outdoorsy types), and wifi is available. Organic eggs and veggies are available for purchase to cook over the fire.
Summer 2020 info: OwlBee is open, with campsite spacing adjusted to ensure proper six-foot physical distancing. Hand sanitizer and soap are available, and check-in is contactless.
Originally published June 5, 2012