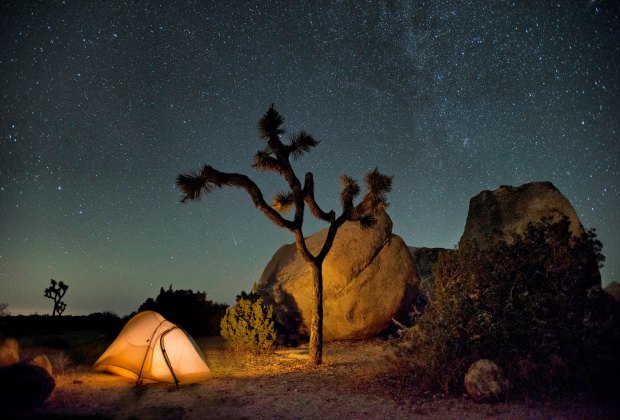 Last Minute Campgrounds for Escaping LA on a Moment's Notice
Wouldn't it be great if you could go camping this weekend? Well, guess what—you can! Just because you didn't plan your camping trip months in advance—like all of those annoyingly organized people on Catalina Island this weekend probably did—doesn't mean your tent has to stay in the bag. Pitch that tent tomorrow at one of these SoCal campgrounds that accommodate last minute campers, and then break out the marshmallows.
One way to pull off a last-minute camping trip is to head for a campground that either doesn't take reservations at all or holds back a certain number of sites for walk-ups. Almost all national parks fall into this category. If you want to be sure of securing a campsite, plan on getting there early, though. And if you don't mind going primitive as a last resort, there are almost always a few primitive sites available somewhere in a national park.
National Park Camping near LA:
Musch Trail Camp
20829 Entrada Road
Topanga Canyon 90290
310.455.2465
$7 (plus $10 to park overnight)
This hike-in camp right in the middle of Los Angeles is convenient in one way (it's in the Santa Monica Mountains) and less so in another — you have to hike about a mile to reach it. But it's an easy hike you'd likely want to take anyway, and for your effort, you're rewarded with a camp that has room for 8 tents, plus has tables, running water, and a flush toilet. Because no reservations are accepted, the spots are available on a first come, first served basis. No campfires or smoking is permitted.
Joshua Tree National Park
74485 National Park Drive
Twentynine Palms, CA 92277-3597
760.367.5500
$15-$55 (+ $30 park entrance fee per car)
Joshua Tree offers a surprising variety of desert terrain and is just over a two-hour drive from LA. The park has six campgrounds in winter and eight in summer; some are entirely first come, first served, while others take reservations (a new feature in 2018). The only one with flush toilets, Cottonwood Springs, now takes reservations. In hotter weather, though, one of the cooler, higher altitude, drive-up campgrounds might be more comfortable, in spite of the pit toilets.
Death Valley National Park
P.O. Box 579
Death Valley, CA 92328
760.786.3200
$0-$36
The great thing about driving five hours to the hottest spot in the western hemisphere is that, chances are, you will get a campsite. Note that several campsites are entirely closed due to flood damage, such as Mesquite Spring and Wildrose, and some are closed during part of the year, so check the website before heading out. The uber-desert park has plenty to fascinate kids (see our Death Valley with Kids review), and campgrounds that are first come, first served most of the year (only Furnace Creek takes reservations in the winter months).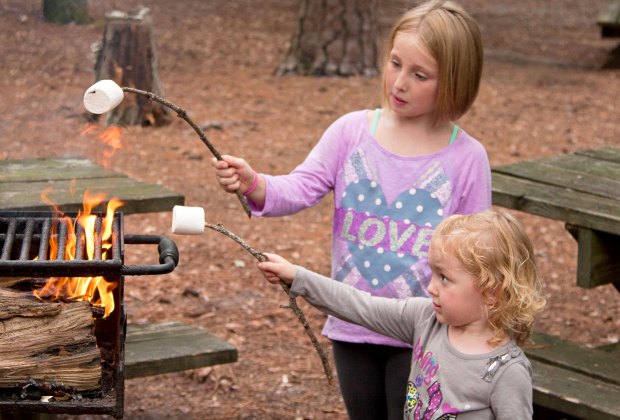 Photo by US Dep't of Agriculture via flickr
National Forest Camping near LA
National forests also have plenty of last-minute options, and we are virtually surrounded by national forests in LA. Check for the many campsites that don't take reservations in the Angeles National Forest, the Sequoia National Forest, the San Bernardino National Forest, and Los Padres National Forest. Here are some local favorites:
Chula Vista Campground
34580 Lockwood Valley Rd.
Frazier Park, CA 93225
661.245.3731
No fee, but daily ($5) or annual ($30) park pass required
No reservations
Also in Los Padres Forest, Chula Vista sits on Mount Pinos and is a favorite spot of star-gazers and astronomers. In fact, you have a good chance of being invited to look through someone's telescope in the parking lot. Altitude makes this a cool spot, and pine needles make it a comfy one.
Cleveland National Forest
10845 Rancho Bernardo Road #200
San Diego, CA 92127
858.673.6180
Daily ($5) or annual ($30) park pass required
There are campgrounds aplenty in this 460,000-acre forest, and they can be found in the Descanso, Palomar, and Trabuco ranger districts. The Bobcat Meadow Campground is a quiet choice near several connecting trails, with campsites located in oak groves with views of the desert (but thankfully cooler temperatures thanks to the higher elevation). There are 20 campsites available and 2 pit toilets, and each parking spot can handle a vehicle towing up to 27-foot trailers if you're so inclined.
Green Valley Campground
33900 Green Valley Lake Road
Green Valley Park, CA
909.867.2165
Reservations through Recreation.gov
Some sites available on a first come, first served basis
$25-$54
Enjoy hiking through the pine-filled San Bernardino Forest, take a swim in the lake or rent a kayak or paddle boat. The campground is between Lake Arrowhead and Big Bear Lake, meaning a short drive gives you even more to do and see. A small nearby camp store sells firewood and other supplies. There are flush toilets (always nice) but no showers available.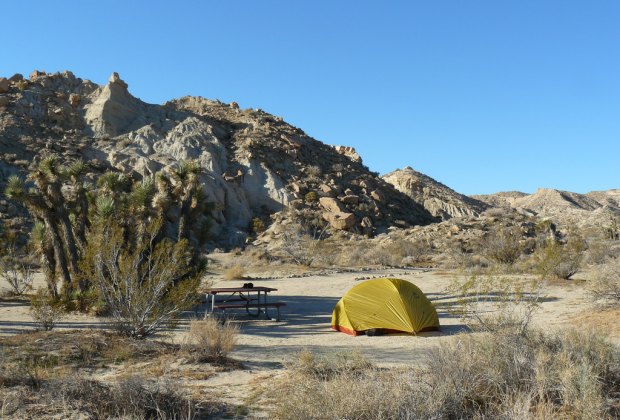 Ricardo Campground. Photo by Michael Jason Smith/CC BY 2.0
Red Rock Canyon - Ricardo Campground
Highway 14
Cantil, CA 93519
661.946.6092
$25
Red Rock is a state park about two hours from LA, but one that doesn't take reservations at all since government cuts have left it un-staffed. The camping fee is left on the honor system. The rock formations are breathtaking and otherworldly. Weather is usually great in the spring and fall; it's not a place to camp with kids in the summer because of the extreme temperatures. The wind can sometimes get going pretty strong in the evening when temperatures shift, which can be noisy in a flapping tent. There are 50 sites (first come, first served) which are often filled by Friday night, in spite of the lack of showers and the primitive toilets. Red Rock might not be the campground for introducing kids to camping, but it's a remarkable spot to be able to escape to spontaneously from LA.
Chuchupate Campground
Frazier Mountain Rd
Frazier Park, CA 93225
661.245.3731 or
805.434.1996
$20
If your heart's desire is a tent among quiet pine trees on a moment's notice, and without driving too far, Chuchupate is your destination. It's a quiet little spot in the middle of almost nowhere, yet barely 90 minutes from most of LA. At the top of a small mountain in Los Padres National Forest, no one seems to know about this place; we've been there on summer holiday weekends and found it half empty. Don't expect any activities beyond hiking, marshmallow toasting, and stargazing, but it's a grand spot for all three—and no reservations are taken at all.
Wheeler Gorge Campground
17017 Maricopa Highway
Ojai, CA 93023
805.640.1977
$25-$40
Wheeler Gorge in Los Padres National Forest does take reservations, but it also holds some sites back for spontaneous campers. Streams run through the campground, and nearby trails offer miles of walking fun. All this just 15 miles outside of downtown Ojai.

Privately Owned
Privately owned campgrounds like KOA are generally quite a different experience from state and national park camping, and tend to be a whole lot easier to reserve at the last minute—often accommodating drive-ups. These campgrounds vary tremendously in style, so we recommend reading plenty of online reviews before choosing one. Most have plenty of amenities for the inexperienced camper, and some offer playgrounds and other entertainment for kids—including the following two that are within 90 minutes of LA: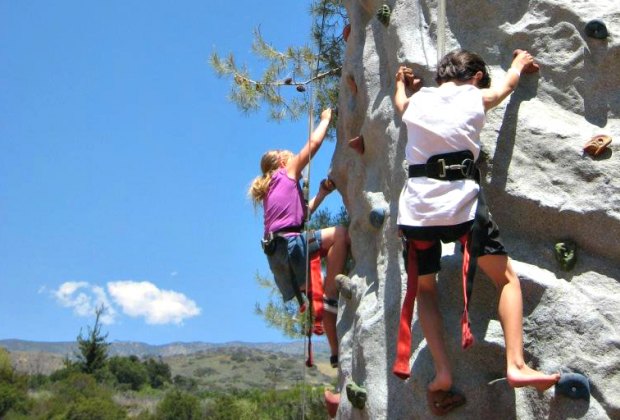 Scrambling up the climbing wall. Photo courtesy of KOA Ventura Ranch
Ventura Ranch KOA
7400 Pine Grove Road
Santa Paula , CA 93060
877.779.8080
$36 and up
This KOA definitely knows how to show kids a good time (FYI, there is a $10 charge per person, so be prepared if you have a big party). You can set your tent up under the trees, then let the kids go to the playground where they can jump on the giant bouncing pillow, climb the rock wall, ride racing trikes, or fly the giant zip line. By night, staff lead mildly spooky walks through the "haunted" corners of the campground. Just be prepared for early morning wake-up calls from the resident peacocks. Note that the 2017/2018 Thomas Fire caused considerable damage to this campground, but It is open for business again.
Lake Casitas
11311 Santa Ana Road
Ventura, CA 93001
805.649.2233
Reserve online
$30-$66/night
This campground on the edge of Lake Casitas is only open during the warmer months and offers as its main attraction a full-on, family-friendly water park known as Lake Casitas Water Adventure. Tents, tent trailers, campers, and RVs are all welcome to set up camp and enjoy playgrounds for the kids, warm showers, and take-out BBQ. Just no swimming in the lake itself, which is a reservoir for drinking water. This one may not count as getting away from it all, but for some families a block party on the lake type spot like this one is more appealing than total wilderness.
Originally published June 5, 2012