Families Can Paddle with the Swans at Echo Park Lake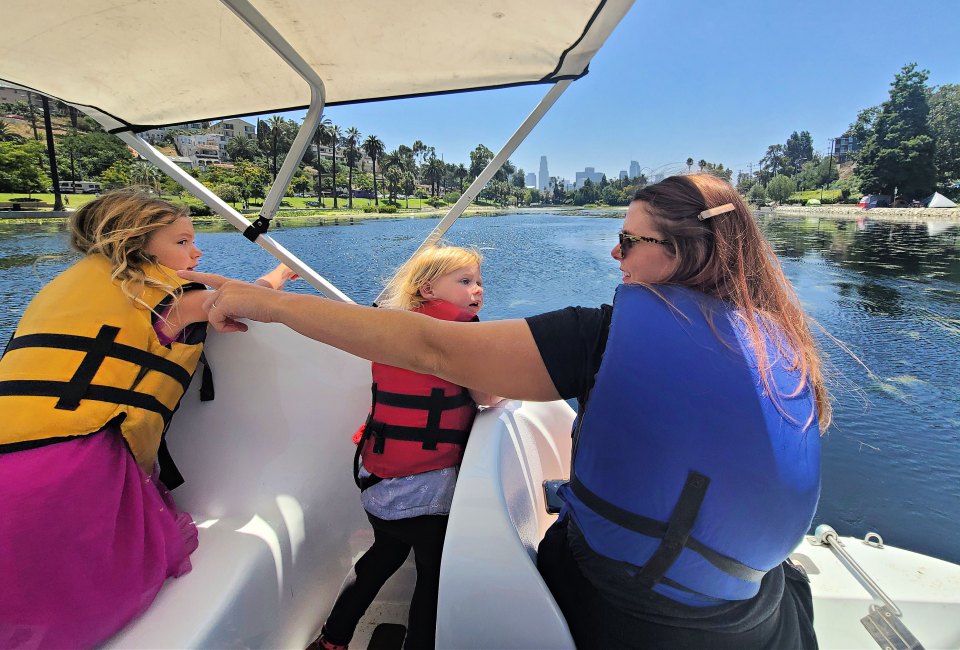 2/2/21
- By
Matt Matasci
Sure, biking, hiking, and other outdoor adventures are abundant in Southern California. But sometimes what parents of cooped up kids really need is an actual activity. One where you don't have to do a lot of organizing or planning, so you can sit back, relax, and keep the kids entertained. Preferably, this magical outing doesn't require a long drive and isn't wildly expensive. Echo Park Lake's Swan Pedal Boats offer exactly that—a new and unique activity for the entire family to enjoy together where everyone can turn brains off, decompress, and just have a blast.
If this outing makes your family long for more wet and wild fun, check out all the spots in the city where kids can pedal and paddle on the water—from kayaks to water bikes to SUP boards and more.

These boats are gorgeous, fun, and a great leg workout!
Take a Swan Pedal Boat Ride by Day
Tickets are timed, limited, and must be purchased in advance, which cuts down on the wait time in line—always a relief for parents of small children. In fact, after arriving at the Echo Park Lake boathouse, we only waited about 10 minutes before it was our turn to board a swan boat. Life jackets are provided and come in a wide range of sizes—we had no problem finding one that fit our three-year-old as well as one that fit me, a grown man.
After we boarded our swan boat, an employee gave us a quick lesson on how to operate and steer the vessel and we were off! Admittedly it took us a few minutes to get a hang of the steering, but after figuring it out, the boats were pretty easy to maneuver. Luckily, the small man-made lake is very still and you won't drift too far. Just avoid those fountains at the center of the lake because you will get wet if you get too close (though there are buoys to keep you from pedaling right over the fountains).
My 7-year-old was so excited just to be on a boat out on the water; as a city kid she doesn't get a lot of opportunities to go boating. She also loved that she was able to help steer the boat even if she was too little to actually pedal. Because parents, that is your job. And fair warning, these boats require a bit of stamina to keep them moving. Anyone working as the "motor" of the boat may feel the burn in their legs after 10-15 minutes. In fact, on a warm day, you may even be tempted to drift near those fountains and cool off.
On the neck of the swan is a QR code which, when scanned, opens a Find and Seek game with trivia and facts about the lake, its history, and the animals that call it home. Bring snacks and drinks with you, and take pedal breaks to just drift, snack, look for animals, and learn about the lake.

See the swans lit up at night. It's spectacular. Photo courtesy of Wheel Fun Rentals
Try a Magical Moonlight Ride at Night
While a daytime ride is a great way to relax and enjoy the sunshine and sparkling Echo Park Lake, there's nothing like the magic of a swan boat night ride. When the sun goes down and the downtown skyline starts to shimmer in the distance, the boats are illuminated with glowing LED lights. There's no additional cost for a ride at night, but you will need to plan further in advance because slots are limited and sell out quickly, particularly during the warmer summer months. No matter the season, remember that temperatures drop quickly when the sun sets, so definitely bring jackets and a blanket to bundle up.
When we can have visitors and guests again (soon, please!), a night ride on the swan boats is definitely going on the itinerary for visiting friends and family—it's a perfect outing for all ages and interests.

It's tempting to drift near the fountain to cool off on a sunny day.
Exploring Echo Park Lake
The swan boats aren't the only draw of Echo Park Lake, so take some extra time to enjoy the park. There are large grassy lawns that are perfect for a picnic, which you can bring from home or get takeout from one of several kid-friendly neighborhood staples like Monty's Good Burger and Triple Beam Pizza on nearby Sunset Boulevard. The boathouse has a restaurant called Beacon, which has takeout and offers outdoor seating. Beacon's menu includes delicious burgers, avocado toast, and gourmet grilled cheese, though the cuisine is a bit too sophisticated for most kids. And of course, it wouldn't be an LA experience without the street vendors, like an agua fresca stand and old-school ice cream truck.
The lush foliage, year-round temperate weather and ample water supply of Echo Park Lake attracts a wide range of birds like warblers, black birds, geese, and ducks. At the center of the lake is a large island that's accessible over a rustic wooden bridge, and my daughters couldn't wait to explore it. Fishing isn't allowed at the lake but it's well-stocked with a variety of fish like rainbow trout, largemouth bass, bluegill, and carp, which are fun to look out for in addition to the turtles and dragonflies that call the lake home.
It should be noted that while I would usually recommend taking a walk around the lake and really exploring the whole park, it's always a good idea to use your street smarts. During the day, the park is filled with people and is very safe. But I would still recommend that when you're here with kids, you park close to the boathouse and stay on that side of the lake, especially at night.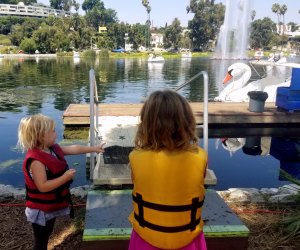 Waiting ... waiting ... almost our turn!
Know Before You Go
Don't forget to make a reservation in advance. Normally it's not hard to get one the day of your visit, but it's always better to plan ahead. Children's tickets cost $7 and adults' are $12 for an hour-long ride. There's no minimum age; you can even bring a newborn (and the family dog!) on a swan boat. However, minors under 15 must be accompanied by a parent or guardian over 18. (Don't worry, even big kids will want parents along to provide the pedal power.)
There are two types of boats: larger boats that hold five people and smaller boats that hold two adults and two children. For families with small children, especially toddlers that are mobile, the larger boat is recommended because it has a large bench seat in the back that keeps them secured. You can bring food and drinks (but not alcohol or large coolers) for a snack on the lake.
Echo Park is a densely populated neighborhood so street parking is tight, but not impossible, especially during the day. The swan boats are located on the east side of the lake at the Echo Park Lake boathouse, right off Echo Park Avenue. If there's no free street parking available, there are large city parking lots with reasonable hourly rates two blocks north of the park. The boathouse is stroller and wheelchair accessible via paved paths leading down from the street and the lake is ringed by a paved path. There are bathrooms open throughout the park, with one right next door to the boathouse. They're generally pretty clean and well-maintained for bathrooms in an urban park.
Photos by Meg and Matt Matasci unless otherwise noted. Updated August 2023.
Places featured in this article:
---
Echo Park Lake Swan Pedal Boats
Sign up for the Mommy Poppins Newsletter today!