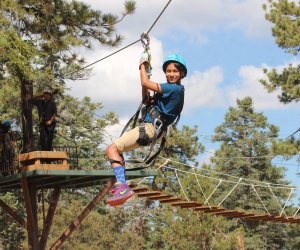 Zipline Courses and Treetop Adventures for SoCal Kids
If you're raising a kid who loves a good rush of adrenaline, maybe it's time for a family outing in the treetops. Ziplining is a thrilling, exciting, and safe activity that is great for adventurous kids—and their daring parents. We've pulled together several zipline locations below that make great day trips or weekend trips from LA.
Ziplines have minimum and maximum weights, so make sure everyone in your party fits within the limits. The best idea is purchasing or reserving tickets and tour times in advance, as some tour groups top out around 10 participants.
Zipline companies provide gear and helmets, but be sure to go in comfortable shorts or pants (no skirts), closed-toed shoes (sneakers are ideal), tie back long hair, and apply sunscreen first thing. And don't forget your GoPro!
1. Big Pine Zipline Tours
6047 Park Drive
Wrightwood 92397
760.249.9991
Big Pine offers more than just ziplines. There are two different tour options, or you can do both for an all-day experience. There are ziplines, sky bridges, sky stairs, and controlled free falls, as well as short hikes between activities. These tours are more physical, requiring good health and basic fitness. Minimum age is 10, and zippers must be between 90–250 pounds.
2. Action Tours Big Bear
41693 Big Bear Blvd Ste A
Big Bear Lake, CA 92315
909.866.0390
Action's zip line tour features nine different lines, as well as a jeep ride and suspension bridge. Weight must be 75–250 pounds. There is no height minimum, but the height maximum is 6'5".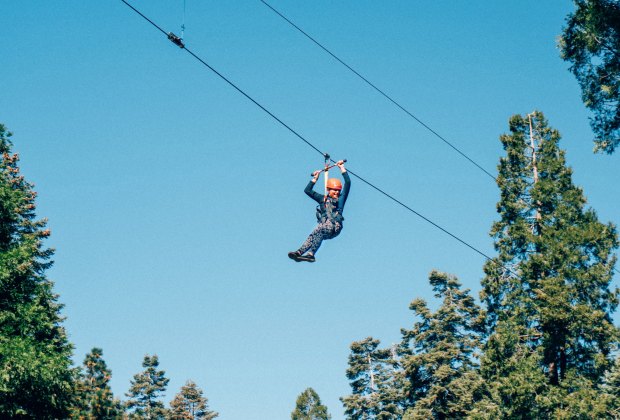 Photo courtesy of SkyPark at Santa's Village
3. SkyPark at Santa's Village
28950 California 18
Skyforest, CA 92385
909.744.9373
SkyPark has a little of everything—a fun zipline for the whole family as well as rock climbing walls, mountain biking, ice skating (in season), archery, a train ride, and other entertainment. There is no specific age restriction on the zipline, but weight limits are 60-250 pounds. The great thing here is you can ride as often as you like!
4. Catalina Zip Line Eco Tour
1 Descanso Canyon Rd
Avalon 90704
800.626.1496
This zipline tour features 5 ziplines, beginning in the hills above Avalon and descending through Descanso Canyon. Tour guides give short history, ecology, and nature presentations at stops between lines. A tour lasts about two hours. Weight requirements are 80–240 pounds (230 for evening/night tours); riders under 80 pounds or aged 5–9 must ride tandem with an adult (max. combined weight 235 pounds, 225 for evening/night tours). See the website for the Zip and Ship package.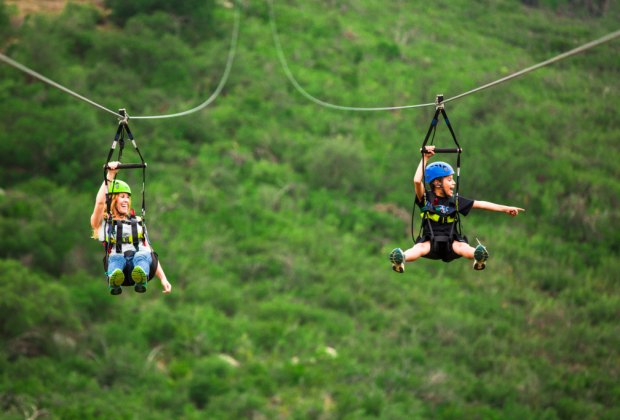 Photo courtesy of La Jolla Zip Zoom
5. La Jolla Zip Zoom
22000 Highway 76
Pauma Valley 92061
760.742.3776
La Jolla Zip Zoom has one of the longest ziplines in California at over 2500 feet. Your ticket gets you a two-hour guided tour, with four lines of varying lengths (all have parallel cables so you can share your experience). Wind will close these lines, but you can zip in the rain here. Riders must be 65–275 pounds, and there is a 48" height minimum.
6. San Diego Zoo's Safari Park Flightline Zip Line
15500 San Pasqual Valley Road
Escondido 92027-7017
619-718-3000 or 1-800-407-9534
This zipline is an add-on ticketed experience at the San Diego Zoo's Safari Park, but be sure to purchase in advance. The Safari Park offers something no other California zip line tour can—it takes you over the park's exotic animals. This tour takes about one hour.
7. Skull Canyon Eco Experiences and Zipline
13540 Temescal Canyon Road
Corona 92883
951.471.0999
This 160-acre park features two zipline courses. The Original Course features six lines, and has a weight requirement of weight 60–250 pounds. The Extreme Course has 5 lines that are higher and longer, and a weight requirement of 100–250 pounds. The Speed Run option features one tandem line—the last in the Extreme Course (100-250 pound weight).
Worth the Trip
These locations may require more time to reach, but don't rule them out entirely. Bonus of heading north: cooler temperatures and tree canopies that block out the sun—and make memories to last a lifetime.
8. Yosemite Ziplines and Adventure Ranch
4804 State Highway 140
Mariposa 95338
209.742.4844
This two-hour, six-stage tour has amazing views, and bonus: you can also pan for gold when you're done (for an extra fee, of course). The weight limit is 60-250 pounds, and it's also possible to rent a GoPro helmet. For those who want to keep it low-key, they can be reassured that the tour starts with a short and easy ride and gradually ramps up to steeper heights. The tour ends on line 7, which involves ziplining through a tunnel before ending the 3,800-foot journey.
9. Mount Herman Adventures
17 Conference Dr
Mount Hermon 95041
831.430.4357
See the redwoods up close on the Redwood Canopy Tour, which includes six ziplines and two sky bridges. Even better, the two certified tour guides on each tour share environmental info that not only brings the surrounding forest to life, but might be educational for young ones (though note that everyone who zips must be at least 10 years old and no less than 75 pounds).
Finally, Ventura Ranch Campground near Santa Paula is worth an extra mention. Although this particular thrill ride is only available for camping guests, the zipline is a great reason to choose this KOA campground, which is only 90 minutes from LA.
Looking for more ways to keep your kids' hearts pumping? How about going for a squealing good ride in a Sunny Day Scoot?

Photo courtesy of La Jolla Zip Zoom
Originally published November 3, 2015