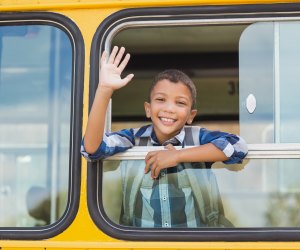 School Calendars 2020-2021: Start & End Dates for Los Angeles County Schools
Note: Coronavirus closures and school district plans for social distancing may cause changes to these dates, which were announced in early 2020. We are updating the info below as new dates are announced.
School calendars run our lives, and they're mostly different from when we were kids. The majority of Los Angeles school districts, like LAUSD, now opt for an August start date, with just a few stragglers sticking with the old-school September start. And never assume that school starts and finishes roughly in line with last year's school calendar, because schedules seem to change all the time.
This year Paramount is first out of the gate, leading the back-to-school race with a pool-party-pooper start date of August 9, followed by William S. Hart Union High School District August 11 and Alhambra and Downey on August 12. Hermosa Beach is still letting kids wait until September, with a scheduled September 3 start date.
Wondering where your district fits in, and when you can book passage for some of our Family Travel highlights? Bookmark our list below with start and finish dates for the 2020-2021 school year all over LA County. And if what you read makes you wonder about what other school options are available to you, maybe our school guide can help.
Los Angeles Unified School District (LAUSD): August 18, 2020 – June 10, 2021

ABC Unified School District: August 21/24 - June 8/9 2021
Alhambra Unified School District: August 12 - May 28 2021
Arcadia Unified School District: August 13/14 - June 3, 2021
Baldwin Park Unified School District: August 13 - June 3 2021
Bellflower Unified School District: August 13- June 3, 2021
Beverly Hills Unified School District: August 17 - June 9 2021
Burbank Unified School District: August 17 - May 27 2021
Compton Unified School District: August 20- June 11 2021
Conejo Valley Unified School District: August 19 - June 10/11, 2021
Culver City Unified School District: August 20- June 11, 2021
Downey Unified School District: August 12 - May 28, 2021
El Segundo Unified School District August 26- June 11, 2021
Glendale Unified School District: August 19 - June 10, 2021
Hermosa Beach City School District: September 3 - June 23, 2021
Inglewood School District: August 24 - June 11, 2021
La Canada Unified School District: August 17 - June 3, 2021
Las Virgenes Unified School District: August 19- June 9, 2021
Long Beach Unified School District: September 1 - June 16, 2021
Manhattan Beach Unified School District: August 26 - June 17, 2021
Monrovia Unified School District: August 19 - June 9, 2021
Montebello Unified School District: August 17 - June 10, 2021
Norwalk-La Mirada Unified School District August 13 - June 2 , 2021
Palos Verdes Peninsula Unified School District: August 26- June 10, 2021
Paramount Unified School District: August 9 - June 10, 2021
Pasadena Unified School District: August 17 - June 3, 2021
Redondo Beach Unified School District: August 19 - June 9, 2021
Santa Monica Malibu Unified School District: August 20 - June 9, 2021
South Pasadena Unified School District: August 13 - June 2, 2021
Torrance Unified School District: August 26 - June 10, 2021
West Covina Unified School District: August 13 - June 4, 2021
William S. Hart Union High School District: August 11 - June 3, 2021
Note: Where two dates are listed it's because there are different dates for the elementary and HS students.

2020/2021 Calendars not yet available for the following districts:​