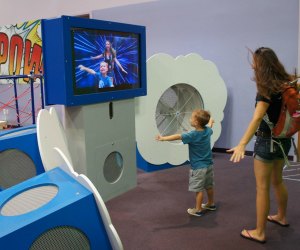 Pretend City Children's Museum in OC Gives Kids Super Powers
My six-year-old is a longtime superhero aficionado. Over the years, his bedroom has slowly become a shrine to his favorite heroes – Batman, Spiderman, and Iron Man – so he could barely contain his excitement when I told him we were heading to Pretend City Children's Museum to test-drive its new "Super Powers" exhibit. The interactive child-sized city, which includes a make-believe grocery store, farm, art studio and beach, recently opened a brand-new exhibit called Super Powers—a virtual training ground for wannabe crime fighters. If your kiddo also has a closet filled with capes and masks, fly don't drive down the 55 freeway this summer for an action-packed day at Pretend City in Irvine.
After parking in the spacious (and free!) lot, we were greeted by a friendly staff member who gave us a quick tour of the mini city, then set my kids loose to play. My kids are three and six, so initially I thought my daughter might be bored by her big brother's favorite pastime.
Boy, was I wrong!
My kids spent almost an hour playing inside the "Super Powers" exhibit, which includes two pint-sized zip lines, a laser beam maze, and much, much more. Little daredevils can fly up, up, and away in a world of make-believe in the obstacle-course based room. There's plenty to see and do for all ages, plus a wide array of costumes available for kids who want to suit up before superhero training.
RELATED: Free Things To Do in Orange County in Summer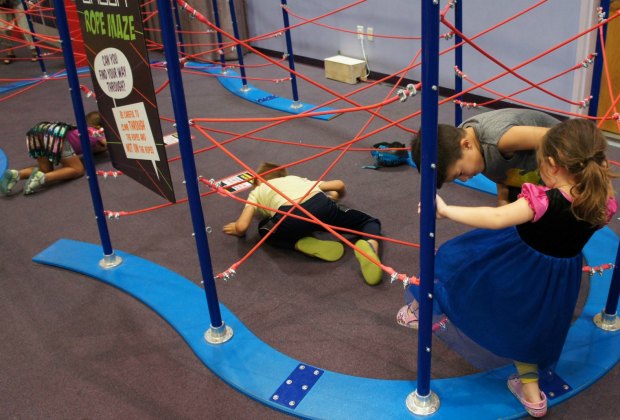 Look who's crawling in under the radar...
The main room of the exhibit consists of five areas: Sky Slider, Comic Creation Station, The Wind Tunnel, Ropes Maze, and Storm Shooter. My kids couldn't get enough of the Sky Slider zip lines. They also spent a lot of time hamming it up in front of the Wind Tunnel, a giant fan that projects kids' images onto a big-screen TV, using a green screen to create outer space or clouds in the background. My three-year-old also loved the Ropes Maze, a zigzag of red strings woven into a corner of the room, where aspiring heroes can test their speed and agility. My son quickly grew bored of getting stuck in between the "laser beams," but he had a great time riding the Super Cycles—two small stationary bikes hooked up to a fuel cell charge. The kids loved indulging their need for speed, and I loved that it encouraged them to get plenty of exercise!
Unfortunately, we also ran into long lines of field trips towards the end of our visit. This can get frustrating for small children who still lack the patience to stand still for more than five minutes. Since the "Super Powers" exhibit only accommodates about 15 to 20 kids at once, it's a good idea to check the Pretend City website to make sure your trip doesn't coincide with too many field trips before you pack up the car.
Insider Tip: There's also a dining room just past Super Powers Headquarters with plenty of tables, chairs, and high chairs. With so much to see and do, I highly recommend packing food for yourself and the kids, so you don't need to head home early for lunch. If not, you may be in for some serious meltdowns when you tell the kids it's time to go home.
All in all, this is a great way to spend a day in Orange County. Not only did my kids have a blast, but I loved watching them gain confidence as they tried new exhibits and flew through the building faster than a speeding bullet. In the immortal words of Superman, "There is a superhero in all of us. We just need the courage to put on the cape."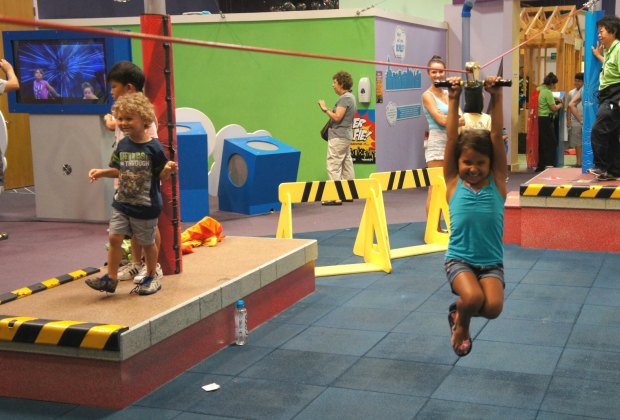 Pretend City's Super Power exhibit is part of its Superhero Summer and available until September 18, 2016. The museum has 17 permanent interactive exhibits as well.
Photos courtesy of Pretend City