Batting Cages for LA and Orange County's Baseball Families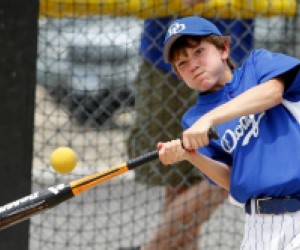 8/4/13
- By
Martha Hall
Take me out to the ball game! Or at least take me to a batting cage. Pre-kids, my husband and I frequented batting cages for fun (romantic, I know). But now that we have kids who can swing a bat, it's even more rewarding to hit up (pun intended) the area cages. We suggest you give it a try, too. Choose from slow to fast pitch, softball or baseball. Smack your troubles away, and watch the kids jump with delight when they make contact. From the Valley to the OC, it's a great place for beginners to figure it all out, and for the more advanced to finesse their swinging skills. Batter up!
Los Angeles
Rex's Baseball Batting Cages
12723 S. Western Ave.
Los Angeles, CA 90027
323.756.8101
Pay by the hour, in 15-45 min. increments, or by tokens. Bat rental available.
It's batting cages only here (no mini golf, no baseball camps, etc.). Having been around for more than 30 years, Rex's offers an easy, family-run feeling. Choose from baseball or softball, slow or fast pitch (baseball speeds from 40-90 mph). Consider making a reservation at peak times (before Saturday little league games, for example) as the place is hopping.
Baseball Central
5746 Venice Blvd.
Los Angeles, CA 90019
323.954.0200
Pay in intervals of 15-90 minutes
Reservations required.
Primarily an instructional facility, Baseball Central also generously rents its batting cages to the general public. Choose to practice baseball or softball, even cricket (maybe it's time to learn). Bats and gloves available at no additional cost. Baseball Central also hosts parties and summer camp. As of time of publication, the facility's website is not working.
South Bay & Orange County
Beach City Baseball Academy
430 East Grand Ave.
El Segundo, CA 90245
310.322.3955
Pay by 15 min. to one hour intervals
Reservations strongly encouraged.
Programmable machines that pitch Major League quality curve balls and sliders from 40-100mph? If Babe Ruth could see them now! Oh, and there are softball options, too. All cages are indoors. Bats and helmets are available for use.
Torrance Batting Cages
Wilson Park
2300 Crenshaw Blvd.
Torrance, CA 90503
310.320.2243 (CAGE)
Pay by the pitch or by the hour
Recommended age 5+
Have a go at the batting cages, and then head on over to the Wilson Park pond to watch the often visiting ducks paddle around. The paved path around the park is perfect for dog walking or a stroll. And on Saturdays you can catch the Farmers' Market. It's a family thing, and you can feel it. Bats and helmets are provided.

On Deck Batting Cages
2499 Willow St.
Signal Hill, CA 90755
562.426.HITS (4487)
Mon-Sat; Sun for birthday parties and team reservations only
​Reservations recommended.
Prices vary depending on machines and length of use
It's a state-of-the-art kind of facility. But all are welcome to use the 17,000 sq. ft. space and its batting cages, from the novice to the Major League hopefuls. Choose from softball or baseball, and a variety of pitching speeds. Bats and helmets are provided.
Colonel Bill Barber Marine Corps Memorial Park
4 Civic Center Plaza
Irvine, CA 92606
949.724.6714
Evening lighting is not great, so best time is before dark.
First come, first served in the four cages here, but it's all free. Bring your own bat, and a helmet is recommended.

Home Run Park
711 S. Beach Blvd.
Anaheim, CA 92804
714.229.8850
Pay by the hour or tokens
With 20 pitching machines (both baseball and softball) and a snack bar, you can easily make an afternoon of it here at Home Run Park. It's one of the oldest batting facilities around, and some say one of the friendliest, with staff who give you pointers if you wish. Bring your own bat, or borrow one of theirs. There is also a small shop that sells baseball cards and equipment (and, rumor has it, offers great deals). Bats and helmets are available for use.

The Office
4411 East La Palma Ave.
Anaheim, CA 92807
714.524.9900
Pay by the half hour, or unlimited access by the month.
Much more than just batting cages, this 45,000 sq. ft. space is an all-in-one sports training facility (with classes and options for the lay person as well). Serious athletes (from a range of sports) can find professional coaches and top-notch training programs here. And batters of all levels can practice in the 14 spacious cages that pitch real baseballs and softballs at a variety of speeds. And for your budding pitcher, there are also two practice pitching tunnels with mounds. Reservations are recommended, especially on weeknights and Saturdays. Helmets are provided, but you must bring your own bat.

Laguna Beach Batting Cages
2003 Laguna Canyon Rd.
Laguna Beach, CA 92651
949.497.6757
Tokens are sold for pitches. Team batting cage rental deals are available.
Choose from fast or slow pitch baseball or softball (there's even a slow/rainbow pitch softball option), left or right handed batting. Or practice your pitching (and your t-ball hitting) in the pitching cages. You can even host your child's next birthday party here for up to 50 guests. Bats and helmets are provided.

The Valleys

Batcade
220 N. Victory Blvd.
Burbank, CA 91502
818.842.6455
Pay by the pitch or by the hour
Batcade sounds like Batcave (no doubt intentional) making one wonder if it's not the coolest arcade in town. Well, we're not sure if this is really where Batman hides away. But Batcade does offer both slow pitch and fast pitch baseball and softball, in covered outdoor cages, meaning bright sun or persistent rain won't affect your swing. Batcade also serves talk-of-the-town pizza inside. Come with your family or your team, or throw a party here. Whatever to Batman. It's a good time here. Bats and helmets are provided.
On Deck Baseball Training
7675 San Fernando Rd.
Burbank, CA 91352
818.771.9150
Pay by the pitch or by the hour. Other options available.
Recommended age 7+
A climate controlled 13,000 sq. ft. facility that houses the West Coast Baseball School awaits your little batters here. Luxury, comfort, and a whole lot of fun. The machines pitch fast balls, sliders, curve, and sinker balls. All that and birthday party options, too. Bats and helmets are provided.

Castle Park Batting Cages
4989 Sepulveda Blvd.
Sherman Oaks, CA 91403
818.756.9459
Pay by the pitch or by the hour. Other pricing options available.
Ages 8+
The batting cages are but one of many kid-friendly activities offered at Sherman Oaks Castle Park. This Los Angeles Department of Recreation and Parks facility also offers three miniature golf courses and an arcade. A virtual family fun center. Bring your own helmet and bat, or borrow one (with valid ID). Close-toed shoes are required, and the cages close when it rains, reopening only when the ground is completely dry. But how often does it rain here? Some say not often enough. We say that means this place is almost always open.

Grand Slam Sports Center
140 East Duarte Rd.
Monrovia, CA 91016
626.357.1551
Pay by the pitch, the round, or the hour.
Rainy day idea: All the cages are indoors here (reservations recommended, especially on wet days). Slow pitch or fast pitch (up to 100 mph for baseball...phew!), softball or baseball. Drop in, or reserve a cage in advance. Grand Slam does birthday parties, too, complete with basketball court use, arcade games, and laser tag.
Westside
Barrington Recreation Center
333. S. Barrington Ave.
Los Angeles, CA 90049
310.476.4866
Closed Sun
Free
This cage is a little different than the others on the list, but it's well worth a visit. Located in Brentwood's quaint little Barrington Park (just south of Sunset and about a half mile North of San Vicente), this cage is first of all free, and second of all quiet. There is no working machine here. Instead, borrow balls, bat and helmet from the Rec Center office (or bring your own), and have a go pitching to your little batter (or having him or her pitch to you). Fully enclosed, you can pitch, throw, and whack the ball as hard as you want, and don't need to go chasing it afterward. Once you've worked up an appetite, head up the street for a pastry at Belwood Bakery.
Originally published on May 16, 2012