LA Gets Its Own Cat Cafe—Where Kids Can Play and Cuddle with Kitties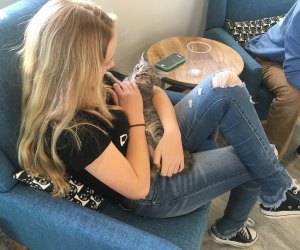 If the internet really is just a vehicle for cat videos, then LA gets the ultimate internet cafe this weekend. Cat cafes have been a thing in New York for a while, but Angelenos have had to wait for someone to jump through the hoops required to open a haven of kitties and caffeine here in LA. This weekend CatCafe Lounge opens its doors in West LA, inviting cats and cat-lovers to curl up together over a tasty drink and a toy mouse.
CatCafe Lounge is the, er, pet project of one family who really loves cats. The comfortable, sunny cafe is home to 30 cats who have all been saved from death row in the city's animal shelters. The cats are all friendly and in good health, and they all seem thrilled to have ended up in this cozy space full of sofas, cat towers, and inviting laps. Fans of the feline can book a time slot to enjoy a drink and some quality time with kitties.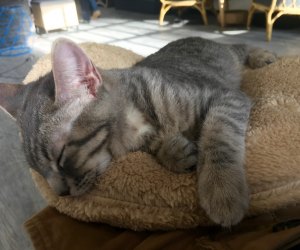 Reservations cost $25, are technically for an hour (though no one is chasing anyone out), and include coffee and tea from the drink counter as well as free wifi. Once checked in, the rest is obvious: play with the cats! This is a great way for families who can't have pets to enjoy some furry cuddle time; a parent with allergies or a landlord's strict pet policy needn't stop your little ones from getting in on the cat action. Mornings or late afternoons are the best times for frolicking, while the middle of the day is great for getting a kitty to curl up and purr.
Of course, every cat in the cafe is available for adoption, too, if bringing one home is an option for you—so brace yourself for some big, pleading eyes. If you can lay down the ground rules before heading in, though, the visit can be enjoyable without any campaigning to bring one home. The owners make a point of saying that everyone who visits is helping, since socialising with the cats and helping them to get comfortable with more people helps to make them more adoptable for someone else.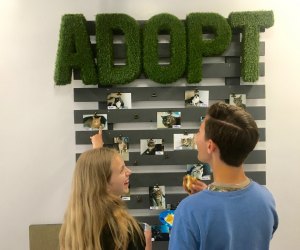 Kids as young as six years old are welcome to come get their kitten fix, though obviously the younger the child the more adult supervision is requested to keep animal relations successful. CatCafe Lounge is also happy to host birthday parties; bring a group of kids and a birthday cake, and the frisky kitties take care of the rest. You could even buy favors from the gift shop.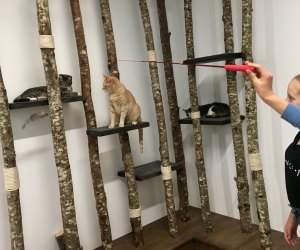 Residents enjoy hanging out in a variety of structures, and playing with anything that moves.
The cat cafe, like the other new space on the snuggling scene, the Annenberg Petspace, is a non-profit, with all proceeds going back into rescuing more cats. While the Annenberg is focused on a variety of community programs, CatCafe Lounge just offers a lovely spot to enjoy a cup of joe and maybe even get some work done while your little kids ooh and aah, and your bigger kids make a few cat videos to upload to the internet. And if someone makes a forever friend, maybe you'll even adopt a new family member.