Los Angeles Gets an Oscar: The Academy Museum of Motion Pictures Opens to Visitors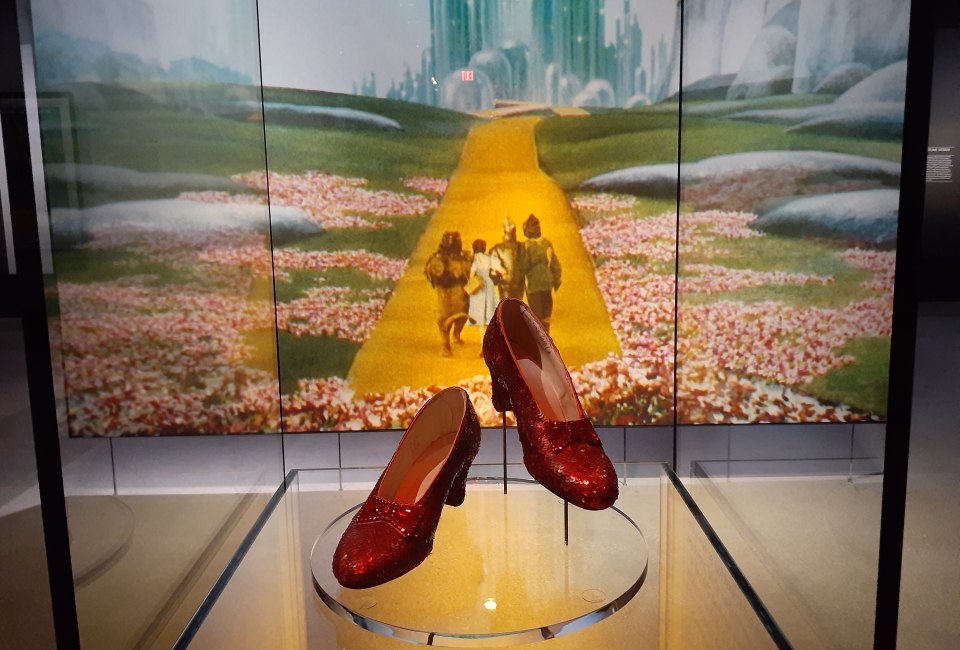 9/28/21
- By
Roberta B
"Do we need a movie museum?" Tom Hanks asked the first invitees in the Academy Museum 0f Motion Pictures' new Geffen Theater. He looked at us like we were crazy, before finishing, "Yeah!"
We Angelenos know what we're famous for. Hollywood has been synonymous with the movie industry for so long that people outside of LA don't even realize it's a neighborhood. Other cities have movie theaters, but only in LA do we see the street we just drove down to get to the movie theater on the screen in the movie.
So, yes, if there is one museum Los Angeles needed it was the Academy Museum of Motion Pictures, a museum dedicated to the art of film-making which we've been doing in this city for more than 100 years. Movies are LA history, and that makes it something to teach our children—who, incidentally, get free admission to the new museum! Read on to find out what we get to see, do, and experience at the new Oscar Museum—including holding our very own Oscar.
A New Addition to Museum Row

Don't call this the Death Star. Photo courtesy of the Academy Museum of Motion Pictures

The new, seven-story, 300,000-square-foot globe on Museum Row is NOT the Death Star, which architect Renzo Piano emphatically points out, so don't give in to the temptation to call it that. What it is is a remarkable facility housing four major exhibit halls, two state-of-the-art theaters, one immersive simulation Oscars Experience (more of that anon), a cafe, and a gift shop. The Academy Museum of Motion Pictures is, in short, heading straight for every tourist's shortlist of places to visit in Los Angeles, and we locals owe it to ourselves to see it first.
This museum has been a long time in the planning; in fact, the Academy has been collecting film memorabilia since 1927 and over the years has been the recipient of many celebrity collections. Early Hollywood legends like Katherine Hepburn and Hattie McDaniel bequeathed their personal treasures, and modern-day power players like Steven Spielberg have loaned some of their favorite mementos for the museum's halls. Film buffs can lose themselves in this place for hours at a time, and the wealth of items that will rotate through will keep each visit fresh. But is there enough to entertain kids—and if so, how young?"
How Kid-Friendly Is the Academy Museum?
The great news is that all kids under age 18 are admitted for free—which makes it a whole lot easier to find out if your kids like the museum!
The thing to know going in is that The Academy Museum does not have many interactive features; opening mid-pandemic has meant limiting hands-on options. Perhaps in the future there may be more buttons to press, but for now, the museum is more about looking than touching (except for the Oscar Experience, but more of that anon).
A kid who has seen a lot of movies will be as delighted as any other film buff. A kid who has seen The Wizard of Oz or the movies of Hayao Miyazaki will find plenty to learn and get excited about. And any kid is likely to enjoy seeing some of the early film techniques and illusions on display. That said, this is probably not a destination for preschoolers, except on Community Days.
Community Days are once-per-month family educational programs that delve into a fun film topic in a more hands-on way. For the first year, at least, these programs are free, courtesy of film industry donors. Be sure to watch for Academy Community Days on our activity calendar; October kicks off with a special Halloween Community Day on spooky make-up effects.

The editor's desk is where the magic is created...
Stories in Cinema: the Permanent Exhibit
Of the museum's four exhibit areas, one is dedicated to a permanent exhibit called Stories in Cinema, with rotating features that allow curators to share the vast collection of cinema artifacts that have been donated or loaned to the museum. The theme of the exhibit explores how movies have told their stories through the years, highlighting different disciplines and perspectives within the industry.
While many classic films and filmmakers are represented in this exhibit, curators have chosen to give a special focus to one all-time family favorite as an introduction to the film-making art: The Wizard of Oz. Fans of the movie can get a glimpse of early casting sessions, costume design, set design, and more to see how the story became a movie. Original props and costumes are on display—including the ruby slippers!—and clips and interviews show how some of the film's special effects were achieved. Interviews with ground-breaking technical designers show how actors were filmed in front of the twister, and a multi-faceted display explains the effect of the famous change from black and white to color as Dorothy entered Oz. The whole exhibit is a wonderful opportunity for kids to see how ingenuity solved complex problems in the era before we could just "do it with computers."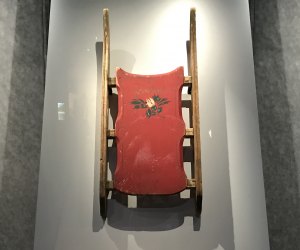 Rosebud. 'Nuff said.
The Stories in Cinema exhibit is not limited to The Wizard of Oz; other rooms shed light on the arts of acting, animation, screenwriting, editing, design, and more using examples from a full century of familiar films. Some of these will be more exciting to adults than to kids, although there may be kids who get excited seeing a sled called Rosebud or Bruce Lee's nunchuks.
Whether or not kids recognize the specific movie references, anyone who loves movies will be fascinated by the opportunities to peek behind the scenes at cinema secrets, like how freeze frame and slow motion are created at the editor's desk, how make-up experts manage to completely change an actor's appearance, and how different costumes look in person.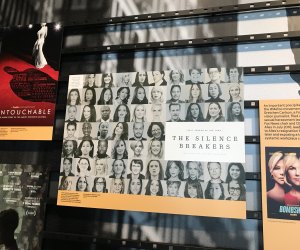 The exhibit also does not shy away from less comfortable issues like race and gender. The "Me Too" movement has a display in the permanent exhibit, with acknowledgment given to the people who have abused their power, and the people who have spoken out about it. Another permanent section explores how racial issues have been treated in film from its earliest days, including silent film clips and movie posters portraying African American experiences.
Other Exhibits at the Academy Museum

Road trip on Wilshire Boulevard!
In addition to its permanent Stories in Cinema exhibit, the museum opens with two semi-permanent exhibits, Backdrop: An Invisible Art and The Path to Cinema: Highlights from the Richard Balzer Collection, and one temporary exhibit dedicated to the films of Hayao Miyazaki. These are all expected to be on display for the first year.
Backdrop features a double-height installation of a painting of Mount Rushmore used in North by Northwest (1959), highlighting the convincing, often epic paintings that movie-makers have always used to set scenes. The Path to Cinema exhibit explores a variety of early film techniques, pre-cinematic optical toys, and precursors to movie-making. There's a room dedicated to magic lanterns, a projection art that goes back more than a hundred years before the first movie cameras, and there is a hands-on opportunity to create shadow play.

A special zoetrope uses Toy Story characters to demonstrate an old-school animation technique.
The museum's inaugural temporary exhibit, an homage to Japanese filmmaker Hayao Miyazaki, is a collection that includes more than 400 objects from his animated films, including Ponyo, Spirited Away, and other Studio Ghibli projects. The experience is guided by a four-year-old character from My Neighbor Totoro, who leads visitors into Miyazaki's enchanted world. Fans of these films will want to spend time enjoying the Magical Forest and contemplating the all-encompassing Sky View installation.
A separate room houses an intricate zoetrope, which demonstrates an early animation technique, using characters from the Toy Story films to make it more accessible for 21st-century kids.
Movie Screenings at the Academy Museum
You can't have a movie museum without movies, so the Academy Museum has two theaters with full screening schedules. Many of the films are kid-friendly, and tickets to see a movie at the newest theater in town are half the price of a regular movie theater.
The museum opens this fall with a special series of Hayao Miyazaki films to accompany the exhibition, as well as a Halloween season series of Oscar Frights.

Don't forget to thank Mom!
The Oscar Experience
OK, time for the coolest, most interactive part of a visit to the Academy Museum: the Oscar Experience.
For anyone who's ever watched the Oscars and secretly written their own acceptance speech, or imagined that glorious moment of running up on stage and holding the golden statuette for the camera, the Oscar Experience is the guilty pleasure of a lifetime.
The backstage area of an Academy Awards ceremony has been recreated, and a stagehand waits by the curtain to send you on stage. As you step out into the lights, the cameras roll, the music plays, and the audience you see before you goes wild with applause. You get to pick up an actual Oscar and enjoy your moment with it. Best of all, the entire glorious moment arrives in your inbox as a video souvenir; I foresee this clip turning up on lots of Facebook feeds in the near future.
The Oscar Experience is a $15 add-on that must be booked in advance; the option is offered when purchasing admission tickets on the museum website. Note that kids under the age of 12 can't do this activity alone; however, an entire family can go on stage as a group with one ticket.
Just make sure everyone thanks Mom.
The Academy Museum of Motion Pictures is open daily starting September 30, 2021.
All photos by Mommy Poppins unless otherwise noted
Places featured in this article:
---
The Academy Museum of Motion Pictures
Sign up for the Mommy Poppins Newsletter today!