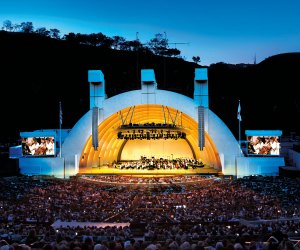 The Hollywood Bowl Is Back: These Are the Family-Friendly Concerts for Summer 2021
The Bowl is back! The Hollywood Bowl isn't just one of the best concert venues in America—for many LA families a visit to the Bowl means summer has arrived. It means picnics, cozy blankets, binoculars, fireworks, sing-a-longs, music, movies, stars on the stage, and stars in the sky.
This summer all your favorites are back: fireworks with a famous band on the 4th of July, the annual Sound of Music sing-a-long, and even a weekend with the wonderful John Williams. There are also amazing performers coming to the Hollywood Bowl for the very first time. So peruse our list of the family-friendly shows that we can't wait for and get ready for a very musical summer.