LACMA: Why You Should Visit, Even Though the Museum Is Gone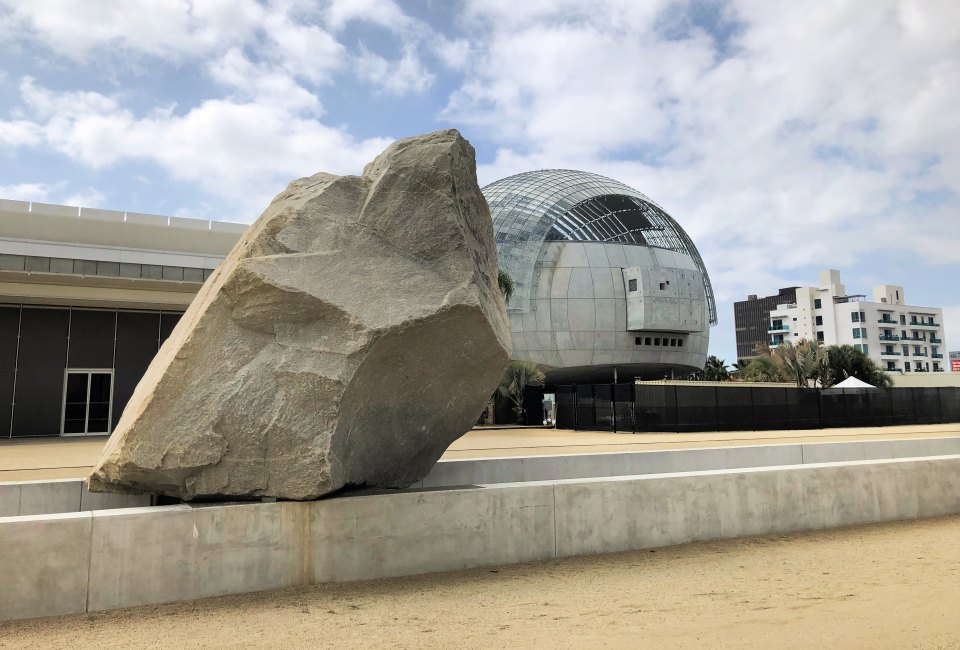 4/1/21
- By
Meghan Rose
A lot of things have changed in the last year. Many shops and restaurants have closed, a few new things have opened. But only one thing completely disappeared: LACMA. Okay, technically the museum is still there. It's even opening up again on April 1. But the main buildings (the Bing Theater, along with the Ahmanson and Hammer buildings and the Art of the Americas building) have all vanished.
I recently visited to see what's happening at Hancock Park and learned that while a vast majority of the art is in storage, there are actually lots of reasons to visit the LACMA campus—including outside art, inside art, scientists at work, cocktails in the courtyard, and a whole new museum. Read on to find out why a family trip to LACMA should be in the cards this (or any!) weekend.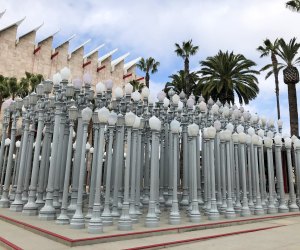 Urban Light, the streetlight sculpture at the LACMA entrance, is still a welcoming beacon.
What Happened To the Museum?
Pre-kids, I lived right near LACMA. I loved watching the parents walk their kids around the tar pits, wheel strollers through the galleries, and dance with their toddlers at the outdoor concerts. Turns out watching those families wasn't a fraction as much fun as doing those things with my kids! Once I had kids of my own, LACMA became our playground.
So our whole family was devastated when we visited the museum one Sunday (right before the world shut down, actually) to find out that all the art had already been crated, and most of the museum was a ghost town. Sure we knew it was coming, that a whole new space-age looking museum would be built. But it didn't seem like it could happen yet. Well, yet came during the pandemic, and a year ago, demolition started. All that remains of LACMA is the Pavilion for Japanese Art, the BCAM building, and the Resnick Pavilion.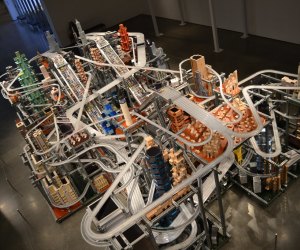 Chris Burden's Metropolis II is still here! Photo by ATOMIC Hot Links/CC BY-NC-ND 2.0
Open Sesame: When LACMA Is Opening
So, what's opening on April 1? The Pavilion for Japanese Art will remain closed, but the two buildings designed by Renzo Piano (BCAM and the Resnick Pavilion) are being incorporated into the new museum design. Here's the good news: Metropolis II, the Chris Burden living, whirring piece of art that every child I've ever met adores, happens to reside in the BCAM building. That's reason number one to visit LACMA soon.
Exhibits will rotate through the top two floors of the BCAM building and the Resnick Pavilion, including Do Ho Suh's work 348 West 22nd Street. That's reason number 2 to bring kids to LACMA: this dreamlike recreation of an apartment is art you can walk through, and kids of all ages can appreciate it at varying levels. Read on for more reasons to visit...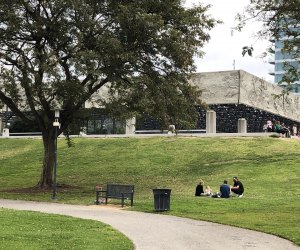 Have you tried rolling down a big grassy hill lately? This one is perfect for that activity.
Those Magnificent Grounds
Once your kids have had their fill of Metropolis (or it goes on break, or your eardrums demand some silence—whichever comes first), head outside, where you can honestly spend a whole day. You can:
Have lunch at the newly opened Ray's + Stark Bar, where the food is truly delicious, the cocktails crisp, and the setting soothing. Opens April 7
Or grab some of the tastiest cookies, pastries, and milkshakes at C+M (Cookies + Milk) to eat while you explore. Opens April 7
Head over to the Tar Pit Museum, which opens April 8.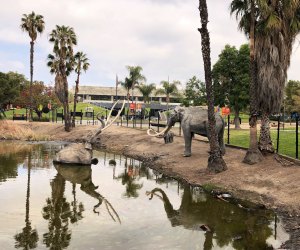 Some things haven't changed, like the Lake Pit mammoths. Still stuck!
Walk around the iconic giant tar pit (called Lake Pit), the one with the life-sized woolly mammoths trying to escape.
Watch actual scientists at work in the excavation pits.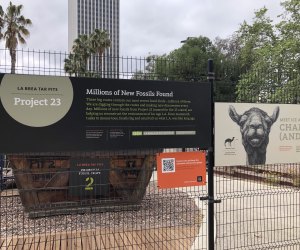 Scientists are hard at work behind these gates.
Do your own excavating! Tar bubbles up in random spots throughout the park and nothing is more fun than taking a giant stick and poking around in the tar. Also, nothing is more messy, so if you plan on this activity, dress the kids in old clothes. Tar does not come out.
Walk through the Pleistocene Garden, where flora native to LA 40,000 years ago grows.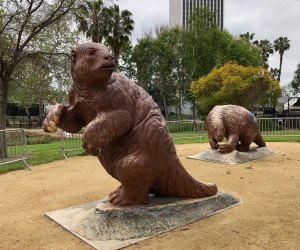 Can you believe these guys used to call this neighborhood home?
Say hello to the giant sloths.
See sculpture art that has been moved to the plaza at LACMA.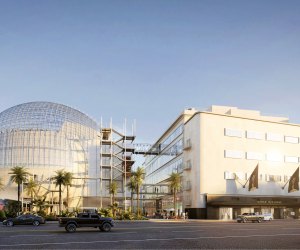 This is where Dorothy's ruby red slippers will live forever. Image courtesy of AMPAS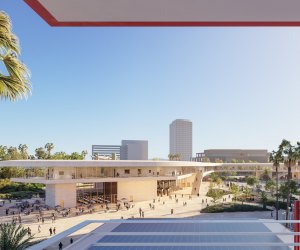 And this will be the new museum ... in a few years. Image courtesy of Atelier Peter Zumthor & Partner/The Boundary
When Is the Rest of LACMA Opening?
They say construction (which will span Wilshire Blvd., cost about $700 million, and somehow end up with less room for the art) will be completed at the end of 2023, and the museum will fully reopen in early 2024.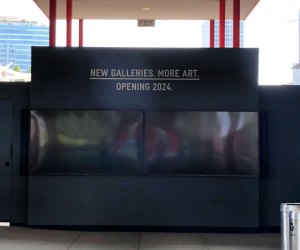 Coming soon?
Peeking through the construction fence at what is currently a giant hole in the ground, that notion made my kids burst out laughing.
Visiting LACMA
LACMA is still free for children and their parents, courtesy of the Nexgen membership program. The museum is also free to all LA County residents after 3pm. Tickets, for members and NexGen members as well, must be reserved in advance; there will be no onsite ticketing. All visitors over two must wear masks.
The museum is open weekdays (except Wednesday, when the museum is closed) from 11am-5pm, and on weekends from 10am-7pm. There is paid parking at the Pritzker Parking Garage on 6th St., just east of Fairfax Ave., but you can usually find street parking on 6th Street, or one of the side streets. Restrooms are available in both open LACMA buildings, and both buildings are fully stroller and wheelchair accessible.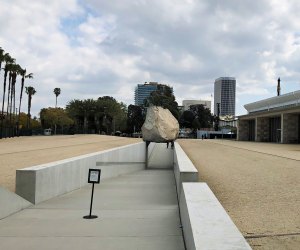 All photos by Meghan Rose, unless otherwise noted
Places featured in this article:
---
LACMA (and other Museums)
Sign up for the Mommy Poppins Newsletter today!
i