Chris Burden's Metropolis II at LACMA: Moving Sculpture for the Whole Family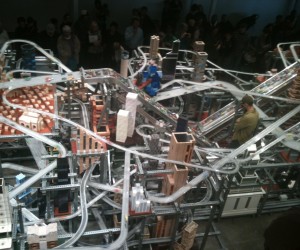 If you were to hear that LACMA has gotten even more family-friendly and exciting for children, would you believe me?
Sometimes I sit back and think about how lucky we are in Los Angeles to have big, open museums that welcome children. The California Science Center continues to be one of the great places for hands-on museum experiences. The Natural History Museum combines exciting new exhibits with that old-school stuffed animal experience we remember from our childhoods. And then there's LACMA.
Since the redesign and renovation several years ago, the Los Angeles County Museum of Art, now branded simply as LACMA, has become one of the great all-time museums for the whole family. The flow is fantastic with galleries and pavilions opening up to courtyards and cafes providing a plethora of outdoor space, with areas where children can run around, peek at each other through a sea of lampposts, or spread out in the grass and have a family picnic. It is not a museum where you have to worry about being stuck in the middle of an enclosed space with a screaming child and no exit. There's always somewhere to go. Even the snack bar and restaurants are friendly and not absurdly priced.
The museum has cultivated this inclusive experience with its incredible NexGen program: every child under the age of 18 can become a "NexGen" (next generation) member for free. Each child can bring along one adult, also free of charge. There are also workshops, special events, and classes available to children in the NexGen program. The LACMA website even provides a list of tips for visiting with children, including "have a seat—sit on the floor! (Just don't block any doorways)," and "relax, have fun and enjoy the moment!"
Not sure where to start? The Broad Contemporary Museum at LACMA is a great introduction to museum-going for any newbie. High-ceilinged and open, that gigantic elevator ride alone is worth the trip. The Broad Contemporary is already home to large, metal maze-like Richard Serra sculptures and Jeff Koon's mesmerizing shiny balloon dog. Giant-sized fun art that draws children in - how could it possibly get any better?
And then along comes Metropolis II, the most exciting installation for children (and the rest of us) in the history of ... well ... installations. Chris Burden is the artist responsible for the now iconic lampposts, and his new installation in the Broad Contemporary has taken the LACMA experience to the next level for the NexGen.
LACMA's website describes Burden's Metropolis II installation as "an intense and a complex kinetic sculpture, modeled after a fast paced, frenetic modern city." To put it more simply, Burden has constructed a gorgeous, complicated miniature city out of everything from wooden blocks to mirrored tiles and wrapped the whole thing in train and car tracks. Some buildings look right out of Dubai, others Las Vegas, and on one side? A big Eiffel Tower. Check the times (listed below), as this is an exhibit that opens and closes throughout the day. Be on line a bit before the opening time in order to see how the installation moves from dormant to frenetically alive. Walk around to gaze at it from each angle, then walk upstairs to the balcony to be mesmerized from above. It is intense, as Burden describes it, and for this mom, the sound and movement created an almost vertigo-like experience after a little while. Be prepared to tough it out though, because if your children are anything like mine, they will want to stay the entire hour and watch what happens when the city goes back to sleep.
See Metropolis II in action at these times:
Fridays 12:30pm-1:30pm; 2:30pm-3:30pm; 4:30pm-5:30pm; 6:30pm-7:30pm
Weekends 11:30am–12:30pm; 1:30pm-2:30pm; 3:30pm-4:30pm; 5:30pm-6:30pm
5905 Wilshire Boulevard
Los Angeles, CA 90036
323.857.6000
Free for children and their parents, courtesy of the Nexgen membership program
Originally published March 23, 2012