Go Strawberry Picking near Los Angeles: Family Farms Where Kids Can Pick Berries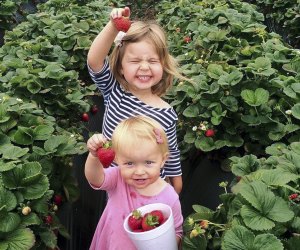 Sometimes it's best when your outfit matches the berries. Photo courtesy of Underwood Farms
Be sure to check the farm's hours and the availability of fruit before heading out to pick berries. There's nothing worse than driving excited kids to a berry field just to find that the produce is picked over. A phone call to the farm before hopping in the car can save a lot of tears.
One more thing: picking berries is hot work! Don't forget to slather on the sunscreen, don a wide-brimmed hat, and bring full water bottles.
Strawberry Picking in Los Angeles & Ventura County
Strawberry picking typically runs from mid-March to early July.
A fully functioning farm, Underwood is a place where children can get a real sense of farm life and come home with a basket bursting with fresh, sustainably grown berries. In addition to the picking, the farm hosts summer camps and seasonal weekends. There's a fantastic pumpkin patch in the fall, Christmas trees in the winter, and a springtime event with visits from the Easter Bunny and baby duck feedings. (Is there anything cuter than a baby duck?) You can even plan a birthday at this year-round attraction.
Hop on a FREE tractor ride to the fields to pick strawberries and other fruits and veggies (depending on availability). After you're done, you can visit the animal center, ride the train, play on the "fun hill" and wooden play equipment, slide down the combine or harvester slides, scale the hay pyramids, or navigate the trike trail. It's all free with the price of admission! Underwood also sells activity tickets for additional experiences like the bee train, the electric train, and gem mining.
Strawberry picking typically runs from mid-March to early July.
This is the smaller of the two Underwood Family Farms. Unlike its big sister, which has PYO veggies and fruits all year round, this little venue only offers berries, navel oranges, and tangerines. Somis rotates through crops of strawberries, blueberries, raspberries, and blackberries from March through November. It's an easy walk to the fields and berries are paid for by the pound.
On the way to the fields, there is a small play area with a wooden truck and sandpit. Chances are, you'll have to pause there for a minute and let your kiddos play. There is also an animal center with sheep, alpacas, chickens, and plenty of pygmy goats. The livestock pens are set in the middle of a citrus grove and are surrounded by picnic tables. Bring a picnic basket or pick up some yummy snacks at the farm store and enjoy an idyllic day at this sweet little strawberry patch.
RELATED: Campgrounds with Extra Entertainment To Keep Kids Happy​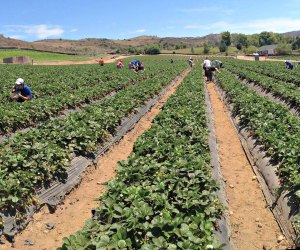 Picking your own means earning every juicy bite. Photo courtesy of Tanaka Farms
Go Strawberry Picking in Orange County
Strawberry picking typically runs from early March to late June.
Strawberry picking is on and reservations are required! Once you book your tour on your website, expect an educational experience complete with a wagon ride, a stop to pick a seasonal veggie, and a final destination at the strawberry fields. A tour guide will tell you all about the history of Tanaka and the methods of farming used to produce these juicy berries. Each guest is encouraged to pick one pound of strawberries, included with the price of admission. After your berry adventure, visit the barnyard and meet some of the animals that call this farm home.
Berry picking tours depart less frequently on weekdays and fill up on both weekdays and weekends, so be sure to check the schedule and book your tour before leaving for the farm.
Come back in the fall for pumpkins! The drive-thru produce market stand is open daily from 9am-5pm.
Strawberry picking is scheduled to begin late this year, in mid-April. Check the farm's Instagram to make sure u-pick is open when you're ready to visit.
This is an unusual pairing: u-pick strawberries and potatoes! But this farm is loads of fun, and the kindest, most welcoming family-run business you'll find. U-pick is priced by the pound, with a $5 admission fee per car. There is no separate per person admission fee to the fields, making it a great place to take younger kids (if you don't know how long their attention will hold and don't want to pay admission for a 5-minute visit!) and big kids (who dream of picking enough berries for jams and pies all summer long). This small, local, organic farm grows some of the sweetest berries you'll ever taste, and if you can't get over to the farm to pick, all the farm's fresh produce is for sale at the Dana Point Farm Stand.
RELATED: Find an Amazing Petting Zoo Near Los Angeles Where Kids Can Meet Animals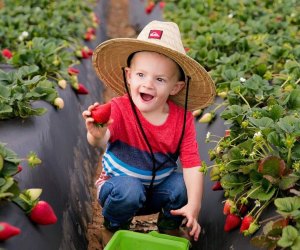 Strawberries as big as your hand, and as sweet as candy. Photo courtesy of Kenny's Strawberry Farm
Farms for Strawberry Picking in San Diego County
Strawberry picking opens in mid-March and typically runs to late June.
Kenny's makes strawberry picking an easy, fun activity for the entire family. First, and this is important, you must make your reservation online or by phone! When you arrive and check in, you can pay for your basket and get to picking. Both the website and phone line are updated daily so you can check to see if weather or berry supply will affect the day's hours. The farm is only open Friday through Sunday. They also have a restaurant, Kenny's Farm Kitchen. Trust me, you definitely don't want to miss out on the strawberry lemonade, strawberry shortcake, and strawberry ice cream bars. They are quite a treat!
RELATED: Best Farms Near Los Angeles for Family Fun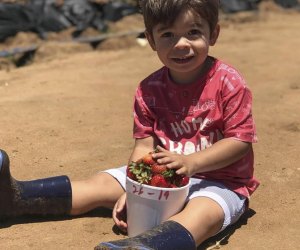 Berry picking can be hard work. Break time! Photo courtesy of the Carlsbad Strawberry Company, Facebook
Strawberry picking is scheduled to begin late this year, but the farm is usually open for u-pick from February to mid-July. (It's warmer down south, and the season starts earlier!)
This 25-acre farm will have you singing "Strawberry Fields Forever" as you pick. It's a little pricier here; a bucket is $12 and holds 1 1/2 to 2 pints of strawberries. An admission fee applies to anyone who does not purchase a bucket. Be sure to call ahead and make sure the fields are open before visiting (the farm does not take reservations). The fields close when it rains. Carlsbad Strawberry Company is open from 9am to 5pm daily, but they stop selling U-pick tickets at 4:45pm. They are also adding a sunflower maze and tractor rides to the farm.
Strawberry Festivals Near Los Angeles
Typically takes place on Memorial Day Weekend
For more than six decades Garden Grove has been celebrating the strawberry! The Garden Grove Strawberry Festival is a three-day event chock full of rides, live music, contests, and even a strawberry day parade. The festival usually takes place over Memorial Day Weekend, check our listing for details. While this is not a U-pick event, there is always an abundance of strawberries ripe for purchasing.
Originally published June 15, 2012