Cherry Picking near Los Angeles with Kids: Favorite Family Farms in the Leona Valley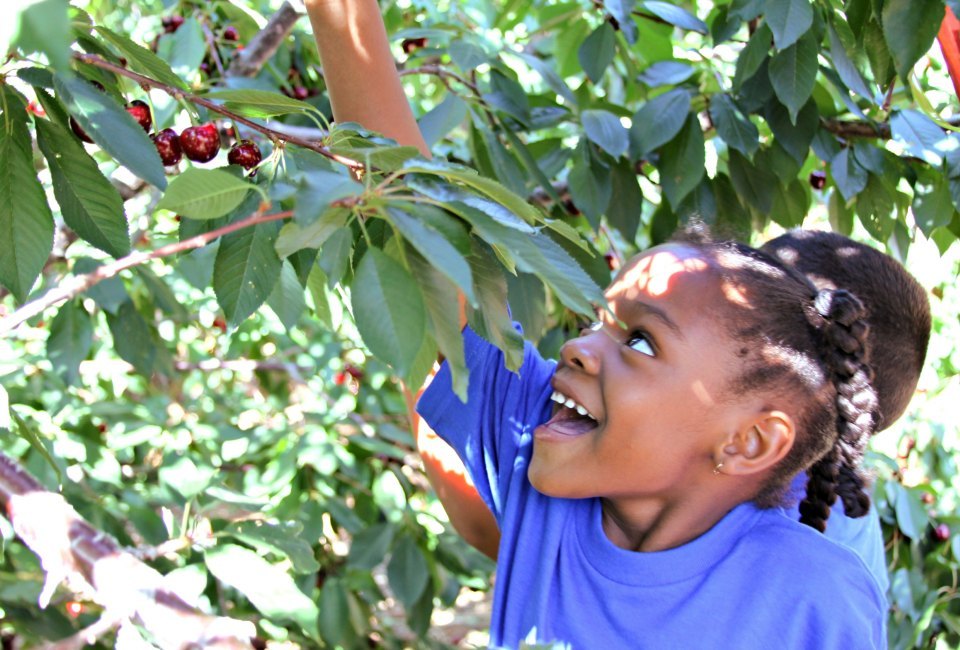 5/24/22
- By
Meghan Rose
Of course you can go cherry picking near Los Angeles—SoCal is the fruit basket of the country!
You've been strawberry picking with your kids, and everyone has visited a local farm to pick a pumpkin from the patch in person. But have you ever gone cherry picking? Cherries do best in the high desert, and there are several pick-your-own cherry orchards in the Leona Valley, near Palmdale. It's a pretty ride into high desert horse country, and when you get there, kids can not only go cherry picking, but also pick other stone fruits and enjoy some time on the farm.
Which farms open year to year often depends on rainfall and how big a crop it yields, and when a farm is picked out, it may close. The cherry picking window is short; a farm will often not know exactly when it's going to open until a few days beforehand, when the berries are ripe. The Leona Valley Cherry Growers Association has the complete list of farms for the season; check each farm's website for opening dates and operating hours updates.
Cherry Picking Orchards in the Leona Valley
At 25 acres, this might be the largest you-pick cherry orchard in Southern California. It has about 3,000 trees with cherry varieties that include Bing, Rainier, Brooks, and Tulare. The season begins the first week of June this year, so check the website to make sure it's open the day you want to go and then hightail it up there with your buckets! This farm is the rare one that accepts debit and credit cards, which is handy, as they also have plenty of local honey this year, and you'll want to stock up. The farm is a working, family farm, and there is a minimum purchase (per person) requirement to help the farm survive. Call the Cherry Hotline for last-minute alerts at: 661.270.1356.
Cherry Hill typically opens for picking in the middle of May. Kids are welcome to help pick, but must remain with parents at all times. The farm is cash only (there's a minimum purchase per person at this farm); no dogs or smoking allowed. Check the farm's Facebook page to make sure the farm is picking on the day you want to go; the cherries, they are fickle. But delicious! Goat milk soaps and local honey are also available.

Pick a peck of sun-sweet cherries. Photo courtesy of Windy Ridge Ranch
This is a family-owned orchard with Bing and Rainier cherries growing on dwarf trees. The farm trims the trees to seven feet, so all the cherries are within easy reach from the ground—a big plus for kids. A tractor-pulling tram, another attraction for little ones, takes you from the base of a hill to the orchard. There's a shaded picnic area from which you can enjoy the farm's top-notch views of the valley. The farm usually opens in early- to mid-June this season but be sure to call to confirm before you visit at 661.270.9106. If you miss the cherries, the farm grows a variety of fruits, including peaches, pears, and plums that ripen from July through October.
Rolling Thunder guarantees pesticide-free fruit and offers three varieties of cherries to pick. The farm takes cash only and typically opens in mid-June, though opening dates always depend on how fast the fruit ripens! Call 661.270.9688 for updates.
Full Moon Cherries is another small family farm that only takes cash. You can track the cherry growing progress on Facebook, and as soon as the cherries are ready to pick, the farm posts the opening dates and hours there (usually early June).
The Annual Cherry Parade and Festival
A local favorite, the Leona Valley Improvement Association Annual Cherry Festival, takes place on June 3, 2023. It doesn't get more down-home or sweet than this festival, where a local school kid suggests the theme. This year it's "5-0-Cherry-Oh!" So head on over to buy a t-shirt with that saying on it, see the car show and parade, buy some cherries and honey, and take part in a pie-eating contest! (This pie contest isn't how much you can eat, it's how fast you can eat one slice.) If you're not a fast eater, pass that by and opt for one of the famous fried cherry burritos. Mmmmmm.
Sign up for the Mommy Poppins Newsletter today!
i