What Is a Charter School and How To Find One in Los Angeles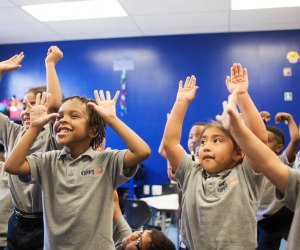 3/15/14
- By
erika
In last week's Mommy Poppins LA schools feature, we provided an overview of school choice and promised more information on each of the available choices. This week, due to rapidly approaching application deadlines, we are focusing on independent charter schools, attempting to separate myth from reality and address commonly asked questions, including: What is a charter school? Why are so many families choosing charter schools? What sets charter schools apart from traditional public schools? Why is there controversy around charter schools? And how do we build alliances between traditional neighborhood schools and charter schools?
CHARTER SCHOOL BASICS
First of all, charter schools are public schools. They are tuition-free. They participate in state tests. They employ credentialed teachers. They admit all students. If your child has an IEP (individualized education program) or tests as GATE (gifted and talented), charter schools - like all public schools - are charged with providing appropriate curriculum for him or her. There is a common misperception that charter schools receive extra funding or charge tuition to families or that they do not serve the same students. Charter schools, in fact, receive less funding than district schools in Los Angeles while serving the same populations as all public schools. Many charter schools also pay for space and other services that are provided to other LAUSD schools.
At this point, most of us are painfully aware that all public schools in California are underfunded, whether they be traditional or magnet or charter. Per pupil funding in California is among the lowest in the country. Charter school advocates fight for funding as vigorously as all public school advocates, but they also tend to address the waste in big top-heavy districts and encourage schools to become more independent and therefore be in charge of how their limited resources are spent.
COMMON QUESTIONS ABOUT CHARTER SCHOOLS
Please, Just the Basics and a List?
CCSA (an advocacy group for charter schools in California) has a video entitled Charter Schools 101 that gives an excellent overview of the basics of charter schools. It also provides a list of all charters in the state, with links to individual school websites. The LAUSD website also links to all charters, describing charter schools as "part of the District's family and an asset from which we can learn."
How Are Charter Schools in LA Governed?
According to the LAUSD website, charter school governance structures may vary, but California Education Code requires charters to include a reasonably comprehensive description of the school's governance structure. Individual boards of directors often govern independent charter schools and are responsible to be transparent with finances, guide long-term planning and curriculum, and have open lines of communication with their constituencies.
How Do We Get In?
Charter schools operate on a lottery system when demand overtakes capacity (see Waiting for Superman), which can be frustrating and stress-inducing for parents. It is the great demand for new models of public education that has made charter lotteries so competitive. The purpose of a lottery is to even the playing field for all children. If you live in a neighborhood where your local neighborhood school has become a charter (through a process in which community members work together to convert), chances are your school's charter includes a preference for children who live in the neighborhood, then opens the lottery for extra spaces. Charter school founders can write in preferences, for example, for siblings of current students or children of staff. Other than that? Pure lottery.
What Is the Application Process and Will We Lose Space in Our Neighborhood School?
Parents may fill out lottery forms for multiple independent charters and submit them directly to the schools. Submitting applications to charter schools does NOT affect your status at your local neighborhood school. If there are more applications than spots, a lottery occurs and families are notified if their child's number has been pulled. If a family decides to enroll in that charter, the paperwork is filled out and the space is held. There is no paperwork that needs to be picked up at the local school. If your child has already been attending, it is courteous to let the local school know that you will not be continuing. In Los Angeles, there is much shifting throughout the summer and into the school year as families move neighborhoods, make different decisions, are offered spots that previously didn't exist. All schools appreciate being informed as soon as you know that you are making a change. Funding is dependent on enrollment.
What If We're Looking for More Family Involvement?
Since charter schools are public schools, they can no more require family volunteer hours than they can ask for tuition. There is, however, a heightened culture of family involvement at most charter schools. One of the most commonly cited reasons for choosing a charter school is the desire for an environment in which parent involvement is not only encouraged but embraced. Family involvement creates a great school environment, and charter schools tend to really build that aspect of the culture.
Why Do Teachers Choose Charters?
Many teachers report preferring to work in the charter school environment for the community and innovation it offers. Alison Sitrick, Eddy-Award winning teacher, describes her decision: "I enjoyed each of my eight years with LAUSD, but when I left to become a founding teacher at WISH, I realized how truly happy I could be. At WISH, everyone collaborates - teachers, paraprofessionals, parents, administration - to help serve children the best way we can. I helped build a school and a community. I have a voice at WISH and my voice is valued."
What About Unions?
Many charters unionize when they become big enough for it to be feasible, with only a few conversion charters (Birmingham and Granada Hills Charters, for example) choosing to use the UTLA (United Teachers of LA) long-form contract which includes an unyielding tenure structure, and strict seniority rules that result in frequent displacement of teachers and disruption of community. In a strange turn of events, former president of UTLA, A.J. Duffy, who spoke regularly and passionately of charters as "the new yachts of the billionaire club," has been approved to start a charter group called Apple Academy, with Caprice Young, former pro-charter LAUSD Board President and head of CCSA.
Do Charters Keep the Same Schedule as LAUSD?
Charters have the freedom to make many of their own decisions, including schedule. Many charters make decisions by polling parents on everything from dress code to school hours. Most charter schools plan to adjust to the LAUSD schedule because many families have children in both charters and neighborhood schools, and summer and vacation activities in Los Angeles will also shift with the schedule change. Contact individual charters to find out their schedules.
CHARTER ORIGINS
The number of charter schools has multiplied over the past few years.
Charter schools now serve more than 400,000 public school students in California. Because of this, almost everyone knows someone who is involved in a charter school; and because of this increased awareness, there a sense that this is a new movement. However, California's Charter School Act was passed 20 years ago. The 1992 Charter School Act was a response to calls for public school reform and an attempt to address educators' desires to implement new, innovative practices that were hard to implement in big, established districts. Charters were designed to be labs, where teachers, administrators, and parents could partner to create something new. Independent entities were encouraged to open public schools with the intention of serving underserved communities, modeling innovative education for all schools, and challenging larger districts to improve practices. All charters are overseen by the state and local districts, and LAUSD-issued charters must be renewed every five years. The following are the listed goals of the charter schools act:
(a) Improve pupil learning
(b) Increase learning opportunities for all pupils, with special emphasis on expanded learning experiences for pupils who are identified as academically low achieving
(c) Encourage the use of different and innovative teaching methods
(d) Create new professional opportunities for teachers, including the opportunity to be responsible for the learning program at the school site
(e) Provide parents and pupils with expanded choices in the types of educational opportunities that are available within the public school system
(f) Hold the schools established under this part accountable for meeting measurable pupil outcomes, and provide the schools with a method to change from rule-based to performance-based accountability systems
(g) Provide vigorous competition within the public school system to stimulate continual improvements in all public schools.
INNOVATIVE PRACTICES / UNDERSERVED COMMUNITIES
While all charters are charged with a) improving pupil learning and f) holding the schools accountable, each charter school, or group of charter schools, is launched with an intention. The Kipp schools, a national group of charter schools, opened an LA "college preparatory" academy with the mission to "prepare students in underserved communities for success in college and in life." The Kipp charter group, along with Aspire, Green Dot, and Camino Nuevo, and many other charter schools embody goal "b" above, as they "provide expanded learning experiences for pupils who are identified as academically low achieving." Many charter schools are started with the intention of doing what it takes to eliminate the "achievement gap," which is the gap between white students and students of color, wealthy students and low-income students. A school in Sacramento, PS 7, was honored this year at the CCSA conference for not only closing the achievement gap, but actually reversing the trend.
Other charter schools are launched with more of an eye toward c) encouraging the use of different and innovative teaching methods, and e) providing parents and pupils with expanded choices in the types of educational opportunities that are available within the public school system. Ocean Charter in the Mar Vista/Del Rey neighborhood, for instance, uses a "whole child curriculum" that draws from Waldorf philosophy, which many parents become familiar with in pre-schools in Los Angeles. There are dual-language charters, including Goethe Charter which teaches English and German while following the international baccalaureate program, and many charters that emphasize a hands-on and project-based approach to education, from the Da Vinci schools to Larchmont Charter. Chime Institute in the Valley and the new WISH Charter in Weschester both provide innovative learning by partnering with universities (CSUN and LMU) and using the newest educational research to inform curriculum choice. One of the educationally-sound research principles that both schools have put into practice is a full-inclusion model that offers equality in education to children of all abilities, with individualized learning programs for all.
CHARTER CHALLENGES
Charter schools offer unique environments in which innovative curriculum and different models of education can be applied, with the oversight of the district, but with the added element of freedom to expand beyond certain strict district policy. Their popularity among families, teachers, and education advocates is undeniable (evidence the long waiting lists at most charter schools in LA). However, we've also all heard that charter schools are controversial in some communities.
Some of the anti-charter rhetoric is based in the fact that not all charters are unionized. Many larger charter groups are now unionizing; others believe that an at-will contract with teachers and administration working together to best serve children is the best solution. Like all conversations around unions, this is bound to be an ongoing conversation.
Neighborhood school activists occasionally accuse charter schools of taking the most involved families out of the neighborhood schools. The other side of the conversation maintains that deeply involved families who believe in public schools make a choice that is best for their children and where they live should not determine their choices.
Another common challenge is a reality in any urban setting: space. Charters continue to fight for appropriate space, which Prop 39 mandated be shared evenly amongst all public schools. On the other side, neighborhood school leaders feel encroached upon by charters. Several recent stories of positive experiences, between Broadway Elementary Mandarin Pilot Program and Green Dot Charter High School, and Selma Elementary and Larchmont Charter, provide models for creative, progressive co-locations.
POSSIBILITIES
As is stated in the original Charter School Act, charter schools in California are charged with the job of "providing vigorous competition within the public school system to stimulate continual improvements in all public schools." It is from this that all public school families and activists should take hope. The stronger our charter school system, the stronger our public school system, as long as we make sure that the flow of information is working the way it is supposed to. Make no mistake, charter schools are not meant to be enclaves of innovative education kept to themselves and serving just a few families' children. Charter schools are meant to improve education for all children. And that is the key to minimizing the bickering and growing the dialogue: All Children.
Top photo of KIPP Ignite Academy. Photo by Ethan Pines
This post was originally published on March 12, 2012