The Broad Museum: Downtown LA's Free Museum for Contemporary Art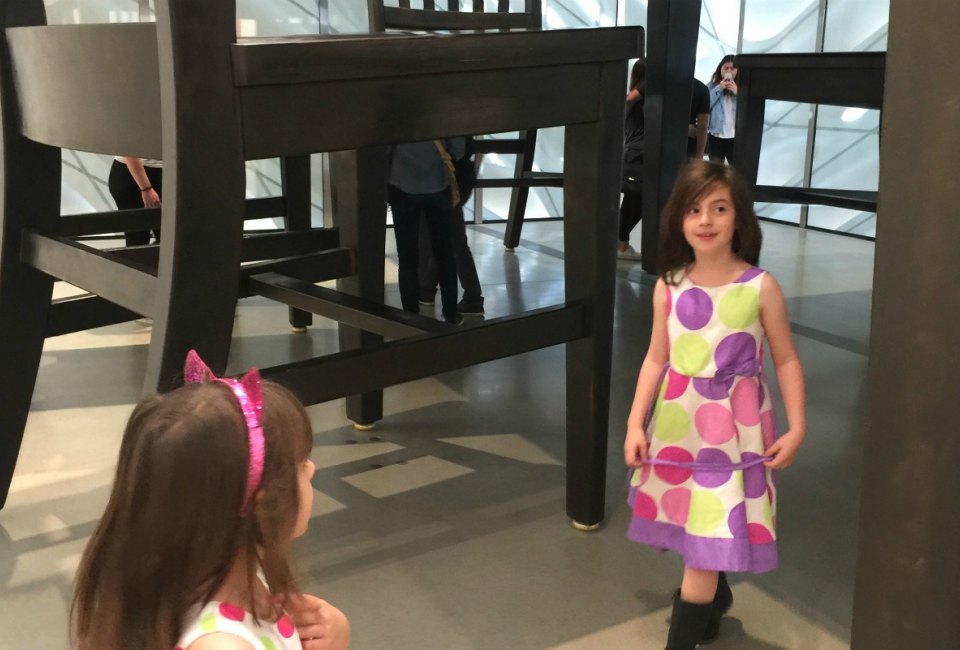 9/21/15
- By
Jacqueline Stansbury
Los Angeles has received a stupendous gift: The Broad Museum is the newest addition to our cultural landscape, and admission is always free. As long as the museum is new and exciting, plan on booking those free tickets in advance, though. More details on that below.
Art can be tricky for kids; they know that, like vegetables, it's supposed to be good for them, so they sometimes resist. If you don't catch them in the right mood, a day at the museum can be torturous for everybody involved. There's nothing worse than plunking down admission fees and realizing ten minutes later that you already have to leave, or choosing to stay and realizing two hours later that nobody saw, engaged with, or enjoyed any of the art. Thanks to founders Eli and Edythe Broad, our new museum is free and always will be. It is a gift to the public of epic proportion.
The collection at the Broad covers a wide swath of contemporary art. It is personal and political; there is whimsy and drama, sound and silence, light and dark. This is a great place to introduce kids to the idea of experiencing art. Many of the pieces are bold and bright and big, all things that are relatable to young eyes. The Broad does not have a dedicated children's play and activity area. I think it is refreshing not to have this distraction. If you want your kids to look at art, don't take them to a corner with crayons and costumes; they can do that at home.
Instead, make your kids look at the textured, porous exterior of the building. Let them notice how it deliberately contrasts with its bright and shiny neighbor, The Disney Concert Hall. Once inside, they can be mesmerized by the soft, cave-like tunnel through which the escalator glides.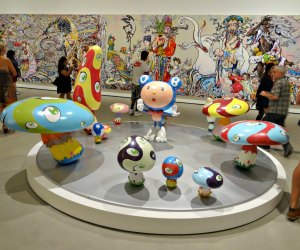 Photo by Sharon VanderKaay/CC BY 2.0
The main gallery is on the top floor. Kids will surely make a beeline for Jeff Koons' Balloon Dog (Blue) or Robert Therrien's gigantic table and chairs, which are big enough for grown-ups to walk beneath.
There is a free Broad Museum app which I downloaded. This includes "Looking with LeVar," an audio tour designed for kids that highlights 18 individual pieces. It is super easy to use and beautifully narrated by LeVar Burton, whose spirited enthusiasm for the works he discusses is infectious. I love the app because Burton talks to kids as educated peers but keeps it brief and always kid-centric. He covers the obviously child friendly pieces, but also manages to find a way in for those that are less likely to be appreciated by children. I admit that I was surprised to see Damien Hirst's Away from The Flock included. This is a glass box filled with a sheep floating in formaldehyde. My first thought was "Ugh. Not for kids!" And, it certainly won't be for every kid, but if you are accompanying children who are slightly older or not disturbed by the cycle of life it is worth stopping, looking, and listening to what LeVar has to say: "Yes, the sheep is real and yes, it's really dead." He goes on to succinctly explain that the intention of the work is to get people to think a bit before they eat and wear animals, and adds that the artist grew up in Leeds where the Natural History Museum and Art Museum stood side by side, thus influencing his work, which combines elements of both.
There is an elevator, but if you take the stairs down to the first floor gallery, you can peep through a window to the museum's most unique feature, its storage space–where art works not on display or loan are kept safe. Kids love a glimpse behind the scenes into how things work, and adults can be equally curious (though some of us who yearn for more closets may well feel quite envious).
The first floor gallery has two of my favorite stops for kids, both of which are brought to life on the audio tour. Chris Burden's Bateau de Guerre is a flying war ship constructed of gasoline cans and Playmobil, ordinary everyday items that combine to become something extraordinary. My kids are fans of Burden's street lamps and engineered Metropolis II at LACMA; it will be fun for them to see this new work. Nearby, is a room dedicated to artist Takashi Murakami, whose mural In the Land of the Dead, Stepping on the Tail of a Rainbow is the longest artwork (certainly the longest title!) in the museum, measuring 82 feet. It is a bright backdrop for the East meets West sculpture DOB in the Strange Forest, which is a medley of Alice in Wonderland and anime, enchantingly and vividly brought to life by LeVar Burton on the audio tour. My kids love all things pertaining to Japanese culture. We will end our trip to the museum here and then head to Little Tokyo for some post-museum refreshment and shopping.
The opening of the Broad is a turning point for our forward thinking city. Downtown Los Angeles has become a vibrant and culturally significant destination for the 21st century, with a Grand Park, three modern art museums, great restaurants, and multiple music and theater venues. Yet while there is much about this neighborhood that is new, a few blocks away on Olvera Street, it is possible to see where it all began, when Los Pobladores first brought water to our city via the Zanja Madre, recently unearthed in Chinatown.
Advance reservations are recommended; free tickets are released on the first day of the month. It is also possible to get stand-by tickets on the day, though, if your plans are spontaneous.
The Broad Museum
221 South Grand Avenue
Los Angeles, CA 90012
(213) 232-6200
Mon-Tues 11am-5pm
Wed-Fri 11am-8pm
Saturday 10am-8pm
Sunday 10am-6pm
Admission is always free! Tickets can be reserved on line, but also possible to walk-in.
Top photo by Li Starr
Places featured in this article:
Sign up for the Mommy Poppins Newsletter today!
i