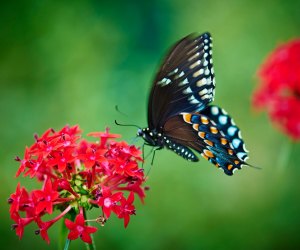 The Butterfly Pavilion Ushers in Spring at the Natural History Museum
Everyone's all a-flutter at the Natural History Museum. After months of COVID-19 closure, we Angelenos can finally celebrate the re-opening of the Butterfly Pavilion while there is still time to enjoy the unfettered joy that is an afternoon among the butterflies. The pavilion is back on the museum's South Lawn, offering delightful flutterby time on the same site where the creepier Spider Pavilion usually sets up in autumn. From chrysalis to butterfly, the Butterfly Pavilion is full of magical moments, which is why it rates as one of our 100 things to do with LA kids before they grow up.
Opening day for the butterflies this year is September 11, a full six months later than usual. Whether you and your littles are repeat customers or new to museum's annual treat, the Painted Ladies and Lacewings will put a smile on your face.
A visit to the Natural History Museum packs multiple outdoor delights: All in one visit you can wander the beautiful Pollinator Garden on the North Lawn—habitat for hummingbirds, butterflies, and honeybees, with activity stations and learning opportunities galore—and then continue on to the Butterfly Pavilion.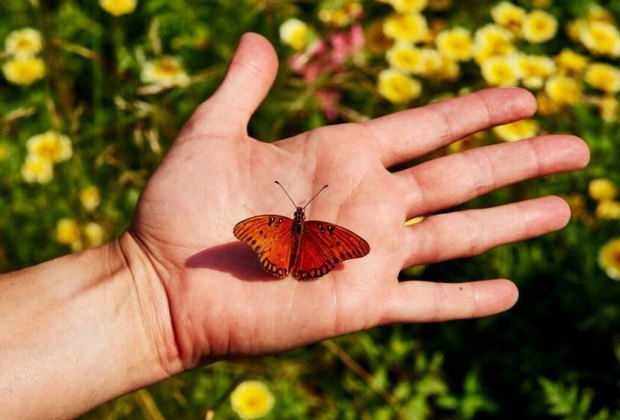 Catching isn't allowed, but you may be lucky enough to be landed upon. Photo courtesy of the Natural History Museum
The Pavilion houses more than 50 varieties of butterfly and moth, fluttering freely in a miniature eco system that offers them all of their favorite plants with none of their usual predators. Caterpillars fill their bellies, create cocoons, emerge as butterflies, feed on their favorite treats, mate, lay eggs, and eventually die peacefully of old age, all before our eyes. Kids can watch from inches away as butterflies uncurl their tubular mouths to draw nectar from a flower or check out the different kinds of treat each species prefers.
The museum staff are terrific and can help interested visitors discover which kinds of butterflies hang around which kinds of plants, look for and identify the different kinds of eggs, and recognize the different types of cocoon and chrysalis. Docents have large guide cards kids can use to help identify what they see. And though it might be tough for some kids to resist the urge to touch or pick up the lovely residents, the good news is that, while we're not allowed to touch them, they don't have to live by the same rules. If you spend enough time in the Pavilion, you may get some gorgeous winged critter hitching a ride at some point; you could even stack the deck by wearing something colorful or floral to look more appealing. Just sayin'.
RELATED: Spring Wildflower Hikes To See this Season's Superbloom

Some kids know how to dress for the occasion. (Photo by the author)
The variety of insect and plant species in the Pavilion means that visiting multiple times can be well worth it, particularly if you can catch one of the free admission Tuesdays. Why not bring a drawing pad and try to recreate a Monarch or a Swallowtail? Or hand your kids your camera and let them go on a photography expedition? There are so many ways to enjoy combining bugs and beauty. Just another reason our kids are lucky to be growing up in LA!
Butterfly Pavilion open daily September 11 - 27, 2020
10:00am-5:00pm (last entry 4:30pm)
Admission $6
Originally published October 3, 2013
Top photo courtesy of the Natural History Museum