Hollywood's Museum of Illusions: Where Kids Can Defy the Laws of Gravity and Physics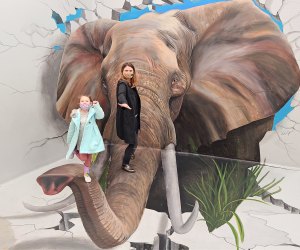 2/15/21
- By
Matt Matasci
Imagine walking into a building and suddenly you're 500 feet high, clinging to the narrow ledge of a skyscraper. Minutes later you're defying the laws of gravity and physics, walking on the ceiling or shrunk to the size of a mouse. Hollywood's Museum of Illusions doesn't literally give you those supernatural abilities, but the dozens of pictures you'll have after your visit sure makes it look real. Taking the family for a fun outing in Hollywood to play tourist in our own town is a real pick-me-up.
Check out more of the Top Attractions in Los Angeles for Kids in our Los Angeles Visitors' Guide for Families.
Hollywood's Museum of Illusions is a must-visit for families with older kids who love taking innovative and eye-catching photos, whether to post on social media or for personal photo albums. Being able to do something new and totally different was exciting for my younger kids—and I am thrilled to have some pictures of them outside of the house! There are three main rooms to the museum, each totally different. Here's what to expect:

Basically, kids (and grown ups) can live out Homer Simpson's dreams.
Step Inside the Giant's House
Our first stop at the Museum of Illusions was the Giant's House. In this room, everyday objects have been supersized, making you look like an outtake from Honey, I Shrunk the Kids. In this room you can be photographed next to a monstrous Starbucks coffee cup, get trapped inside a kitchen oven, or even strike a sophisticated pose on your own Vogue cover. While this room is probably the least interesting for older kids who are looking for incredible photos, it was the clear favorite for my seven- and three-year-old. The concept of the Giant's House is simple: here are everyday items you know and use regularly, but gigantic. My wife and I found ourselves a little squeamish over the kids climbing all over the giant sculptures, but the constant cleaning by the staff put us at ease. By far our kids' favorite installation was the huge doughnuts suspended from the ceiling–though perhaps that was because we had stopped by our favorite doughnut shop, Kettle Glazed in Franklin Village, before hitting the museum.

Don't fall! (Don't worry, you can't fall.)
The 3D Illusions Room
After visiting the Giant's House, we headed to the namesake of the museum, the 3D Illusions Room. Here the walls and floors are painted to appear as if you're fully immersed in a 3D scene and I'll admit, the photos are impressive. The paintings vary from fantastic and fun to realistic and apocalyptic. You can pay an additional fee to have a staff member photograph your party (which applies to all rooms of the museum), which likely produces great results, but simply following the prompts and cues around the Illusions Room will give you some really cool pictures. On the floor near each painting are small circles which indicate the position of the photographer, while placards on the walls give suggestions for poses. It took us a few tries before we got the gist of how to pose and where to take the photo from, but once we did, it was a snap to get some very memorable pictures.
From standing at the edge of a skyscraper above an apocalyptic inferno to dancing on the trunk of an elephant to jumping on an imaginary trampoline, this room provided us with the most fun of the day. The highlight of 3D Illusions Room was the forced perspective room, the only place where a three-year-old can tower over her miniaturized mama.
Outside of the 3D Illusions Room is Smash It! where $20 gets you three plates to hurl at a wall, allowing you to get out all that pent up rage from the pandemic. Smash It! is for guests 12 and older. (I kind of want to come back and experience it myself, without the kids.)

Anyone want to go dancin' on the ceiling?
The Upside Down House
With a three-year-old in tow, we were a little worn out after spending about 40 minutes in the first two rooms. Last up for us was the Upside Down Room, a seven room section of the museum that was exactly what you'd expect from the name. Furnished just like a regular room, literally everything from shoes to furniture to toys is bolted to the ceiling. The sole purpose of this room is to take gravity-defying upside-down photos. This room offers less instant gratification than the Giant's House and 3D Illusions Room because you have to use your camera to rotate the photos 180 degrees to see the true effect of the layout. Ergo, it was not our kids favorite part of the museum. They did enjoy marveling at everything stuck on the ceiling and upside-down but for parents of smaller children, I wouldn't recommend purchasing passes to this room alone.

Whoa! Suddenly your younger child can dwarf their older siblings—or event parents!
Know Before You Go
Due to COVID-19 restrictions, a reservation is needed to visit the museum. Guests must wear masks during their visit and a temperature check is required before entry. There were other guests in the museum, but because the rooms are spacious and capacity is very limited, it was easy to social distance. Everything seemed very clean and the Giant's House had an employee sanitizing the installations while we explored the room. I saw one bathroom in the Giant's House, which was also clean—but if you're bringing a baby, be aware that it does not have a changing table.
Tickets are available for individual rooms or as a package that includes all three rooms. Adult tickets are $40 for the Giant's House and $30 for kids 6-12. Adult tickets for the The Upside Down House and the 3D Illusions Room are $30 and $20 for kids 6-12. The 1 + 1 + 1 package gives you access to all three rooms and costs $55 for adults and $35 for kids 6-12. Three VIP packages are available and range from $150-$350; the biggest perk is that they come with a personal photographer so one of your party isn't always missing from the best shots. Kids under five are free, but they're mostly just going to be there for photobombs anyway.
The Museum of Illusions is located at the corner of Hollywood Boulevard and McCadden Place. There is metered street parking on McCadden Place which was available during the pandemic, though in normal times I wouldn't count on street parking in this neighborhood. There's also paid parking at the Hollywood and Highland shopping center, which is a short walk from the museum, plus has places like Ben & Jerry's for a snack and outdoor dining at California Pizza Kitchen, Johnny Rockets, and the Chado Tea Room.
All photos by author