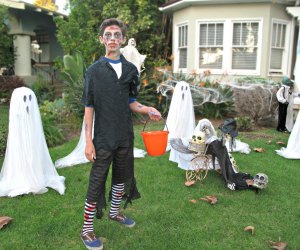 Best Neighborhoods to Trick-or-Treat on Halloween Night with Los Angeles Kids
Note that in 2020 many of the neighborhoods below have opted to scale down or not decorate at all, to avoid attracting the crowds their streets host most years.
Trick or treat! Los Angeles consistently makes the top 5 cities on Zillow's Halloween list of the country's best spots for trick-or-treating. The real estate website bases its trick-or-treat ranking on criteria like home value and crime rates. That's good, but what about special effects and Halloween decorations? If one figures in the number of film industry creatives living in a given metropolitan area, LA wins first place by a country mile. Speaking of country miles, if you've walked the distance between houses in the most expensive LA neighborhoods, you know that higher home value does not always translate to better trick-or-treating. What does? Well, keep your Halloween hats on, because we've got a list of some of LA and Orange County's most legendary trick-or-treat neighborhoods.
Wherever you plan on trick-or-treating on Halloween night, please carry lights and watch out for traffic. And if you're visiting a neighborhood that isn't your own, please be extra considerate about candy wrappers and other litter on the ground. The residents of all of the neighborhoods below show tremendous generosity each Halloween; we don't want them to wake up to their lawns looking like Staples Center after a play-off game!
Subscribe to our free weekly newsletter to keep up with all of the Halloween fun coming up this season!
1. Larchmont / Hancock Park
If you live within range of Larchmont and Hancock Park, then Windsor Square is where to head. This area —often confused with Hancock Park—runs from Wilshire to Beverly, from Arden to Van Ness (including the mayor's mansion), and is quite the Halloween scene. Expect lots of company enjoying the decorations and abundance of treats. Norton and Van Ness south of Beverly are particularly good.
2. Eagle Rock
Those hip folks in Eagle Rock seem to have the edge on everything, and Halloween is no exception. Hill Drive is the pride of the East Side when it comes to trick-or-treating. The passion with which these folks decorate their homes leads to everything from pedestrian traffic jams to camera-toting news crews. Oh—and loads of candy.
3. Angelino Heights
If you've got older kids who can handle hills and spooky mansions, Angelino Heights might be your Halloween destination. At 125 years old, it's one of the oldest neighborhoods in LA—some call it the city's first suburb—and the Victorian homes take very little effort to spook up. That's not to say that the residents don't put in effort, because they surely do. Following the streets between Sunset Blvd. and the Hollywood Freeway definitely leads to a memorable Halloween.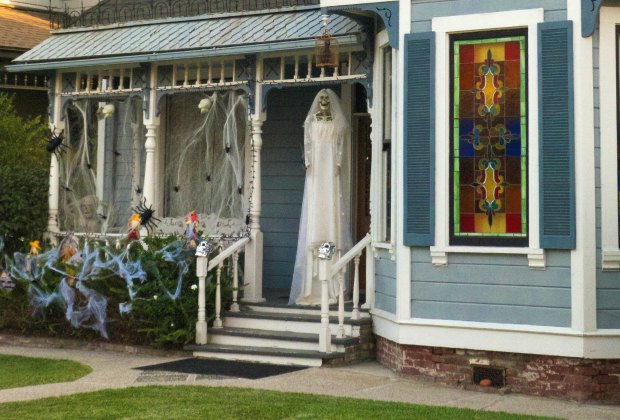 Angelino Heights. Photo by Anna Aran/CC BY 2.0
4. Toluca Lake
Legend has it that it's Bob Hope's fault. Generations of Tolucans tell tales of the full-size candy bars and signature toys that the King of Comedy handed out until his death in 2003 (after which his wife carried the torch a little longer). The crowds that his generosity lured evidently inspired the rest of the neighborhood and these days the area from Riverside Drive down to the lake is as decorated as a neighborhood can be. And, while there are plenty of film industry folks giving out generous supplies of candy, the houses are close enough together to be easily walkable (unlike some affluent areas).
5. Burbank
Keep heading east along Riverside Drive, and just before the Equestrian Center in Burbank you'll encounter another optimum spot for Halloween night. Below Riverside, where Mariposa meets Valley Heart, the homeowners get their spooks on with gusto annually. Plentiful treats accompany the spooky surroundings—a perfect recipe for an October evening.
6. South Pasadena
Word on the street is you can't go wrong anywhere in South Pasadena; just pick a street. South Pasadenans take tremendous pride in doing Halloween right, dressing up their hundred-year-old Craftsman homes to look far more haunted than stucco ever could. They also take pride in playing host to the original Halloween house (from the movie)—an honor they take so seriously that the place has been moved at least once to protect it from demolition. Streets like Mission, El Centro, Oxley, and Montrose hand out upwards of 800 pieces of candy over the course of the evening; most residents just stay on the porch to enjoy the parade.
7. Sierra Madre
In the foothills of the San Gabriel Mountains, this Mayberry-like town doesn't feel much like LA County. Pinned between the Halloween-loving communities of Pasadena and Altadena, Sierra Madre is home to enough creative types to make Halloween a supremely creative night; the trick is to check out Alegria Street between Baldwin and Mountain Trail for the treat of Halloween decorated craftsman homes.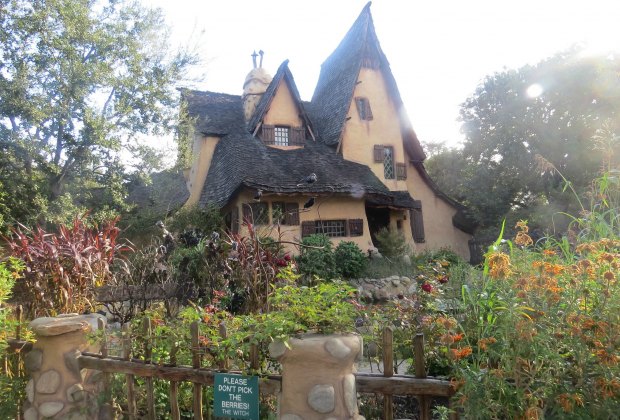 The Witch's House in Beverly Hills. Photo by Andy Nystrom/CC BY 2.0
8. Beverly Hills
The Beverly Hills Flats neighborhood—so called to distinguish it from the hills—is a prime spot to enjoy good treats and memorable decorations. The area is roughly defined by Sunset Boulevard on the north, Doheny on the east, Whittier on the west, and Santa Monica Blvd. to the south. And the most memorable doorbell to ring? That would be the Witch's House at 516 N. Walden. There's no question which one it is, as it's clearly a witch's house; the not-at-all-witchy owner hands out upwards of 500 treats per night.
9. Culver City
Culver City gives South Pasadena a run for its money, stucco houses and all. The homes in the neighborhood around Veterans Park and Culver High School go wild decorating, while the neighbors just across Ballona Creek, around Lindberg Park, would argue that they own Halloween. Either side of the creek, there is a whole lot of spookin' and a whole lot of treatin' going on.
RELATED: Best Places to Trick-or-Treat in Orange County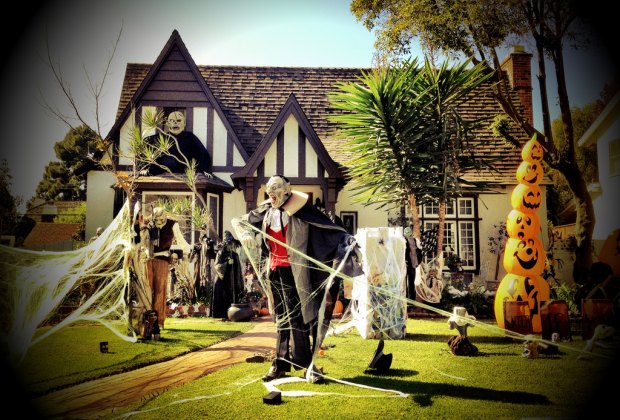 Photo by Lostinawave/CC BY 2.0
10. Cheviot Hills
The folks over at LA Curbed consistently rate Cheviot Hills the top trick-or-treat locale in the city. Beverlywood and Rancho Park kids seem to agree, as these two neighborhoods usually empty west into Cheviot Hills on Halloween evening. There is one house in particular on Motor that draws crowds of admirers of all ages, but anywhere in the Cheviot Hills neighborhood, kids get way more treats than tricks.
11. Brentwood Heights
You can't go wrong anywhere in Brentwood, really. You could kick off your evening trick-or-treating at the Brentwood Country Mart event, for example, then hit the streets at the Santa Monica end of the neighborhood. But if you really want your evening to include some over-the-top decorations, treat yourself to the block of Crescenda, up north of Sunset in Brentwood Heights. Theme parks have nothing on this place.
12. Pacific Palisades
Fresh sea air beckons in the Palisades, and neighbors get in the spirit every year with plenty of treats and first-class decorations. The narrow Alphabet Streets north of Sunset (also known as North Village) are some of the best, most trick-or-treater-friendly streets, with names that go in alphabetical order - good for remembering where you started and how to get back!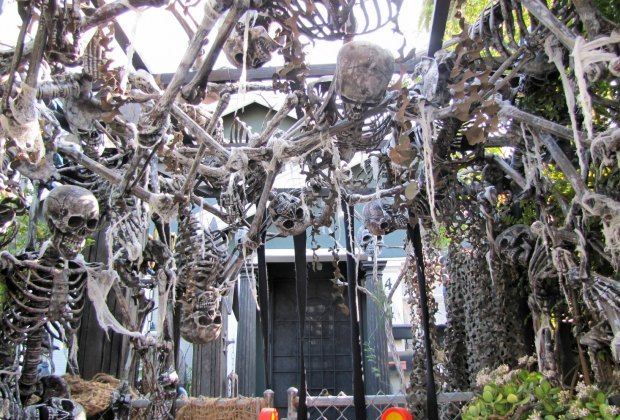 A home on the Venice canals. Photo by Trevor Mattea via flickr
13. Venice Canals
And now for something completely different. The Venice Canals are beautiful to walk around any evening you name; add the effort that locals put in decorating their homes and boats, and you've got a Halloween feast for the eyes. Take Dell into the neighborhood, where pedestrian-only streets offer another bonus for trick-or-treaters. And you can add great candy to scenic and safe; the canal residents set kids up with plenty of sweets.
14. Long Beach: Bluff Park, Belmont Shore, & Naples
Work your Fitbit into your costume, because Long Beach families could start walking down First or Second Street in Bluff Park and keep right on going all the way through Belmont Shore and onto Naples Island without running out of trick-or-treat options! Start at Cherry by Bixby Park and start working your way east along either First or Second, and the treats just keep flowing. In Belmont Shore the 2nd Street businesses join in the fun, and on Naples Island the decorations are well worth a visit. Pick any stretch your little ones can handle along the way for a Halloween night to remember.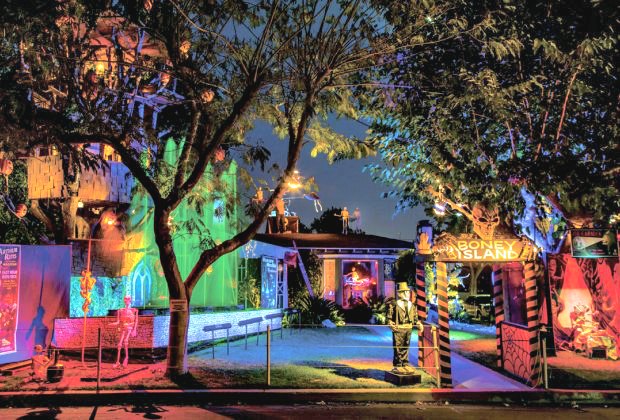 Photo courtesy of Boney Island
15. Sherman Oaks
We won't lie; the loss of Boney Island in the heart of this neighborhood put a dent in its trick-or-treat night perfection. But, name aside, the Boney house was not an island, and the neighborhood west of Coldwater and north of Moorpark is still one that loves Halloween. Trick-or-treating the Sherman Oaks area that gave birth to an epic lawn display for decades is still a safe bet for seeing lots of decor and meeting lots of people who are passionate about Halloween.
16. Northridge: Sherwood Forest
Your kid doesn't need to be dressed as Robin Hood to appreciate this hidden gem neighborhood west of the 405. Sherwood Forest attracts big groups of costumed revelers to its decorated homes in the area south of Nordhoff and west of Balboa. Some years there is a popular haunted house on Encino at the heart of it all, though the haunt has been on hiatus these past two years.
17. Montrose
Want to window shop while the kids collect candy? Montrose Shopping Park, which runs along the 22000, 2300 and 2400 blocks of Honolulu Avenue, has a Halloween Trick-or-Treat Spooktacular that starts at 5pm and is a great launching point for the festive surrounding neighborhood, which has plenty of good houses for trick-or-treating for ample sugar overload.
Are there other hallowed Halloween neighborhoods you think we should include? Let us know!
Originally published October 24, 2012