Best Botanical Gardens for Los Angeles Kids, Plus Cool Hidden Oases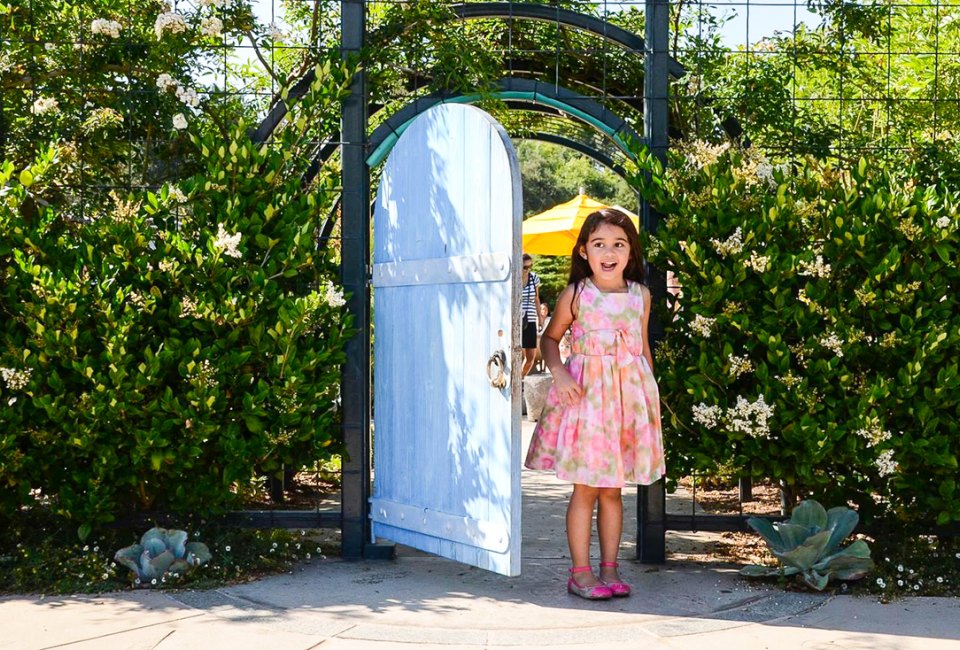 4/7/23
- By
Gina Ragland
Botanical gardens in Los Angeles and beyond might be the answer for when you want to take the kids on an outdoor adventure but don't feel like carrying toddlers up a mountain and toting a surplus of supplies.
Lush, plentiful, and open year-round in Southern California, botanical gardens are perfect for casual nature strolls with little ones in tow, whether in a stroller or sprinting toward children's gardens and koi ponds. Kids won't even realize they're on an educational outing as they become itty-bitty botanists for a day. From beloved botanical gardens to lesser-known free hidden gems, we've dug into the roots of the best botanical gardens in Los Angeles.
Enjoy more blooms on wildflower hikes, stretch your limbs on stroller-friendly hikes, and explore more fauna and flora in our Zoos & Gardens for Los Angeles Kids Guide.
Best Botanical Gardens in Los Angeles
The children's garden at The Huntington should be on every bucket list for a kid in Los Angeles to visit. The only problem is that you might have trouble getting them to leave. This immersive garden sparks wonder and invites exploration through nature.
Besides the whimsical children's garden, The Conservatory is an interactive science center that will fascinate kids of all ages, and there are often creative workshops for kids. If that's not enough incentive to bring your little ones to The Huntington, they also have a free day.
Family members of any age will enjoy Descanso Gardens. From the Japanese Garden to the Ancient Forest that features redwoods and ginkgo, it'll feel like you are worlds away from the hustle and bustle of the city.
The young ones will love the Enchanted Railroad, snaking through the scenic gardens, and the popular seasonal events.
This gem in Palos Verdes is the perfect outdoor spot to let the kids wander around nature. There's a children's garden and a butterfly pavilion where kiddos can get the unique experience of feeding tropical butterflies with photo ops.
RELATED: Best LA Bike Rides, Trails, and Paths for Biking with Kids

Take to the nature trails. Photo by Marilyn Woo and Joanne Wilborn, courtesy of the Los Angeles County Arboretum
This kid-friendly arboretum provides ample outdoor exploration. The many roaming peacocks will surely allure young ones in between the flowers and the waterfall. Programs like family night hikes, summer camps, and parent-child outdoor education classes are available too.
The free UCLA Mildred E. Mathias Botanical Garden hides in plain sight in the middle of the westside. This charming botanical garden will only take an hour or two to meander through, making it perfect for a morning or afternoon family stroll.
Little ones will likely revel in spotting turtles and fish in the streams. There are also a few picnic tables, so pack a lunch to dine al fresco amid the tranquil plants and trees.
Need a change of scenery from the usual park or playground? The California Botanic Garden could be a good option. Known for California native plants, kids can release some energy on a nature walk while you snap fresh photos of them in front of beautiful blooms.
Botanical Gardens Worth a Drive
The Backcountry Section at the Santa Barbara Botanic Garden is a must-visit. This immersive outdoor play space is for children ages 5-13 and includes climbing structures and endless exploration opportunities. It's one of the many unique activities to do in Santa Barbara to add to your list.
There are also downloadable scavenger hunts to take along on your Santa Barbara Botanic Garden adventure.
With kids under age 18 receiving free admission and every Friday a free day, the Ventura Botanic Garden makes for a budget-friendly option. Kiddos can engage with the gardens through interactive activities like a plant hunt or photo scavenger hunt.
Curious kids will enjoy nature walks, an interactive children's garden, and a pond with fish and amphibians at this Orange County botanical garden. It's cost-friendly too, with no admission fee, only a small suggested donation.
RELATED: 15 Top Playgrounds with Shade in Los Angeles

Ascend into the trees. Photo courtesty of the Conejo Valley Botanical Garden
This botanic garden might be lesser-known than most listed here, but it's a precious treasure that kids will love. There's a playground and kids' adventure garden, which includes a tree house and a zoo garden. The children's garden does have very limited hours, as it's only open on Sundays from 11am-3pm.
There are also family-friendly hiking trails and picnic areas, all of which are free. It would be easy to enjoy a whole day here.
This botanic garden not only requires a drive but a ferry ride. Head up to the Wrigley Memorial & Botanic Gardens next time you're on Catalina Island. The uphill walk to the gardens might be a lot on little legs, so look into taking the bus.
Secret Gardens in Los Angeles
RELATED: 11 Wonderful Wildlife Hikes for Kids in Los Angeles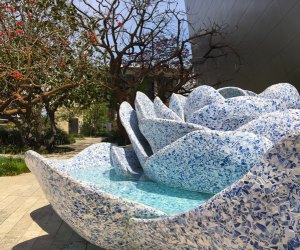 Enjoy a serene garden in the middle of DTLA. Photo courtesy of The Blue Ribbon Garden
The next time you're in DTLA marveling at the Walt Disney Concert Hall, don't just look up—walk up! The Blue Ribbon Garden is a secluded, free respite that sits atop one of the most famous architectural wonders in all of Los Angeles. Don't miss the blooming rose fountain.
Since you've already made the trek with the kids to DTLA, you might as well make it a day by visiting The Last Bookstore, The Broad Museum, taking a quick ride on Angel's Flight, and grabbing a bite to eat at Grand Central Market.
After the youngsters have tired from all the fun at Kidspace, head to Arlington Garden to enjoy a picnic and relax in Pasadena's only dedicated free public garden. Be sure to grab a jar of their marmalade—made with oranges grown in the garden's grove. It'll be a perfect dose of fruit for the kids at breakfast.
RELATED: Visiting The Getty Villa with Kids: What You Need to Know Before You Go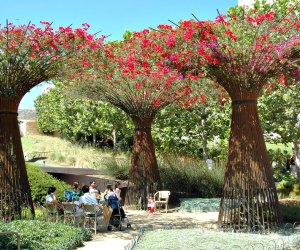 Bring your own picnic to The Getty Center. Photo by Sergey Galyonkin/Flickr
We admit that the gardens at The Getty Center might not exactly be a secret, but they always make for a fun adventure for children to explore. Plus, who wouldn't want to picnic under those stunning bougainvillea sculptures?
Gardens aside, The Getty is more kid-friendly than meets the artist's eye. Kids will be awed by the tram ride and absorbed with art detective cards.
Lake Balboa might be better known for swan boats, bike rentals, and spring cherry blossoms that dot its beloved valley lake, but it's also home to a tranquil Japanese garden. The Japanese Garden can be difficult to locate because it's behind a security gate. It's free admission, but reservations are required, with a time limit.
You might not know that there's technically a park that passes right by the famous Beverly Hills sign. Beverly Hills Garden is a linear park that includes a cactus garden and a rose garden. It's perfect for a quick walk, especially if you have younger children in a stroller.
While you're in Beverly Hills, drive over to Greystone Mansion and let the kids explore the grounds of an estate. The mansion grounds are expansive and practically a park itself. The exterior is free to visit and open to the public. There's even parking and a bathroom.